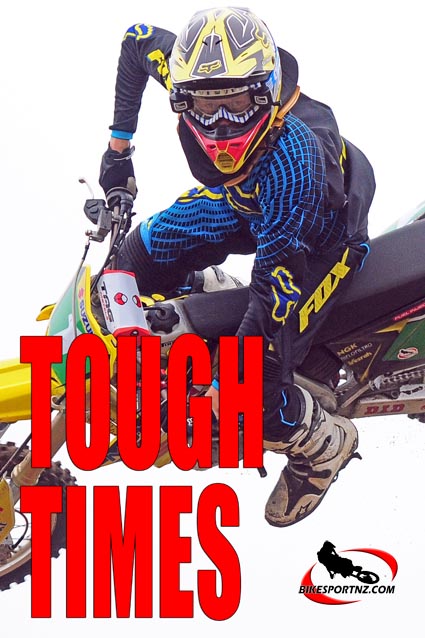 It was another frustrating time for the Kiwi contingent at round six of the British Motocross Championships at Foxhills, near Swindon, at the weekend.
Racing for the Kiwi DBG Suzuki Team, Rotorua's John Phillips opted out of his first race in the MX2 section when he felt his bike wasn't running right during the sighting lap, but he bounced back to finish 18th and 13th in his next two races, earning himself 17th overall for the day.
He is 25th in the series standings after six rounds.
"I rode my practice bike in race two and got a pretty good jump off the line but got pushed wide coming into the first corner," said Phillips.
"I found myself in about 23rd position by the second lap, dropping back a couple places in the third lap before I turned it up and started making some passes, getting up to 19th where I had to work hard for a couple laps to get passed a Kawasaki Rider. I finished the race in 18th
"For race three I got an even better jump out of the gate and didn't get pushed as wide as moto two. I pushed hard the first couple laps and found myself in 15th. I soon made a pass and caught up to another Kawasaki that took about four laps to get passed, just after that Nigel Budgen, my mechanic, put out '3 laps to go' on the pit board and I just kept it pinned to the finish flag. I crossed the line in 13th
"I was really happy with my last race, my fitness was mint and I felt good running that speed. I'm looking forward to mixing it up with the 450s at Red bull Pro Nationals at Canada Heights this weekend.
"The bike breaking down was unfortunate and made my day hard but it's just one of those things."
Meanwhile, Mangakino's Kayne Lamont also struck problems. He took his Maxxis Apico Suzuki Race Team RM-Z250 to 17th in the first MX2 race of the day after crashing while running in sixth place, but he collided with another rider in race two and was eventually be credited with 34th spot.
He did not start the third race as he instead went to hospital to get x-rays on his injured shoulder. There were no reports of anything being broken.
"It was another frustrating day," said the BikesportNZ.com rider.
"I had a good practice but only got a couple laps in qualifying because I got a flat front tyre. I qualified 26th, which is not good with the start the way it is at Foxhills.
"I got an average start in race two and made way up to 16th after first lap then over-jumped a rhythm section and went over the bars then got hit by the following bike.
"It looks like I will miss next weekend's Red Bull race.
"It was very frustrating because I have put in a lot of effort in off-the-bike training in over the past three weeks and he felt real strong on the bike and a small mistake will undo a lot of that hard work."
Lamont is 41st in the series standings, although he has only actually raced two of the six events.
The MX2 class was won by Swiss rider Arnaud Tonus, with British riders Elliott Banks-Browne and Jake Nicholls filling out the podium.
In the MX1 class, British riders Martin Barr, Brad Anderson and Tom Church battle for the podium spots, with the trio eventually finishing in that order.
Kiwi DBG Suzuki Team rider Kieran Scheele, of Hawke's Bay, managed 26th, 12th and 15th in his three MX1 outings, good enough for 17th overall on the day. He is ranked 29th in the series after six rounds.
Scheele's Kiwi DBG Suzuki team-mate, Masterton's Bjarne Fredericksen, finished outside the points when he clocked 27-25-27 results.
© Words and main photo by Andy McGechan, www.BikesportNZ.com
© Extra photo by Stefan Paetow, eons netmedia