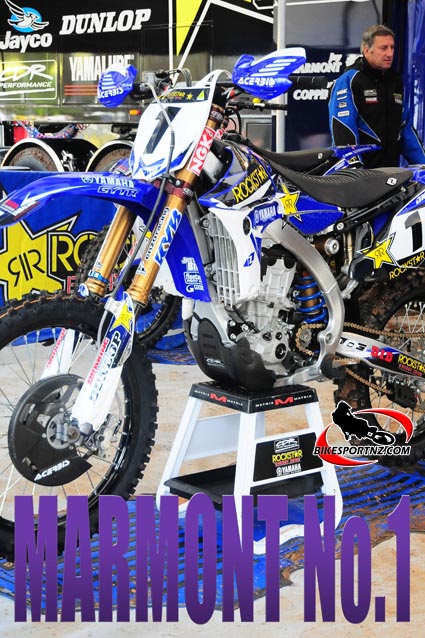 Defending champion Jay Marmont (Yamaha) won the day at round six of the Australian Motocross Championships at Coonabarabran at the weekend but Kawasaki's Dean Ferris continues to top the standings after an action-packed day of racing at the New South Wales track.
Marmont finished 5-1-2-3 in the open class on Sunday to edge out Ferris (2-3-4-2) by just one point to take the round win with Marmont's CDR Rockstar Yamaha team-mate Josh Coppins – who finished 3-5-1-4 in his races – just another three points further adrift in third place overall for the day.
In terms of the championship, however, Ferris remains the dominant figure, his Monster Energy Kawasaki team-mate Billy Mackenzie remains second – despite finishing the day just fourth overall with 1-9-5-1 results at Coonabarabran – and Coppins stays third in the rankings, although now just 19 points behind Scotsman Mackenzie.
Two other Kiwi riders – Rotorua's Michael Phillips (Honda) and Mount Maunganui's Cody Cooper (Suzuki) – also featured on Sunday.
Phillips scored 6-6-8-7 results, for sixth overall, while Cooper chimed in with 9-7-9-9 results, good enough for eighth overall on the day.
Their respective positions in the series standings are unchanged and Phillips stays sixth overall and Cooper remains eighth overall.
In the Lites (250cc or MX2) class, American Kawasaki rider Phil Nicoletti won the day with 1-1-1-3 results, lifting himself one position from sixth to fifth in the champion ship standings.
KTM's Matt Moss continues to lead the series in the Lites class, helped along by his placing third overall on Sunday, ending the day 10 points behind his brother Jake Moss (Yamaha).
Christchurch's Justin McDonald (Honda) had a good day at the race track, finishing fourth overall (5-2-5-8). He has moved up two positions in the championship, from ninth to seventh overall.
© Words and photo by Andy McGechan, www.BikesportNZ.com
RESULTS:
Rockstar Pro Open – Coonabarabran
1 Jay Marmont – Yamaha 16 25 22 20 = 83
2 Dean Ferris – Kawasaki 22 20 18 22 = 82
3 Josh Coppins – Yamaha 20 16 25 18 = 79
4 Billy Mackenzie – Kawasaki 25 12 16 25 = 78
5 Lawson Bopping – Suzuki 14 22 20 16 = 72
6 Michael Phillips – Honda 15 15 13 14 = 57
7 Cheyne Boyd – Honda 18 18 15 5 = 56
8 Cody Cooper – Suzuki 12 14 12 12 = 50
9 Todd Waters – Honda 13 9 11 15 = 48
10 Daniel Reardon – KTM 0 11 14 13 = 38
11 Louis Calvin – KTM 11 13 0 10 = 34
12 Beau Ralston – KTM 3 6 10 9 = 28
13 Craig Anderson – Honda 9 5 8 4 = 26
14 Chris Hollis – Yamaha 0 10 7 8 = 25
15 Robbie Marshall – KTM 2 2 9 11 = 24
16 Nathan Brochtrup – Honda 8 7 6 0 = 21
17 Matt Haworth – Suzuki 6 0 5 7 = 18
18 Aden deJager – Yamaha 10 8 0 0 = 18
19 James Blackwood – Honda 7 0 0 6 = 13
20 Matthew Phillips – Yamaha 4 3 3 2 = 12
21 Kurt Wightman – Honda 0 1 4 0 = 5
22 Aden Brown – Yamaha 5 0 0 0 = 5
23 Taylor Potter – KTM 0 0 1 3 = 4
24 Zak Newsome – Suzuki 0 4 0 0 = 4
25 Simon Thompson – Honda 1 0 2 0 = 3
26 Glenn Kearney – Husqvarna 0 0 0 1 = 1
Rockstar Pro Open – Championship Points
1 Dean Ferris 461 Points
2 Billy Mackenzie 448 Points
3 Josh Coppins 429 Points
4 Jay Marmont 407 Points
5 Cheyne Boyd 384 Points
6 Michael Phillips 348 Points
7 Lawson Bopping 323 Points
8 Cody Cooper 263 Points
9 Louis Calvin 227 Points
10 Ryan Marmont 206 Points
Motul Pro Lites – Coonabarabran
1 Phil Nicoletti – Kawasaki 25 25 25 20 = 95
2 Jake Moss – Yamaha 22 18 20 22 = 82
3 Matt Moss – KTM 11 14 22 25 = 72
4 Justin McDonald – Honda 16 22 16 13 = 67
5 Kade Mosig – Honda 14 12 18 18 = 62
6 Brenden Harrison – KTM 18 13 14 16 = 61
7 Cody Mackie – Honda 20 16 10 10 = 56
8 Daniel McCoy – Suzuki 10 15 13 12 = 50
9 Josh Cachia – KTM 15 11 15 5 = 46
10 Kirk Gibbs – Yamaha 0 20 11 14 = 45
11 Luke Styke – Yamaha 6 10 12 15 = 43
12 Aaron Siminoe – KTM 13 8 9 9 = 39
13 Alex Morris – Kawasaki 12 5 6 7 = 30
14 Keiron Hall – Honda 0 9 8 11 = 28
15 Daniel McEntee – KTM 5 7 7 8 = 27
16 Kody Wheeler – KTM 9 6 5 3 = 23
17 Ben Iles – Suzuki 1 2 4 6 = 13
18 Rory McKenzie – Husqvana 2 3 2 4 = 11
19 Nick Murray – Suzuki 8 0 0 0 = 8
20 Dwayne Stadthaus – Kawasaki 7 0 0 0 = 7
21 Matthew Whiley – KTM 3 0 3 0 = 6
22 John Prutti – KTM 4 0 0 1 = 5
23 Jason Hackett – Honda 0 4 0 0 = 4
24 Cameron Eastaway – Yamaha 0 0 0 2 = 2
25 Trent Pons – Yamaha 0 0 1 0 = 1
26 Joshua Readman – Yamaha 0 1 0 0 = 1
Motul Pro Lites – Championship Points
1 Matt Moss 419 Points
2 Kirk Gibbs 365 Points
3 Daniel McCoy 345 Points
4 Brenden Harrison 344 Points
5 Phil Nicoletti 339 Points
6 Josh Cachia 312 Points
7 Justin McDonald 302 Points
8 Cody Mackie 294 Points
9 Kade Mosig 292 Points
10 Luke Styke 273 Points
Pirelli Under 19's – Coonabarabran
1 Jay Wilson – KTM 22 15 25 15 = 77
2 Luke Arbon – Yamaha 9 25 14 22 = 70
3 Dylan Peterson – Honda 16 14 20 16 = 66
4 Jacob Wright – Honda 15 20 4 256 = 64
5 Shaun Redhead – Yamaha 18 18 5 18 = 59
6 Errol Willis – Suzuki 25 22 10 0 = 57
7 Kale Makeham – Suzuki 7 7 22 20 = 56
8 Dan Banks – KTM 12 16 6 13 = 47
9 Jake Emanuelli – Yamaha 20 0 15 12 = 47
10 Kyle McKeddie – Kawasaki 13 10 13 9 = 45
11 Sam Martin – Suzuki 10 12 16 7 = 45
12 Mitch Budd – Honda 6 11 7 14 = 38
13 Ben George – Yamaha 0 8 18 11 = 37
14 Corey Lucas – Suzuki 14 13 0 5 = 32
15 Joel Evans – Honda 11 9 9 0 = 29
16 Jarrad Davis – 4 Yamaha 8 5 12 0 =
17 Mitch Norris – Suzuki 1 0 11 10 = 22
18 Michael Crugnale – Honda 0 0 8 6 = 14
19 Jake Williams – Suzuki 5 3 0 4 = 12
20 Joshua Melis – KTM 0 2 0 8 = 10
21 Jacob Mcleod – Yamaha 0 6 1 3 = 10
22 Jake Vella – Honda 4 0 0 2 = 6
23 Jack McNeice – Kawasaki 3 0 2 1 = 6
24 Austen Scroggins – Yamaha 2 0 3 0 = 5
25 Joe Gillespie – Suzuki 0 4 0 0 = 4
26 Brent Storey – KTM 0 1 0 0 = 1
Pirelli Under 19's – Championship Points
1 Errol Willis 464 Points
2 Luke Arbon 426 Points
3 Shaun Redhead 366 Points
4 Dylan Peterson 338 Points
5 Jake Emanuelli 296 Points
6 Kyle McKeddie 286 Points
7 Jay Wilson 285 Points
8 Kale Makeham 215 Points
9 Dan Banks 182 282 Points
10 Ben George 173 Points