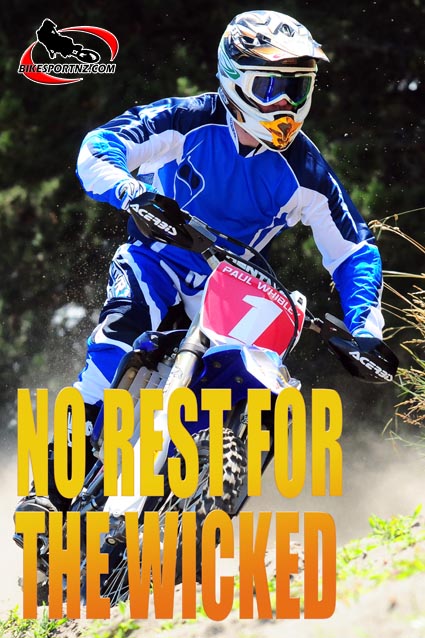 New Zealand's Paul Whibley went out to stretch his legs at the weekend, and returned home with yet another cross-country trophy.
The Yamaha ace from Pahiatua found a gap in his busy international schedule – racing the separate Grand National Cross-country Championships (GNCC) and Off-Road Motorcycle and ATV (OMA) series in the United States – but decided against taking a well-earned break.
Instead he packed up his Yamaha YZ450F and drove from his base in South Carolina to tackle the two-hour MTN Harescramble race in eastern Tennessee.
"Starting out on the motocross section of the track, I took the holeshot and led the way over a couple of doubles before we left the track and headed into the woods.
"The track was dry and fairly dusty but I was just fine up front. The track weaved its way into the hills and the first real challenge of the loop appeared in the form of a technical, rocky hill climb. The track then led us down the hill in a zig-zag fashion before heading out over the creek for a checkpoint and a loop in the woods."
Whibley made the most of the dry conditions, the dust he'd kicked up in the lead temporarily blinding the riders who followed him.
"I tried to open a gap over the chasing pack. My Kiwi mechanic, (Feilding's) Scotty Brooker, gave me a lap time as I passed through the scoring lane, giving me something to shoot for the following lap.
"During the second lap of the eight-mile track another challenge reared its head. Some of the mud holes had splashed out and laid some water on the hard pack clay, creating some extremely slippery spots that I'm sure caught a few guys out."
But Whibley's lap times continued to improve and he stretched his lead even further.
"As the two-hour event wore down, the rocky hill cut up and snagged a few riders as they attempted to conquer the fast line straight up."
But it was no trouble for the Kiwi hero, Whibley taking an easy win.
Whibley was using the event to keep himself sharp ahead of the next round of the OMA series in Michigan this weekend.
Leading results:
1. Paul Whibley
2. Matt Holden
3. Landon Smith
© Photo by Andy McGechan, www.BikesportNZ.com