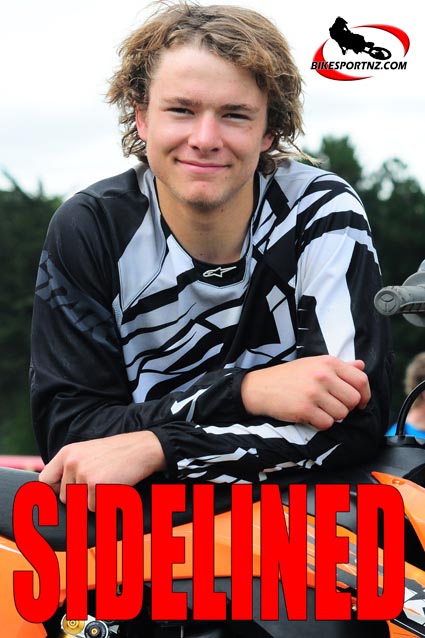 New Zealand extreme Freestyle Motocross star Levi Sherwood will miss the X Games and most of the season after suffering serious injuries in a practice fall in Las Vegas.
The 19-year-old Manawatu man broke two bones in his left wrist, fractured two vertebrae, lacerated his liver, bruised a lung, and "banged my kidney around a bit" in the fall last weekend while practicing for the Nitro Circus Live Show in America's entertainment capital.
He is in hospital there and is facing more than two months off his bike.
"My bike skipped into neutral on the takeoff — I don't know how or why, I haven't really quite figured it — but I came up short," said Sherwood. He said he knew he was heading for serious injuries before he hit the ground.
"It's FMX: Shit happens. My back is what hurts the most and I know I'm lucky it wasn't worse."
Sherwood is a rising star on the radical biking scene. He was voted Rookie of the Year at the 2010 TransWorld Motocross Awards.
His hopes of defending his silver medal in the Moto X Freestyle event at the X Games next month are now dashed.
And his season on the high-profile Red Bull X-Fighters tour that travels the globe is shattered.
Sherwood won individual event son that tour in 2009 and last year and is a title threat at any event. He is currently fourth on the overall standings for this year after two events.
"Obviously I'm disappointed," Sherwood said.
"I knew before I even hit the ground that I'd be missing all these events coming up, and after talking with my doctors this morning I don't think I'll realistically be back on my bike for two or three months. It's just been one of those years this year and things haven't gone my way, but I'm trying not to get too broken up about it: I'm only 19 so I know there will be plenty more opportunities to come."
Sherwood was practicing with motorsport legend Travis Pastrana when the accident happened. He was thrilled to link up with Patsrana's Nitro Circus again after they toured New Zealand and Australia in February and March with Sherwood one of the stars of the show.
"It was cool hanging out with everyone because I hadn't seen my mates from that tour in a couple of months," Sherwood says. "I fell in practice and I was as bummed to miss that (Vegas) show as I was about missing any of the contests on the calendar."
© Photos by Andy McGechan, www.BikesportNZ.com
Here are a couple of video clips of Sherwood in action last year: