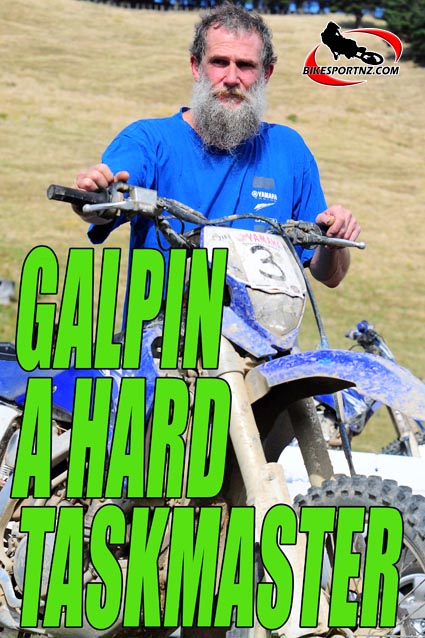 They say old soldiers never die, they just fade away – but what happens to old motorbikes and even older riders?
Marton's Andy Galpin and his 2007-model Yamaha WR250 defy the odds and neither of them have any intention of just fading away.
The 50-year-old Galpin bought his competition dirt bike brand new in 2007 and, four years later, long after many riders would have traded in for a newer model, it's still going strong and has actually just clocked over 1000 hours of use and, some would say, abuse.
Galpin and his bike failed to finish the most recent event they entered, an enduro at Martinborough last week, but neither man nor bike could be blamed for that … a rock punched a hole through his brand new rear tyre.
The irony of this is that Galpin is a Scrooge-like miser and has a reputation for making his tyres last and last with second-hand tyres the order of the day. The one time he does splash out and spend on a new tyre, bad luck intervenes.
In the past, even a flat tyre has not been enough to upset Galpin and his bike and he actually finished a national enduro championship round last year with the inner tube bulging out of a gaping hole in his rear tyre.
The only mechanical breakdown that Galpin suffered with his Yamaha was when he forgot to replace the oil in it after draining it for an oil change. He then ran the bike hard for four hours before it cried enough.
Even then, all he had to do was wash the bore and pop in a new piston. The engine's top end was still perfectly good.
Galpin operates a "low … actually a no-maintenance routine". He uses cheap oil and only does oil changes when he remembers to, usually after 20 or 30 hours' use, still using the same washable oil and air filters from the day the bike rolled off the production line.
The bike gets only ever gets washed if it rains on the way home from an event.
The bike lives outside in the weather, leaning against the porch, and is also used as the farm bike. The Yamaha WR250 did spend some time on the road, when Galpin needed to get groceries when his ute broke down.
"This bike just doesn't want to quit," said Galpin
"Sure, I wear out tyres and sprockets all the time, but that's just normal.
"I spend most weekends riding and have been all over the place. I guess you could say my occupation is part-time farmer and part-time racer too.
"I'm not too sure when I'll get a new bike. Things are starting to get worn out now, like the foot-pegs are getting blunt. But, even though the bike is getting old and worn out like me, it just wants to keep going."
© Words and photo by Andy McGechan, www.BikesportNZ.com