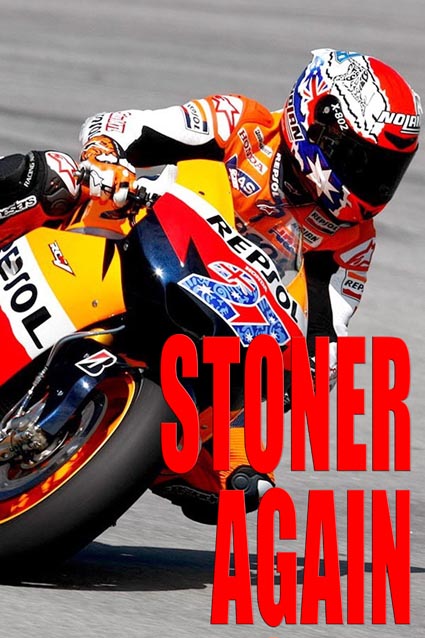 Australian Casey Stoner splashed to victory for Honda in a wet British Grand Prix to oust world champion Jorge Lorenzo from the top of the MotoGP standings.
Yamaha's Lorenzo, who led into the first corner, was one of several big name fallers as riders battled through standing water and spray.
Italy's Andrea Dovizioso was second for Honda, 15.159 seconds behind Stoner, with American veteran Colin Edwards taking an astonishing third place on the Tech3 Yamaha little more than a week after he shattered his right collarbone.
Stoner, on pole position for the fourth time this season in his 150th grand prix start in all categories, was the first Honda rider to win three races in succession since Italian Valentino Rossi in 2003.
The Australian now has 116 points to Lorenzo's 98 and Dovizioso's 83.
Stoner was third after the first lap, with Lorenzo and then Dovizioso leading, but swiftly moved back into the lead on lap two and powered away.
"It was very, very hard," said Stoner of the conditions. "Andrea was really confident at the start of the race but I wanted to wait for the tyres to come up to temperature.
"When I was behind them I pretty much got drenched, all the water that they were throwing up I was copping in the face," he added.
"Unfortunately I got a bit of water on the inside of the visor and when I got into first place I thought it would all clear away and I'd have good vision but for the next five laps I basically had no vision.
"I couldn't see where the wet patches were, I couldn't understand anywhere on the track where I needed to be."
With Yamaha's Ben Spies crashing on lap eight, team mate Lorenzo flipped off his bike on lap nine and Honda's Italian Marco Simoncelli falling a lap later, Stoner had a lonely ride to the chequered flag and his fourth win in six races.
Even then, he still had to fight to stay on the bike.
"It was so easy (to crash). There was water in different puddles and they were getting quite a lot deeper during the race," he said.
"That was torture for the last 10 laps. For the last seven I was counting down and they just took too long, my hands were freezing and I couldn't brake properly, I couldn't understand what brake pressure I had."
Edwards, whose team-mate Cal Crutchlow — the only British MotoGP rider — was ruled out on Saturday after breaking his left collarbone in qualifying, could scarcely believe his turnaround.
He had reluctantly missed last weekend's Catalan Grand Prix after having a titanium plate and 13 screws inserted, an absence that ended an unbroken run of 141 starts, and he was not about to miss another.
"Nine days ago I was going home," he grinned. "Right after I crashed I had all my flights changed and everything.
"I really don't know what to say. I had a good doctor who did a great job. The collarbone was really not even the big issue, I separated the muscle from my ribs and that's really what's hurting.
"But today … was unbearable. After about 10 or 11 laps it was like 'OK, can we just throw the chequered flag 'cos we know where we are going to finish," said the Texan. "It was hard to keep the thing on two wheels."
Rossi, who started on the back row of the grid for Ducati, clawed his way back to sixth and moved up to fourth overall with 68 points in the absence of Honda's injured Spaniard Dani Pedrosa.
RESULTS:
1. Casey Stoner AUS Repsol Honda Team 47m 53.459s
2. Andrea Dovizioso ITA Repsol Honda Team 48m 8.618s
3. Colin Edwards USA Monster Yamaha Tech 3 48m 14.939s
4. Nicky Hayden USA Ducati Marlboro Team 48m 20.443s
5. Alvaro Bautista ESP Rizla Suzuki MotoGP 48m 29.028s
6. Valentino Rossi ITA Ducati Marlboro Team 48m 57.985s
7. Karel Abraham CZE Cardion AB Motoracing 49m 26.109s
8. Toni Elias ESP LCR Honda MotoGP 49m 45.397s
9. Hiroshi Aoyama JPN San Carlo Honda Gresini 49m 45.809s
10. Loris Capirossi ITA Pramac Racing Team 49m 56.771s
11. Hector Barbera ESP Mapfre Aspar Team 48m 10.582s
12. Randy de Puniet FRA Pramac Racing Team 48m 13.094s
DNF:
Marco Simoncelli ITA San Carlo Honda Gresini
Jorge Lorenzo ESP Yamaha Factory Racing
Ben Spies USA Yamaha Factory Racing
WORLD CHAMPIONSHIP STANDINGS:
1       Casey Stoner      Repsol Honda Team 116
2       Jorge Lorenzo      Yamaha Factory Racing 98
3       Andrea Dovizioso Repsol Honda Team 83
4       Valentino Rossi    Ducati Marlboro Team 68
5       Dani Pedrosa       Repsol Honda Team 61
6       Nicky Hayden      Ducati Marlboro Team 60
7       Hiroshi Aoyama   San Carlo Honda Gresini 43
8       Colin Edwards     Monster Yamaha Tech3 37
9       Ben Spies   Yamaha Factory Racing 36
10     Karel Abraham    Cardion AB Motoracing 33
11     Marco Simoncelli San Carlo Honda Gresini 32
12     Héctor Barberá    Mapfre Aspar Team 31
13     Cal Crutchlow      Monster Yamaha Tech3 30
14     Toni Elías   LCR Honda MotoGP 28
15     Álvaro Bautista    Rizla Suzuki MotoGP 22
=      Loris Capirossi     Pramac Racing Team 22
17     Randy de Puniet  Pramac Racing Team 10
18     John Hopkins       Rizla Suzuki MotoGP 6