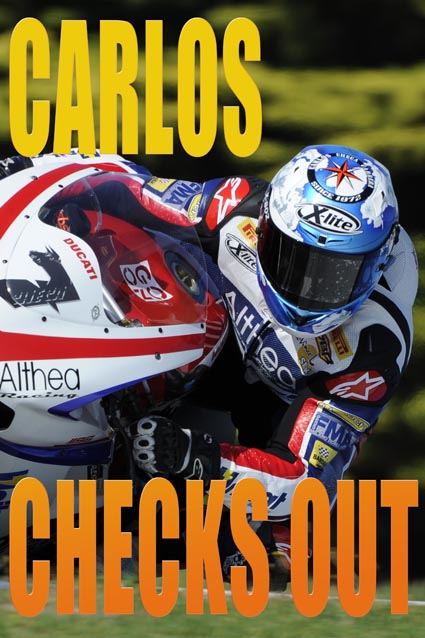 Spain's Carlos Checa has taken his fourth World Superbike race win on the trot – and his eighth of the season – after winning a shortened second race at Misano at the weekend.
With the race reduced to 14 laps following an earlier red flag, Checa, who had been leading at that time, looked to have a competition on his hands after Italy's Max Biaggi burst into the lead from the restart and established an early lead.
However, just as Checa was beginning to pressure Biaggi for the lead, the Italian ran wide on lap eight and allowed his rival through into an insurmountable lead.
Indeed, Checa looked to be in control of the race at the first start, taking the lead from Leon Haslam on lap three. Though Biaggi went with him as they lapped consistently faster than those behind, Checa was looking good for his second victory of the day.
However, the dynamic of the race changed on lap ten when both Marco Melandri – who was running third – and Leon Camier fell separately at turn one, the bikes landing in dangerous positions on the track to necessitate a red flag.
As such, the race was restarted with a duration of just 14 laps, while the revised grid reflected the positions at the end of lap nine. As such, while Checa was now on pole position, Biaggi was up from seventh to second, a fortune he capitalised on as he swept into the lead at the restart.
Checa gave chase once he had dispatched of Haslam, the BMW rider once again looking racy early on as he made the most of starting in third position. By contrast, Tom Sykes, who was challenging Melandri and Haslam for third place during the first start, lost out from fourth on the grid, the Kawasaki rider getting shuffled down to tenth position.
Once again, the top two didn't take long to break away, albeit Biaggi leading Checa on this occasion. Checa was soon shadowing Biaggi, but with fewer laps to the chequered flag, the Italian was pushing hard to keep the championship leader at bay.
As such, just as Checa was beginning to apply pressure to his rival for the lead, Biaggi ran wide at turn nine and allowed him through. Dropping almost two seconds, though Biaggi was safe in second place, it enabled Checa to establish a sizeable lead that he would carry to the chequered flag for his eighth win in 12 races. He now leads the standings by 72 points.
RESULTS:
Race one:
1. Carlos Checa ESP Althea Ducati 1098R 24 laps
2. Max Biaggi ITA Aprilia Alitalia Racing RSV-4 +0.984s
3. Marco Melandri ITA Yamaha WSBK YZF R1 +17.124s
4. Tom Sykes GBR Kawasaki RTS ZX-10R +18.652s
5. Eugene Laverty IRL Yamaha WSBK YZF R1 +18.929s
6. Leon Camier GBR Aprilia Alitalia Racing RSV-4 +21.003
7. Sylvain Guintoli FRA Effenbert Liberty Ducati 1098R +22.942s
8. Ayrton Badovini ITA BMW Italia S1000RR +23.117s
9. Joan Lascorz ESP Kawasaki Racing ZX-10R +31.729s
10. Maxime Berger FRA Supersonic Ducati 1098R +34.466s
11. Ruben Xaus ESP Castrol Honda CBR1000RR +36.683s
12. Matteo Baiocco ITA Barni Ducati 1098R +37.692s
13. Alessandr Polita ITA Barni Ducati 1098R +37.984s
14. Chris Vermeulen AUS Kawasaki Racing ZX-10R +41.016s
15. Lorenzo Lanzi ITA BMW Italia S1000RR +43.514s
Not Classified
16. Mark Aitchison AUS Pedercini Kawasaki ZX-10R 20 laps completed
17. Roberto Rolfo ITA Pedercini Kawasaki ZX-10R 14 laps completed
18. Leon Haslam GBR BMW Motorrad S1000RR 9 laps completed
19. Troy Corser AUS BMW Motorrad S1000RR 5 laps completed
20. Noriyuki Haga JPN PATA Aprilia RSV-4 4 laps completed
21. Jakub Smrz CZE Effenbert Liberty Ducati 1098R 3 laps completed
22. Michel Fabrizio ITA Suzuki Alstare GSX-R1000 1 lap completed
DNS Jonathan Rea GBR Castrol Honda CBR1000RR
Race two:
1. Carlos Checa ESP Althea Ducati 1098R 14 laps
2. Max Biaggi ITA Aprilia Alitalia Racing RSV-4 +1.484s
3. Noriyuki Haga JPN PATA Aprilia RSV-4 +7.772s
4. Ayrton Badovini ITA BMW Italia S1000RR +7.856s
5. Leon Haslam GBR BMW Motorrad S1000RR +9.714s
6. Michel Fabrizio ITA Suzuki Alstare GSX-R1000 +10.777s
7. Sylvain Guintoli FRA Effenbert Liberty Ducati 1098R +10.875s
8. Ruben Xaus ESP Castrol Honda CBR1000RR +13.483s
9. Joan Lascorz ESP Kawasaki Racing ZX-10R +13.576s
10. Chris Vermeulen AUS Kawasaki Racing ZX-10R +17.962s
11. Lorenzo Lanzi ITA BMW Italia S1000RR +22.768s
12. Roberto Rolfo ITA Pedercini Kawasaki ZX-10R +24.535s
13. Eugene Laverty IRL Yamaha WSBK YZF R1 +51.895s
14. Tom Sykes GBR Kawasaki RTS ZX-10R +1min 04.134s
Not Classified
15. Maxime Berger FRA Supersonic Ducati 1098R 8 laps completed
16. Jakub Smrz CZE Effenbert Liberty Ducati 1098R 5 laps completed
17. Matteo Baiocco ITA Barni Ducati 1098R 3 laps completed
DNS Leon Camier GBR Aprilia Alitalia Racing RSV-4
DNS Marco Melandri ITA Yamaha WSBK YZF R1
DNS Alessandro Polita ITA Barni Ducati 1098R
DNS Mark Aitchison AUS Pedercini Kawasaki ZX-10R
DNS Troy Corser AUS BMW Motorrad S1000RR
DNS Jonathan Rea GBR Castrol Honda CBR1000RR