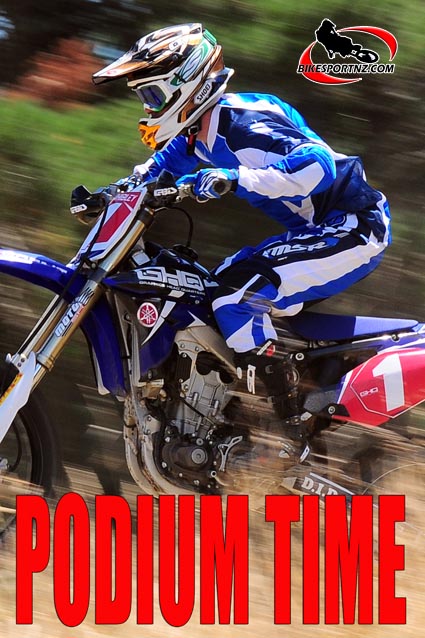 With one challenge ruled out, Kiwi dirt bike ace Paul Whibley went hunting for another at the weekend.
Heavy flooding in the region forced organisers of the Grand National Cross Country Championships (GNCC) in the United States to postpone the latest round of that series in Tennessee, leaving the New Zealand ace with time on his hands but still the need to stretch his legs.
The former forestry worker from Pahiatua packed up his Yamaha YZ450F and travelled instead to Virginia where he could tackle a round of the Virginia Harescramble Series.
"There were a lot of top riders looking elsewhere for their racing fix for the weekend," said Whibley.
"The Virginia Hare scramble Series organisers had upped their pay-out to attract some riders to their Martinsville event. Entries came from far and wide arrived, with riders from the GNCC, OMA, National Enduro and Eastern Hare Scramble series all showing up to race.
"I got a good start but got bounced around as we drove straight into the woods off the line, settling in about sixth spot.
"I followed my Yamaha team-mate, Thad Duvall, and we made some passes where possible and moved up toward the front. Thad got into second and latched onto enduro rider and local favourite Brad Bakken.
"It took me too long to make my move into third and I lost contact with the lead duo. I settled into a good pace and tried to ride smooth and mistake free in the tight, rocky in places trail. Another Enduro rider, Nick Fahringer, was not too far behind me and he had pressure from visiting Yamaha Australia rider Chris Hollis.
"The track was fairly long, coming in at about 15 miles in length, so we only needed three laps to make the two-hour event.
"Thad wasn't able to make a move on Brad over the last lap and I was not able to make any time on the leaders so the order at the front remained the same.
"Chris Hollis eventually put his Yamaha in front of Nick Fahringer before the race was done."
Whibley is currently running fourth overall after four of 13 rounds in the GNCC series, his main focus for the 2011 season in the US, and the weekend's replacement race served its purpose in giving the former GNCC champion a good work-out.
The next round of the GNCC series is set for May 15 in Indiana. A rescheduled date for the Tennessee event is still yet to be determined.
Leading results from Virginia:
1. Brad Brakken
2. Thad Duvall
3. Paul Whibley
© Words and photos by Andy McGechan, www.BikesportNZ.com