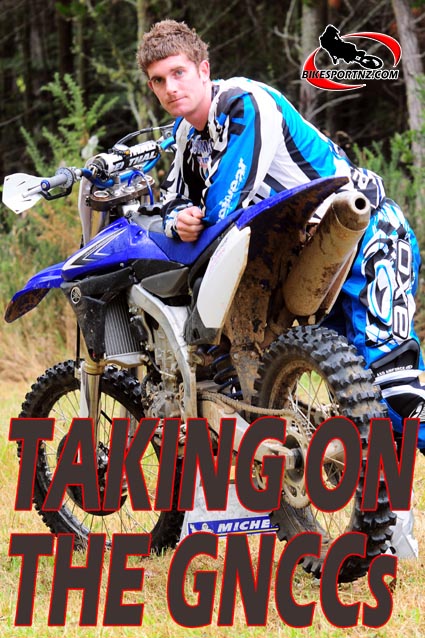 It will be a two-pronged Kiwi assault at the next few rounds of the national motorcycle cross-country racing series in the United States.
Former New Zealand enduro champion and 2011 series leader Rory Mead (Yamaha YZ450F) heads off this week to join fellow Kiwi Yamaha ace Paul Whibley, from Pahiatua, and compete in a selection of races in America.
A regular Grand National Cross-country Championships (GNCC) series campaigner, former US champion Whibley is running third in the GNCC series after four of 13 rounds so far.
Mead has been concentrating this season on winning back the New Zealand Enduro Championship title he last held in 2009 and this fresh adventure will be his first taste of GNCC racing.
Mead is well on target to secure the New Zealand enduro title – he leads the series after four of six rounds — and, with a break in the domestic calendar, he's thrilled to be able to take the diversion and race three rounds of the GNCC championships and two rounds of the parallel Off-Road Motorcycle and ATV (OMA) series in America, "just for the experience".
With no previous experience in the United States and an obviously abbreviated campaign ahead of him, Mead is well aware that he cannot expect to challenge for either US title.
But to win a race during his visit to the US is a very realistic ambition for the 24-year-old Bay of Plenty builder.
"I will be staying with Paul (Whibley) in South Carolina and doing five races in five weeks. I just want to try and see what I can learn with the aim that I may go over there and complete a full season in the future," said Mead.
"I will have a Yamaha YZ450F supplied by Paul and I will take a few extra parts that I need with me from New Zealand. Basically it will be a bike identical to what I ride at home.
"I did previously race an extreme enduro event in Las Vegas but this cross-country series will be a new experience for me.
"I come back home in June, just before the next round of the New Zealand Enduro Championships."
© Words and photo by Andy McGechan, www.BikesportNZ.com