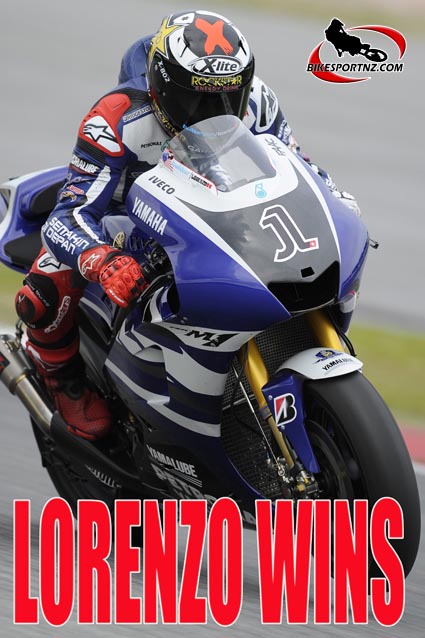 Spain's Jorge Lorenzo keep his cool as riders crashed all around him at the weekend's Spanish GP, round two of the MotoGP season.
Lorenzo took his first MotoGP victory as reigning world champion after an accident-packed Spanish GP, the first European race of the year.
Rain fell throughout Sunday at Jerez, and got heavier for the MotoGP main event, which was the first wet premier-class race since Sepang, Malaysia, in 2009.
The 17 riders at least had morning warm-up to experience the conditions, when pole sitter Casey Stoner was fastest from twelfth-on-the-grid Valentino Rossi, followed by Andrea Dovizioso, Nicky Hayden and Lorenzo.
Stoner held his start line advantage into turn one, but was unable to break away and lost the lead to Marco Simoncelli on lap 6, with Lorenzo and Rossi right behind him.
Rossi – who had charged his way forwards from eighth on lap one – then passed former team-mate Lorenzo on the following lap.
That put the Italian star directly behind Stoner, and the seven time MotoGP champion launched a rash pass on the Repsol Honda rider into turn one of lap 8.
Rossi came from a long way back, but was able to cut inside Stoner without contact – until he lost the front of his Ducati, sideswiped Stoner and sent them both sliding into the gravel.
Rossi remained on his prone Ducati, which now had Stoner's RCV literally lying on top of it. Yet it was Rossi who got away first, while Stoner was forced to retire – and left fuming at the lack of assistance he received from the marshals.
Rossi rejoined at the back of the field, yet was still able to finish in fifth place due to the number of accidents that followed. The #46 went straight to the Repsol Honda pits after the race to apologise to Stoner.
Stoner, although smiling and accepting Rossi's handshake, said "your ambition outweighs your talent" during the brief exchange, in which he also asked about Rossi's shoulder.
The Rossi/Stoner collision left Simoncelli, without even a MotoGP podium to his credit, holding a two-second lead – but the Italian threw it all away when he lost the front, then the rear, and highsided out at turn one on lap 12.
That handed Lorenzo a lead he held to the flag, but not before successfully responding to pressure from countryman Dani Pedrosa, who closed almost to within striking distance of the Yamaha rider before losing pace.
It looked like Pedrosa was suffering a repeat of his arm numbness problems as he slipped back into the clutches of Lorenzo's team-mate Ben Spies late in the race.
However, tyre wear seems to have been the critical factor for all riders in the closing stages – and cost two competitors a place on the podium.
Spies, having overtaken Pedrosa on lap 24, then crashed out of second on the following lap.
That mistake handed fellow American Colin Edwards the final podium place, the Monster Yamaha Tech 3 rider having just overtaken Hayden, but a stunned Edwards then crashed out after a technical failure on the last lap!
Hayden thus picked up Ducati's first podium of the season, from eleventh on the grid, with Hiroshi Aoyama just behind him. Rossi was over 1 minute from Lorenzo, who once again celebrated by jumping into a lake.
Rookie Cal Crutchlow was another victim of the grip levels, falling from his Tech 3 bike while fifth with seven laps to go – the Englishman rejoined to finish eighth behind Hector Barbera and Karel Abraham. Abraham also fell during the race.
The rate of attrition helped LCR Honda's Toni Elias claim ninth and John Hopkins tenth in his first MotoGP race since 2008, as a replacement for the injured Alvaro Bautista at Rizla Suzuki.
Loris Capirossi was the only Pramac rider to finish, in eleventh – after a crash for Randy de Puniet – while third Repsol Honda rider Andrea Dovizioso, who ran off track, made a pit stop on his way to twelfth and last.
Pedrosa will undergo shoulder surgery this week to try and cure the numbness he has suffered since his collarbone was broken at Motegi last year.
With the 2011 Japanese Grand Prix postponed, round three will be the Portuguese round at Estoril, which starts at the end of this month.
Spanish Grand Prix resuls:
1. Jorge Lorenzo ESP Yamaha Factory Racing 50m 49.046s
2. Dani Pedrosa ESP Repsol Honda Team 51m 8.385s
3. Nicky Hayden USA Ducati Marlboro Team 51m 18.131s
4. Hiroshi Aoyama JPN San Carlo Honda Gresini 51m 18.597s
5. Valentino Rossi ITA Ducati Marlboro Team 51m 51.273s
6. Hector Barbera ESP Mapfre Aspar Team 51m 57.486s
7. Karel Abraham CZE Cardion AB Motoracing 52m 3.166s
8. Cal Crutchlow GBR Monster Yamaha Tech 3 52m 8.156s
9. Toni Elias ESP LCR Honda MotoGP 52m 31.952s
10. John Hopkins USA Rizla Suzuki MotoGP 52m 37.441s
11. Loris Capirossi ITA Pramac Racing Team 52m 40.922s
12. Andrea Dovizioso ITA Repsol Honda Team 53m 39.633s
DNF:
Colin Edwards USA Monster Yamaha Tech 3
Ben Spies USA Yamaha Factory Racing
Randy de Puniet FRA Pramac Racing Team
Marco Simoncelli ITA San Carlo Honda Gresini
Casey Stoner AUS Repsol Honda Team
Photo courtesy Yamaha