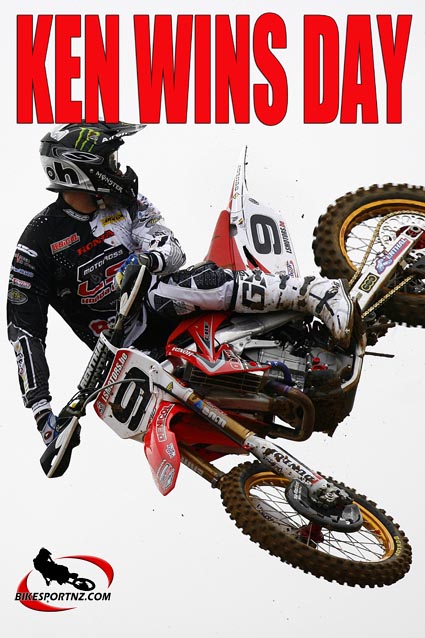 After twice finishing runner-up in the hunt for Belgian national motocross titles — in 2008 and 2009 — Ken De Dycker has his eyes set on a first domestic crown in the highly regarded Lotto Trophy/Belgian MX Championship.
The tall Belgian started his national campaign in terrific form at the weekend in Mons. The 26-year-old took the overall win and claimed two dominant victories. Only in the last race of the day he was outgunned by home rider Desalle.
Team-mate Shaun Simpson enjoyed a consistent day (4-3-4) and was rewarded with his first ever podium finish in the Belgian Championship.
De Dycker is of course the first leader in the Lotto Trophy standings, a seven-round series.
Compared with the last edition in 2007, the Bois Brulé track was updated in several places. However the core remained the same; a testing combination of deep sand and a winding technical layout in a forest. De Dycker grabbed the pole in qualifying ahead of Jeremy Van Horebeek and Desalle. Simpson who had last ridden at the former GP track in 2006, posted the fourth fastest time.
Marc De Reuver took the holeshot in the first moto, but the LS Honda Racing duo Simpson and De Dycker was right behind him.
De Dycker didn't waste his time and quickly grabbed the lead, never to relinquish his position at the front. The 5000-strong crowd saw De Dycker building up to an impressive 14 second advantage over Clément Desalle in the shortest, 20 minutes plus one lap, race of the day.
De Reuver was third, Simpson tried his best to catch the Dutchman, but he stranded at less than 2 seconds, while the difference with Desalle was less than 6 seconds.
Belgian champion Ramon was the first to exit the spectacular first left-hander in the second moto. Jurgen Van Nooten was on his tail, but Simpson and De Dycker, respectively third and fourth in the start immediately charged on.
Simpson held on to second behind leader Ramon in the opening stages. This time Ken showed a little more patience, albeit the emphasis is here on a little rather than patience. Because after a crash of Ramon, it was De Dycker who steered his CRF450R into the lead after only three rounds. Ken then pulled the pin and produced some extremely fast laps, allowing him to build a very healthy lead similar to the one he enjoyed in the opening moto. Behind the dominant LS Racing Honda rider Desalle had moved into second. Despite the increasingly demanding state of the track Simpson remained unfazed. The 23-year-old Briton rode his own pace, coming home in third, barely more than 2 seconds after vice world champion Desalle.
In the final race of 30 minutes plus two laps the holeshot honours went to Desalle. With Ramon in second De Dycker in third and Simpson in fourth, the two Honda mounted riders started to put the leaders under pressure. Just over half race distance Ken pushed on to take control of the race. With a bold overtaking move on the table top jump at the back of the start-finish K9 passed Desalle. The Dycker seemed on the way to a well-deserved hat-trick, unfortunately back pain forced him to back off at the very end of the race. This allowed Desalle to recover, while De Dycker claimed second in front of Ramon, Simpson and the Italian Davide Guarneri.
"Mons is always physically demanding and this was certainly the case today," said De Dycker afterwards.
"My victories and my speed were certainly a positive way for me to get my revenge after the disappointing start I had in the World Championship last week in Bulgaria! Because of my crash in the opening moto in Sevlievo I was pretty beat-up on the left side; I had hurt my hip, leg, back and groin … everything was painful!
"Last week I wasn't able to train properly so given the circumstances it was no surprise to me that I didn't have anything left for Desalle when he came back in the final moto."
RESULTS:
Moto 1:
1. Ken De Dycker, 2. Clément Desalle 3. Marc De Reuver 4. Shaun Simpson, 5. Steve Ramon 6. Herjan Brakke 7. Davide Guarneri 8. Nick Triest 9. Jeremy Delincé 10. Jurgen Van Nooten 11. Michael Van Wezel 12. Manuel Priem 13. David Cools 14. Eric Foguenne 15. Maartren Govaert 16. Kristof Salaets 17. Andy Truyts 18. Steven Engelen 19. Mika Makinen 20. Jeremy Van Horebeek.
Moto 2:
1. Ken De Dycker, 2. Clément Desalle 3. Shaun Simpson, 4. Marc De Reuver 5. Davide Guarneri 6. Steve Ramon 7. Jeremy Delincé 8. Herjan Brakke 9. Nick Triest 10. Kristof Salaets 11. Kim Lindstrom 12. Petar Petrov 13. David Cools 14. Mika Makinen 15. Eric Foguenne 16. Jurgen Van Nooten 17. Andy Truyts 18. Steven Engelen 19. Michael Van Wezel 20. Maarten Govaert.
Moto 3:
1. Clément Desalle 2. Ken De Dycker, 3. Steve Ramon 4. Shaun Simpson, 5. Davide Guarneri 6. Herjan Brakke 7. Kim Lindstrom 8. Nick Triest 9. Jeremy Delincé 10. Petrar Petrov 11. Kristof Salaets 12. David Cools 13. Eric Foguenne 14. Jurgen van Nooten 15. Maarten Govaert 16.  Andy Truyts 17. Mika Makinen 18.Steven Engelen.
Classification Mons and Lotto Trophy-Belgian championship standings:
1. Ken De Dycker 72,
2. Clément Desalle 69,
3. Shaun Simpson 56,
4. Steve Ramon 51,
5. Davide Guarneri 46,
6. Herjan Brakke 43,
7. Nick Triest 38,
8. Jeremy Delincé 38,
9. Marc De Reuver 38,
10. Kristof Salaets 26
© Words by Tom Jacobs
© Photo by CDS