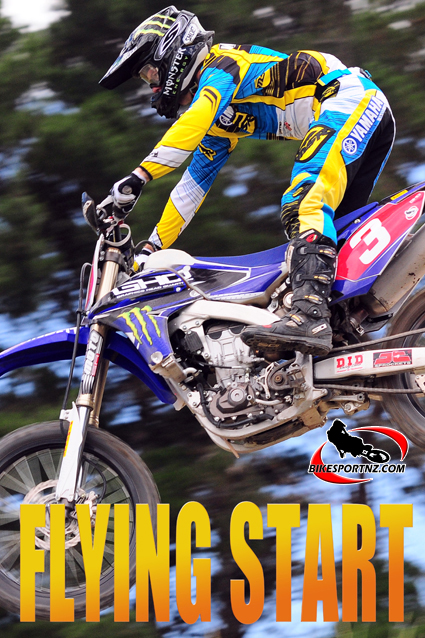 It was celebration time in only his second race back in the United States for Kiwi dirt bike ace Paul Whibley at the weekend.
Fresh from finishing runner-up at the opening round of the Off-Road Motorcycle and ATV Championships in Alabama a week ago, the Yamaha rider from Pahiatua put himself up one place to take the top step of the podium with a solid win at the opening round of the Mid East Hare Scramble Series in South Carolina on Sunday.
Both races were really just part of the Pahiatua man's build-up for his main focus in the United States this season – reclaiming his No.1 plate in the Grand National Cross Country Championships (GNCC) – but the Mid-East event win was a welcome result nonetheless.
"This was the final race weekend for me before the GNCC series kicks off, so it was important to get a good result," said Whibley.
"The event was held near Woodruff, South Carolina, which is only about an hour from our team base so it was nice not to have to travel too far."
Dry conditions for this time of year saw an orange cloud of dust drifting about the pits as the juniors raced just ahead of the main event.
"With last pick for the line, I was forced to line up on the extreme inside but, with the YZ450F firing up quickly, I was able to knife up the inside and take the holeshot. Leading the way, I set a good pace and only Jesse Robinson kept me in sight as the laps ticked by.
"There was a fairly big turn-out of riders and lapped traffic was chaotic over the first hour of the race. My mechanic, Scotty Brooker (of Feilding), and my wife Katherine had me in and out of the pits near the 90-minute mark.
"With only two laps to go, I kept up the pace and had a comfortable lead but there was no slacking over the final laps. With the GNCC series looming, pushing hard and holding the intensity to the end was a must for me.
"Taking the win sealed my season preparation for 2011. Scotty has the bikes under control, Katherine has the pits running smooth and the training is on track.
"Things are in good shape heading to Florida for round one of the GNCC series on March 8."
LEADING RESULTS:
1. Paul Whibley
2. Jesse Robinson
3. Jason Gillion
© Words and photo by Andy McGechan, www.BikesportNZ.com