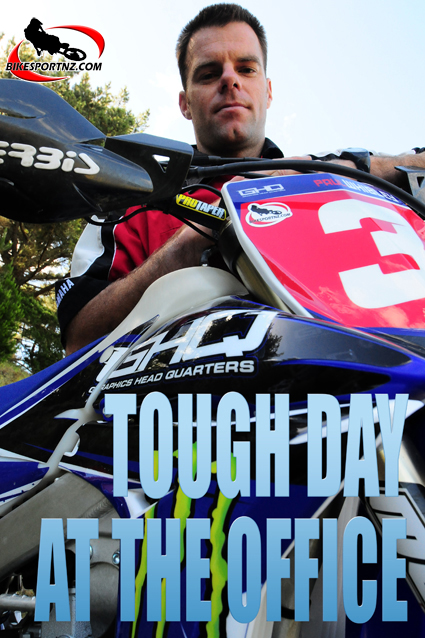 It was a tough opening bid for former champion Paul Whibley as the Grand National Cross-country Championships kicked off in the United States this week.
The Yamaha rider from Pahiatua struck trouble early on, a stick puncturing his radiator and slicing into his elbow soon after the start at this first of 13 rounds in the series in Orlando, Florida, on Wednesday (NZ time).
But, despite the setback, Whibley managed to claw his Yamaha YZ450F through the field and bring it home in an unaccustomed eighth place overall.
"I had grabbed the holeshot but, just before we hit the woods, Mike Brown snuck past and stole the lead. The track was well used and a bit dusty in the first mile.
"I was chasing Mike when I hit a root or something in the dust that sent me offline. I regained control just in time to avoid a head on with a tree, although my elbow and radiator clipped it.
"As I sat down for the next corner, my knee caught the damaged radiator and drew my attention to how extensive the damage was. I assessed how much coolant it was losing and contemplated trying to make a lap before stopping for repairs, but further investigation revealed I probably wouldn't complete a lap before the bike would suffer terminal damage.
"So I headed back to the pits where my mechanic Scotty Brooker (of Feilding) and the team fitted a new radiator. I got back out on the track but I was a long way back.
"I had to push through thick traffic and the leaders were able to pull even further away with a clear track.
"I tried to put in some consistent laps and salvage some points. I knew it was a tough track and that the mortality rate would be high, so was determined to at least finish in the points.
"As the race wore on I picked off guys one at a time and slowly moved into contention for points. By the time the race was done I had done enough to move up to 8th in XC1 class.
"It was a tough day at the office but we are on the points board and will be moving up from here."
The next round is set for Washington this weekend.
Leading results:
XC1 class:
1. Charlie Mullins (KTM)
2. Michael Brown (KTM)
3. Chris Bach (Bet)
4. Josh Strang (Suz)
5. Nathan Kanney (KTM)
6. Cory Buttrick (KTM)
7. Garret Edminsten (Kaw)
8. Paul Whibley (Yam)
9. Fernando Macia (Yam)
10. Dennis Stapleton (Yam)
© Words and photo by Andy McGechan, www.BikesportNZ.com