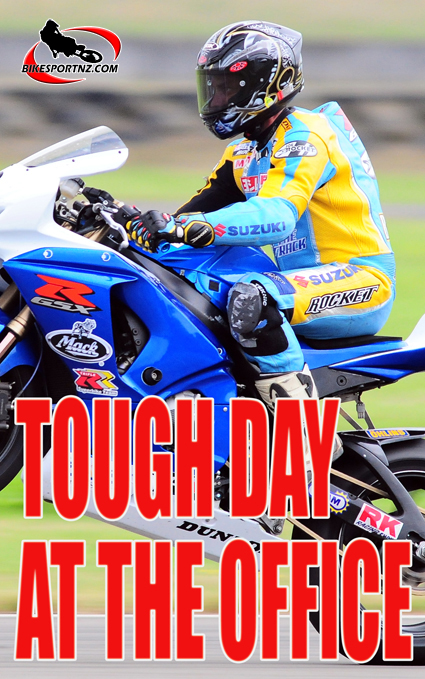 BMW rider Glenn Allerton has extended his Australian Superbike Championship points lead with a dominant race two win at Symmons Plains yesterday.
Hampered by a brake problem in the morning's race, the 2008 Australian Superbike Champion bounced back in style in the second 20-lap battle, winning by a 1.444-second margin over Honda's Wayne Maxwell.
Meanwhile, three-time New Zealand superbike champion Robbie Bugden (Suzuki) (pictured above), finished sixth overall for the weekend, to be seventh overall in the championship after two rounds.
Maxwell took the lead from pole and controlled the race until mid-distance when Allerton pounced, the power of the BMW only too apparent on the back straight sweeper, the fastest corner in Australian motorsport at over 270km/h.
Yesterday's result also marks Allerton's third round win in a row. He won at this venue in November last year before switching manufacturers and dominating last week's Phillip Island opener.
The Sydney rider said he was determined to make amends for this morning's race where he felt a win went begging, Josh Waters made a winning return in race one, smashing the lap record on his way to victory.
"I felt really comfortable on the bike today," said Allerton. "The problem with the front brake in race one cost me a chance to attack and I knew I had to make it up this afternoon.
"We pulled together as a team and got it done, thanks to everyone involved for a huge effort this weekend.
"We'll look to Darwin now and try a few more things to develop the bike further. There's more progress to be made and I can't wait to get to Hidden Valley and try to work on building my championship lead further."
Allerton leads the championship on 93 points, 23 ahead of Team Suzuki's Troy Herfoss who finished fifth overall this weekend.
Second place for the round went to race 1 winner, Team Suzuki's Waters.
Waters was unable to match the pace of Allerton and the Team Honda duo and has already set his sights on Hidden Valley, a track he dominated at last year.
"I was really happy with the race one result but today I didn't quite have enough for the leaders in race two," said Waters.
"It's good to get a win on the board. Hopefully I can add a few more when we go back to Darwin in a few weeks."
Maxwell finished third yesterday, adding a valuable 41 points to his tally. The top three were separated by a point each at the end of a thrilling day of racing.
The next round of the Viking Group Australian Superbike Championships will be held at Darwin's Hidden Valley Raceway from April 14-17.
Viking Group Australian Superbike Championship Round 2 Points
1. Glenn ALLERTON (VIC), 43
2. Joshua WATERS (VIC), 42
3. Wayne MAXWELL (VIC), 41
4. Jamie STAUFFER (NSW), 34
5. Troy HERFOSS (VIC), 33
6. Robert BUGDEN (QLD), 29
7. Ben ATTARD (QLD), 29
8. Kris McLAREN (VIC), 25
9. Craig COXHELL (VIC), 25
10. Cole ODENDAAL (NSW), 22
Viking Group Australian Superbike Championship Overall
1. Glenn ALLERTON (VIC), 93
2. Troy HERFOSS (VIC), 70
3. Jamie STAUFFER (NSW), 66
4. Ben ATTARD (QLD), 65
5. Wayne MAXWELL (VIC), 60
6. Craig COXHELL (VIC), 58
7. Robert BUGDEN (QLD), 57
8. Cole ODENDAAL (NSW), 45
9. Ben HENRY (QLD), 45
10. Joshua WATERS (VIC), 42
Suzuki Australian Supersport Championship Round 2 Points
1. Christan CASELLA (VIC), 46
2. Brodie WATERS (VIC), 37
3. Rick OLSON (VIC), 35
4. Glenn SCOTT (NSW), 32
5. Mitchell CARR (NSW), 32
6. Aaron GOBERT (NSW), 29
7. Chris QUINN (NSW), 26
8. Andy LAWSON (QLD), 26
9. Ryan TAYLOR (VIC), 22
10. Darren SCIBERRAS (VIC), 20
Suzuki Australian Supersport Championship Overall
1. Christan CASELLA (VIC), 77
2. Brodie WATERS (VIC), 76
3. Aaron GOBERT (NSW), 71
4. Mitchell CARR (NSW), 67
5. Kevin CURTAIN (VIC), 60
6. Rick OLSON (VIC), 51
7. Andy LAWSON (QLD), 46
8. Glenn SCOTT (NSW), 44
9. Chris QUINN (NSW), 44
10. Ryan TAYLOR (VIC), 40
Honda Prostock Round 1 and Overall Points
1. Cru HALLIDAY (NSW), 76
2. Matthew WALTERS (NSW), 56
3. Linden MAGEE (QLD), 55
4. Brett SIMMONDS (TAS), 52
5. Nathan HOUTERMAN (QLD), 47
6. Ben NICOLSON (VIC), 43
7. Scott YATES (NSW), 40
8. Daniel MOULTON (VIC), 39
9. Anthony QUINN (NSW), 36
10. Phil LOVETT (NSW), 31
Suzuki Australian Superstock Championship Round 2 Points
1. Michael JONES (QLD), 76 points
2. Mark WILKINSON (VIC), 58
3. Zach THACKERAY (NSW), 56
4. Timothy McGREGOR (NSW), 48
5. Daniel FALZON (SA), 47
6. Luke BURGESS (QLD), 46
7. James BECK (NSW), 45
8. Quentin BLAZLEY (TAS), 34
9. Brenton HYDE (NSW), 32
10. James MUTTON (QLD), 31
Suzuki Australian Superstock Championship Overall
1. Michael JONES (QLD), 127 points
3. Mark WILKINSON (VIC), 93
3. Zach THACKERAY (NSW), 91
4. Daniel FALZON (SA), 79
5. James BECK (NSW), 71
6. Timothy McGREGOR (NSW), 71
7. Luke BURGESS (QLD), 55
8. Andrew KINGS (NSW), 50
9. James MUTTON (QLD), 48
10. Michael LOCKART (NSW), 48
Motul Superlites Round 1 and Overall Points
1. Joshua HOOK (NSW), 76 points
2. Nicky DILES (NSW), 60
3. Alex PHILLIS (VIC), 54
4. Jordan ZAMORA (QLD), 47
5. Tom HATTON (WA), 45
6. Lachlan HILL (VIC), 41
7. Hayden DEMAMIEL (NSW), 38
8. Mitch LEVY (NSW), 35
9. Peter GALVIN (NSW), 34
10. Sheldon VENTER (QLD), 31
© Photo by Andy McGechan, www.BikesportNZ.com