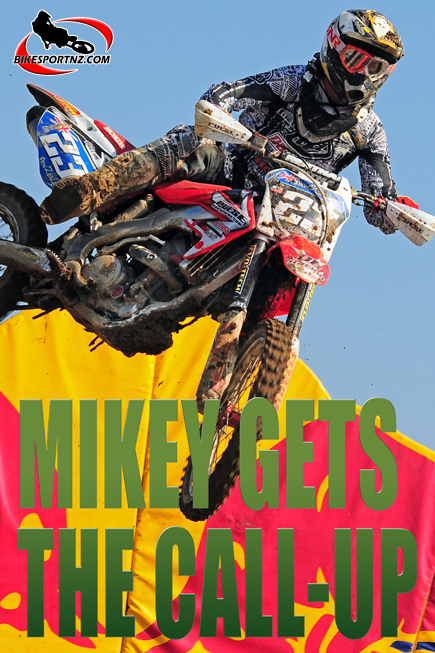 Rotorua's Michael Phillips has gotten the nod to cross the Tasman and join the Carlton Dry Honda Thor Racing Team again this season.
In a blow to the team, young gun Todd Waters has been sidelined due to an injury sustained while training for the upcoming MX Nationals season opener, which will be held at Broadford State Motorcycle Complex in two weeks' time.
Waters dislocated his wrist and broke his scaphoid, requiring surgery, and has subsequently being ruled out for up to 12 weeks.
Former team-mate Phillips, the current New Zealand MX2 (lites or 250cc) champion) who has been enjoying great success in the MX1 class on-board a stock Honda CRF450 in the New Zealand Motocross Championships, has been recruited to fill the void.
Phillips is no stranger to the team, having contested the Lites Championship on a CRF250 with them last year.
Team boss Yarrive Konsky said Phillips form this year made him a natural choice to replace Waters.
"While the team was disappointed not to be starting the season with Todd we are extremely impressed at the progress Michael has been making in the NZ Motocross Championships," Konsky said.
"His form this year has been very good and he also knows the team well and will fit in right away.
"Given his results in New Zealand we think having him back on board a Carlton Dry Honda Thor Racing CRF450 will see him very competitive" Konsky concluded.
Phillips has set tongues wagging with his success on-board the 450cc bike, with podium finishes in the past two NZ Motocross events.  The 24-year-old has also been matching renowned motocross champion Josh Coppins (Yamaha).
"I can't pretend I'm not happy being back with my old Honda team and having a place in this year's MX Nationals," Phillips admitted. "But I was hoping to return under better circumstances.
"I'm 24 now and I've spent my career on the Lites bike (CRF250) and have had good results but I felt it was time to step it up.
"It gives me great confidence to be posting quicker lap times than riders like Josh Coppins who are from Factory teams. I have beaten Coppins one out of three races but now I plan to beat him three out of three," Phillip concluded.
While Waters recovers Phillips is readying himself to head to Australia to commence preparations for the opening round of the 2011 MX Nationals at Broadford State Motorcycle Complex on Sunday, March 6.
© Photo by Andy McGechan, www.BikesportNZ.com