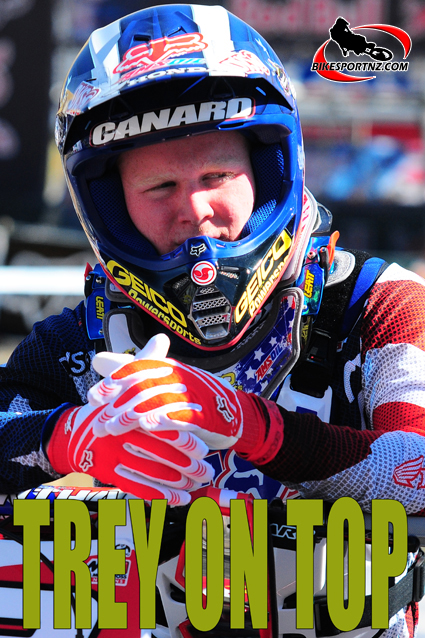 Honda's Trey Canard took his first career Supercross class victory at the sixth round of the 2011 Monster Energy AMA Supercross season at Houston, Texas, on Saturday night.
And while Canard was celebrating the night, it was meltdown time for the man who had been leading the series, Yamaha's James Stewart.
Swallowed up in the first-turn carnage, Stewart did well to battle back and eventually settle for 15th spot but that may yet prove to be a fatal blow to his campaign hopes. However, with 11 rounds still to go, his now nine-point deficit is certainly not insurmountable.
Meanwhile, in the opening race of the Supercross Lites Eastern Regional Championship, Honda's Justin Barcia raced to the win in the 15-lap main event.
The huge crowd of 45,859 fans that filled Reliant Stadium got their money's worth as carnage broke out in turn one of the main event.
As the 20 riders in the Supercross class converged on the first corner, a melee ensued, collecting Stewart as well as Australian hero Chad Reed (Honda). Through the chaos, Honda's Kevin Windham grabbed the holeshot and led for the first half of the race. Stewart and Reed crossed the line in 15th and 17th, respectively, following the first lap.
While leading, Windham crashed in a rhythm section and found himself out of the race, handing the lead to Canard on Lap 10. For the remainder of the main event, defending Supercross champion Ryan Dungey (Suzuki) closed in and actually took over the top spot for a short time before Canard fought back and fended off Dungey to take the victory.
"I don't know what to say," said Canard. "It was an awesome race. I just tried to hang in there, because it was a tricky track. I made a mistake and (Ryan) Dungey gained a lot of time on me and from there I was just riding defensive. We had a bit of a rough week this week, but this makes it all better."
Dungey finished second, almost clipping Canard at the line, and rebounded from his DNF one week ago when a dropped chain ended his night.
"The championship isn't over till it's over," said Dungey. "There's still a lot of racing left. We came up a little bit shy and I just have to look forward to next weekend."
Completing the podium was Kawasaki's Ryan Villopoto who overcame a bad start of his own, crossing the line in 12th on the first lap.
"That was a tricky first turn," said Villopoto. "It was super tight but I got through there. There were definitely some close moments in that race. The name of the game when you're at the top of the standings is to be consistent."
Championship leader coming into the round, Stewart eventually finished a lap down in 17th place after another crash where he landed on Jason Thomas. Reed re-grouped after the first turn crash and clawed his way back to respectable 6th place.
By virtue of his podium finish and Stewart's DNF, Villopoto took over the Supercross championship lead and now holds a nine-point advantage.
As the gates dropped on the Supercross Lites class main event, Stewart's younger brother Malcolm Stewart grabbed the holeshot in his professional debut. The Suzuki City's rider was quickly passed by Barcia and Kawasaki's Dean Wilson who gradually pulled away from the field.
The pair traded the top spot on several occasions before Barcia asserted himself in the top spot and held on for the remainder of the race.
"That's racing right there," said Barcia. "If we didn't put on a show, then I don't know what will. We had a great race out there. I'm just so thankful for my whole team. Going that fast, that hard and that intense for 15 laps was crazy, but that's what I've been training for."
Wilson followed in the runner-up spot while his Kawasaki team-mate Blake Baggett followed in third.
Supercross Class Results: Houston
1. Trey Canard, Shawnee, Okla., Honda
2. Ryan Dungey, Belle Plaine, Minn., Suzuki
3. Ryan Villopoto, Poulsbo, Wash., Kawasaki
4. Davi Millsaps, Carlsbad, Calif., Yamaha
5. Andrew Short, Smithville, Texas, KTM
6. Chad Reed, Tampa, Fla., Honda
7. Ken Roczen, Germany, KTM
8. Brett Metcalfe, Lake Elsinore, Calif., Suzuki
9. Ivan Tedesco, Murrieta, Calif., Kawasaki
10. Mike Alessi, Victorville, Calif., KTM
Supercross Class Season Standings
1. Ryan Villopoto, Poulsbo, Wash., Kawasaki – 132
2. James Stewart, Haines City, Fla., Yamaha – 123
3. Trey Canard, Shawnee, Okla., Honda – 112
4. Chad Reed, Tampa, Fla., Honda – 105
5. Ryan Dungey, Belle Plaine, Minn., Suzuki – 101
6. Andrew Short, Smithville, Texas, KTM – 80
7. Brett Metcalfe, Lake Elsinore, Calif., Suzuki – 80
8. Justin Brayton, Cornelius, N.C, Yamaha – 65
9. Davi Millsaps, Carlsbad, Calif., Yamaha – 62
10. Kevin Windham, Centreville, Miss., Honda – 61
Supercross Lites Class Eastern Regional Results: Houston
1. Justin Barcia, Ochlocknee, Ga., Honda
2. Dean Wilson, Menifee, Calif., Kawasaki
3. Blake Baggett, Grand Terrace, Calif., Kawasaki
4. Ryan Sipes, Ekron, Ky., Yamaha
5. Ian Trettel, Lake Elsinore, Calif., Suzuki
6. Blake Wharton, Aubrey, Texas, Honda
7. Jason Anderson, Edgewood, N.M., Suzuki
8. Lance Vincent, Youngsville, La., Honda
9. Matt Lemoine, Collinsville, Texas, Kawasaki
10. Alex Martin, Millville, Minn., Honda
Supercross Lites Class Eastern Regional Season Standings
1. Justin Barcia, Ochlocknee, Ga., Honda – 25
2. Dean Wilson, Menifee, Calif., Kawasaki – 22
3. Blake Baggett, Grand Terrace, Calif., Kawasaki – 20
4. Ryan Sipes, Ekron, Ky., Yamaha – 18
5. Ian Trettel, Lake Elsinore, Calif., Suzuki – 16
6. Blake Wharton, Aubrey, Texas, Honda – 15
7. Jason Anderson, Edgewood, N.M., Suzuki – 14
8. Lance Vincent, Youngsville, La., Honda – 13
9. Matt Lemoine, Collinsville, Texas, Kawasaki – 12
10. Alex Martin, Millville, Minn., Honda – 11
© Photo by Andy McGechan, www.BikesportNZ.com