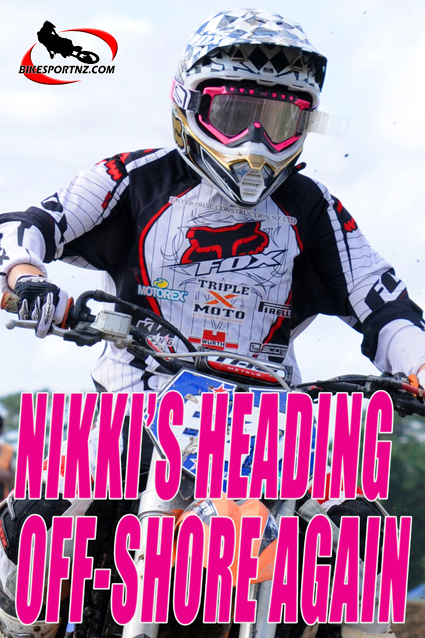 New Zealand's Nikki Scott has many reasons for getting off her bike. But like most motocross riders, there's enough daredevil in her make-up to keep riding.
The Manawatu girl started racing in 2001 and finished 17th in the women's world championship series in Europe last year.
At 21, she has already had her share of crashes. In 2005, her then 13-year-old brother, David, was in a coma after a bad crash while racing at the Woodville meeting.
"It plays on your mind a little bit," she said. "But every aspect of your life has a bit of danger."
Her brother also suffered severe bruising and a ruptured lung in his crash and his helicopter trip to hospital was documented on the front page of the local newspaper, the Manawatu Standard.
He recovered, is now an apprentice builder living life to the full, and Nikki was back riding three weeks later while he was still in hospital.
She had to have a plate inserted in her broken collarbone after a crash in Belgium. Four months later came her biggest prang, on the same track in Belgium. She suffered breaks in her right leg, right knee and left shoulder, and needed surgery.
That was in January last year. She was riding in sandy terrain over snow melt across two jumps when she landed on the face of the second jump.
It was freakish that her bike, all 115kg of it, travelling at 50kmh, came down and slammed into her.
"It pulled my legs up over my head," she said.
"Psychologically, I took so long to recover. I was so immobile."
She stayed in Belgium and pushed through the pain, but it put her off her 250cc bike for two months. Doctors told her to rest for six and she wished she had taken their advice.
A week or so ago she won the New Zealand women's grand prix title at Woodville.
She intends to ride the world series again, where her best placing was sixth last year.
"I learned a lot. The experience was priceless."
Before that, she hopes to race in the United States for the first time, in July.
She's been studying massage therapy at UCOL and in April will return to Belgium to see her Belgian boyfriend. "He was my mechanic; then he became my boyfriend," she chuckled.
"At the end of the year I'll go to Belgium to live permanently. I love it there; it's cool."
She said Belgium is the motocross centre of the world. Even French teams base themselves there and sometimes Scott rides in the snow.
But one discipline she won't embrace is freestyle motocross, the higher-risk acrobatic form of the sport, despite a few people suggesting it to her.
© Words by Peter Lampp
© Photo by Andy McGechan, www.BikesportNZ.com