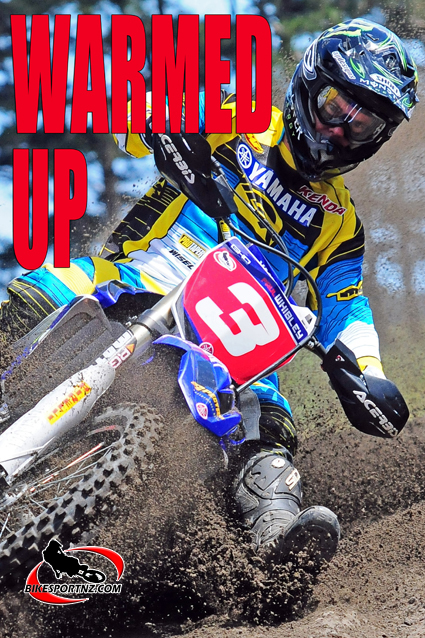 The season build-up continues to gather momentum for Pahiatua's Paul Whibley.
The Yamaha ace, national No.3 in the United States after a mixed season racing the Grand National Cross-country Championships last season, is keen to get his new campaign underway with a few good warm-up wins under his belt during his off-season back home.
The latest outing for the former Manawatu forestry worker, known affectionately on the racing scene as "the Axeman", came at round four of the New Zealand GNCC series staged under blazing sun in the Maramarua forest, just south of Auckland, at the weekend.
But it wasn't all straight-forward for Whibley (Yamaha YZ450F).
"Some early confusion off the start line after a track change saw myself and fellow Yamaha rider Rory Mead (of Taupo) briefly take a wrong turn and lose some track positions," said Whibley.
"I found myself in third behind Tauranga's Reece Burgess (Husaberg) for the first few kilometres, but, with some aggressive riding, I moved up to second position."
He then sent out to hunt down the leader, fast-starting Auckland Honda rider Karl Power.
"The track was extremely dusty and excessively fast and I couldn't let Karl get away from me, although, by the time I got to second place, all I could see of Karl was the long dust trail. I didn't help my cause when, in the blinding dust, I missed a turn and only realised when I came into clean air that I had made a mistake.
"By the end of lap one, I had nearly a minute to make up. I kept the pressure on and began to eat into Karl's lead as I learned the track. By the end of the second lap the gap was down to about 30 seconds and by the end of third lap I had reeled him in and locked on to his rear wheel.
"Some risky moves were made in the dust but they soon paid off as I took the lead in the fourth lap. Finally, in the clean air, I was able to ride safely and not take any more chances."
Whibley then shot out to a comfortable lead, eventually taking the win in the two-hour 30-minute event with Power finishing runner-up and Burgess taking the final podium spot.
Whibley will continue his pre-season build-up by racing at the 50th annual Woodville Motocross in just over a fortnight, before flying back to the east coast on the United States to again tackle the American GNCC series.
© Words and photo by Andy McGechan, www.BikesportNZ.com