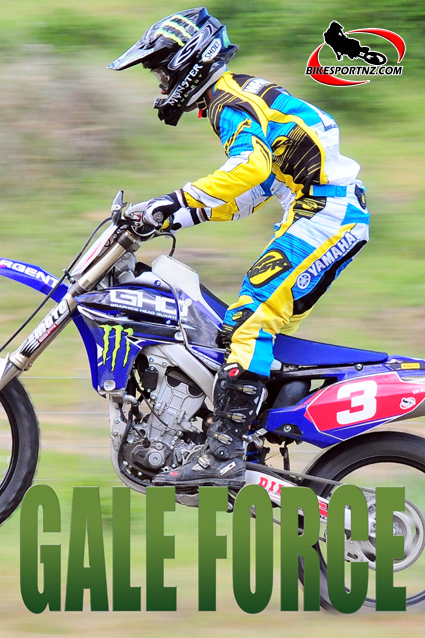 Paul Whibley is counting up and counting down too.
The cross-country dirt bike racing wizard from Pahiatua has added another race win to his impressive tally in New Zealand this summer as he counts down the days before he heads back to the United States for another crack at the coveted Grand National Cross-country Championships (GNCC) crown.
Outright GNCC winner in the US in 2009 and a solid third overall last season, Whibley is keen to use his brief "holiday" time back home in New Zealand to sharpen his riding skills and build his stamina and strength.
The Yamaha ace is furiously determined to win back the No.1 plate in America in 2011.
And the competitors at round two of the Bush Riders Motorcycle Club cross-country championships near Pahiatua at the weekend felt the full force of Whibley's fury.
The weather conditions were full of fury too, with high winds preventing organisers from using the traditional "run to your bike" start. This idea was abandoned in favour of riders holding the rear guards of their bikes to prevent them being blown over as they awaited the shotgun blast to signal the start.
"But even the modified start couldn't hold the YZ450F back, as I grabbed a massive holeshot to take early control of the race," said Whibley.
"For the first lap, I played it safe, learned the track and rode smart in the gale force westerly.
"The 22-kilometre lap was long and took some remembering but, by the second lap, I had most of the dodgy bits memorised and stepped up the pace, opening up a gap on the chasing riders.
At the end of the second lap, (my wife) Katherine was there to gas me up and I was ready to tackle the last two laps.
"The conditions were mentally draining with high concentration levels needed to maintain a mistake free run as any idle-mindedness along the ridge-tops was punished. Some riders had the front wheel blown out from under them."
Whibley raced to the win just under the two-hour mark.
Whibley will continue his pre-season build-up by racing at the 50th annual Woodville Motocross in just over a weeks' time, before flying back to the east coast on the US to again tackle the American GNCC series.
© Words and photo by Andy McGechan, www.BikesportNZ.com