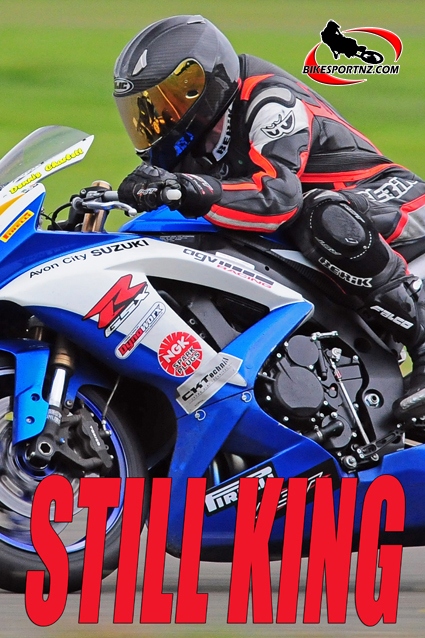 Christchurch's Dennis Charlett is still King of the Port.
The Suzuki ace successfully defended his King of the Port title at the annual Port Nelson Street Races at the weekend.
Racing the same Suzuki GSX600 that he will ride at the nationals when they kick off near Timaru at the end of this month, Charlett proved to be the dominant rider of the meeting, winning both the formula one and two classes.
In the 10-lap feature race, he survived a red flag early on after another rider crashed, and he also fought off a strong challenge from fellow Canterbury man Dan McKenzie (Honda CBR1000).
"I didn't really want to do anything stupid.
"Getting later in the day, the tar seal was getting really slippery.
"But it was awesome, an awesome ride, and great to be here."
He said he was lapping two seconds faster than last year, something he put down to having a better set-up after he'd also raced at the Wanganui street races on Boxing Day.
"Last year I came here with my bike set up as a circuit bike and the front forks were too soft, I was bottoming out at a lot of places.
"Whereas this year we did Wanganui first and the bike is all set up for the street, so when we run over the manholes and pot-holes, the bike wasn't bottoming out."
Charlett grew up in Nelson, and said it was great to perform in front of his family.
McKenzie was a late entry and he was delighted with his second place in the King of the Port race, especially after his bike suffered some damage in an earlier race.
"For sure, first would have been better, but I've got to look at the guys I'm up against.
"I had my work cut out."
Robbie Stokes won the formula three class, Mark Perry the Bears, Bernard Ryan the post-classics, Bruce Verdon the classics and Chris Manson S1.
© Photo by Andy McGechan, www.BikesportNZ.com