TARANAKI CLUB SET TO EXPAND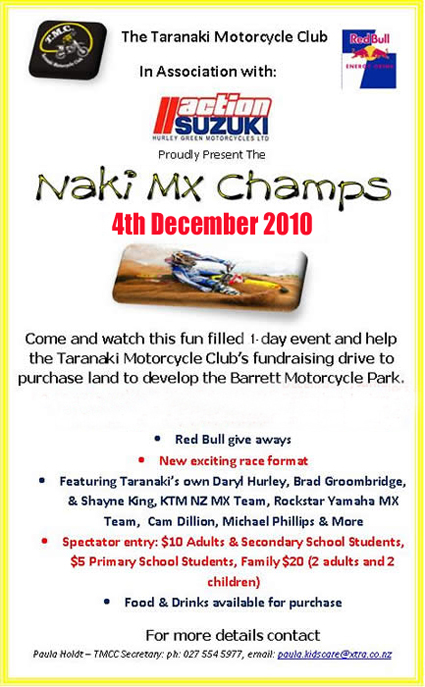 The Taranaki Motorcycle Club is planning to expand and riders from around the country are arriving to aid the cause.
An opportunity has arisen for the club to purchase land adjacent to its Barrett Road motocross park and, with plans to expand the facility to include a trail ride loop and a new supercross track, it was decided to give Saturday's annual Taranaki Motocross Championship added impetus as a fundraiser to help buy the land.
When the supercross track is eventually built, it will make Taranaki one of the very few regions in New Zealand with a permanent supercross facility, a feature that several top Kiwi internationals have said is necessary if rising stars from this country hope to forge successful careers overseas.
Top riders have entered from all around the country for Saturday's event, with recently-retired former world champion Shayne King expected to put in a rare appearance on the race track, lining up alongside his elder brother Darryll King, a two-time former 500cc world No.2.
"I'm looking forward to racing against Shayne," said Darryll King, who now lives in Hamilton. "There have been some great battles between us over the years."
The two Taranaki-born and breed riders will face stiff competition from Masterton's Luke Burkhart, Hamilton's Hayden Clark, Waitakere's Ethan Martens, Rotorua's Michael Phillips, Auckland's Shaun Fogarty and Hawera pair Daryl Hurley and Brad Groombridge.
For international rider Hurley it will be a comeback of sorts, the multi-time national and Australian champion not seen racing since his horrific crash while leading the New Zealand Motocross Championships last season, while Groombridge will be keen to press on from his jaw-dropping display as part of the three-rider team that represented New Zealand at the Motocross of Nations in Denver, Colorado, in September.
Top local riders expected to feature include Mark Burling, Aaron Jane, Bevan Adlam and Cody Rickit, while Otago's Campbell King, Levin's James Anderson, Matamata's Jacob Kneebone and Taupo brothers Wyatt and Cohen Chase bring class to the junior ranks.
And, with up to $5000 in prize money up for grabs, the riders will have more than just bragging rights to fight for.
The race format will be to run one round of normal races for each class and then the second round will comprise two back-to-back races for all classes, similar to the format for the recent Super X series, making rider fitness a prime element with little time between races for riders to catch their breath.
There will also be feature races for the junior 85, junior 125 and junior 250cc classes, as well as an all-in senior feature race.
It had originally been proposed that this would be a two-day event but problems with water supplies in the sun-baked Taranaki area meant it was impossible to contain the dust over two full days of racing.
Rider entries are welcome on the day, with no late entry charge.
© Words and photo by Andy McGechan, www.BikesportNZ.com