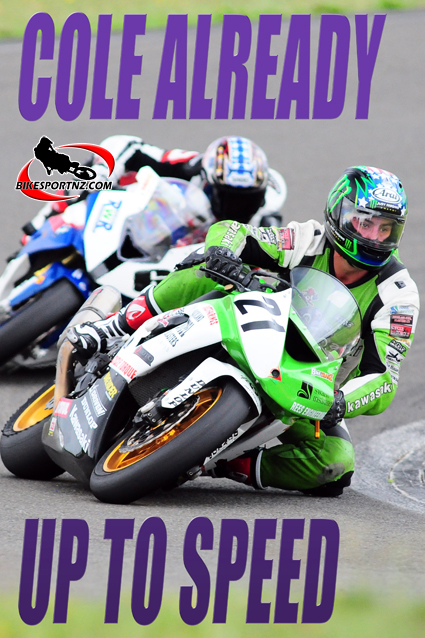 Hamilton's Nick Cole has only been racing superbikes a few months now, but you wouldn't have known that to see him in action at round two of the Suzuki International Tri Series at Manfeild, in Feilding, on Saturday.
The current national champion in the 600 sports production class, it perhaps came as no surprise that the 24-year-old Waikato rider would have the ability to step up, but the pace with which he has grasped the skills needed to race a heavier bike at greater speeds has left many race fans staring open-mouthed.
In the Manawatu on Saturday he turned in another great performance, only his second major ride on the new 2010-model Kawasaki ZX-10R.
Making up for the troubled day he experienced at the series opener at Hampton Downs, near Meremere, a week earlier, Cole raced his way to fourth and third placings behind defending champion Andrew Stroud (Suzuki) and Australian Robbie Bugden (Suzuki) in his two superbike races at Manfeild, putting him right back in the hunt.
He is now fourth in the standings with just the third and final round, on the streets of Wanganui, still to come next weekend (on Boxing Day).
"Yes I had a few problems at the first round," Cole explained. "We had a breakdown in communication and got the tyre pressures wrong at Hampton Downs but this series is really only about me getting to grips with the bike and getting the set-up right.
"The Hampton Downs event was only my second time out on the new bike but I'm getting better each time out. I'm satisfied to finish 4-3 on Saturday but I did want to win.
"I'll be faster again and fitter too when the national championships kick off (at Levels Raceway, near Timaru, on January 30).
"The fact is that I have proven to myself and others too that I can be on the pace with riders such as Andrew Stroud and Robbie Bugden. That's made me extra hungry.
"I learned so much following those guys at the weekend. Now all I have to do is get my head down and remain focussed."
Cole and his wife Rachel became parents for the first time just three weeks ago – a daughter, Khloe – but he says it hasn't interfered too much with his race preparation.
"She (the baby) has been really good and we're all getting a good night's sleep at the moment."
© Words and photos by Andy McGechan, www.BikesportNZ.com