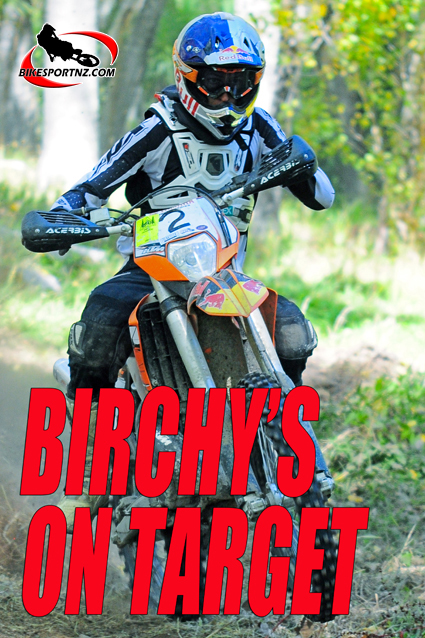 The 2010 Baboons Lesotho Sun Roof of Africa extreme enduro race has started and provisional results indicate that South African riders were in control of Racing Section 1, although defending champion Chris Birch, of New Zealand, is in a podium position and very much in the hunt.
Section one was a 114km route in the mountains that competitors tackled after the adrenalin rush of the Round the Houses street race in Maseru.
The newly-crowned South African champion, Jade Gutzeit (Full Throttle Racing Yamaha) posted the fastest time after Racing Section 1, but only one second separates him from the double Roof of Africa winner Birch (Brother Broadlink KTM) (pictured above) with Marc Torlage (Red Yamaha) taking the final step on the day's podium.
A "train" of competitors made it through the valleys and mountains where an especially steep and rocky mountain pass caused somewhat of a bottleneck. Riders had to rely on sportsmanship from fellow competitors to get to the top.
Behind Torlage, the train included Birch's team-mates, Riaan van Niekerk, who experienced an enjoyable and trouble free race and finished 12 seconds behind the young Yamaha rider.
Errol Dalton (Leo Internet Yamaha), who is competing in his 22nd Roof of Africa, is in fifth place, between Van Niekerk and another former double winner, Darryl Curtis, who is also competing for the Brother Broadlink KTM team. Curtis started Racing Section 1 on a high after winning the Pro Class at Round the Houses and led the pro-class into Racing Section 1.
Baboons Lesotho Sun Roof of Africa newcomer Simo Kirssi (Team Husqvarna SA) admitted that he had to get used to the type of terrain and the route marking, but he enjoyed his first experience and finished seventh, only one minute 37 seconds behind Curtis. Multiple former South African trials champion Brian Capper (Full Throttle KTM) was just behind Curtis during the street race, but he lost some time on the route when he crashed in the soft river sand when overtaking some riders.
The Swiss racer Lionel Seydoux, who has been living and competing in South Africa this year, arrived at the end with his rear tyre off the rim of his Brother Broadlink KTM, but that did not seem to slow him down much as he posted the ninth fastest time, just under 10 minutes slower than Gutzeit.
Kenneth Gilbert (Yamaha), who has been competing in the USA this year, struggled to adapt to competing in Lesotho and found himself lost a few times, but still managed to post the 10th fastest time.
Just outside the top 10 is Andreas Lettenbichler (Team Husqvarna SA), 27 seconds behind Gilbert; Shannon Frost (FDBR Yamaha) in 12th place; Craig Stone (KTM); Altus de Wet (Brother Broadlink KTM) and Wynand Badenhorst (Leo Internet Yamaha) who were followed by two international competitors, Gerhard Forster (Touratech Racing) and De Wet's team-mate, Paul Bolton, who is also visiting this event for the first time.
The route and type of terrain was described by some of the frontrunners as faster than previous years while it was not too technical, but they are well aware that the real race only starts tomorrow.
One of the unfortunate competitors was local Ladybrand rider, Charan Moore (Leo Internet Yamaha) who raced for only 10m when he crashed into a spectator who stepped into the road just after the start of his Round the Houses street race.
© Photo by Andy McGechan, www.BikesportNZ.com