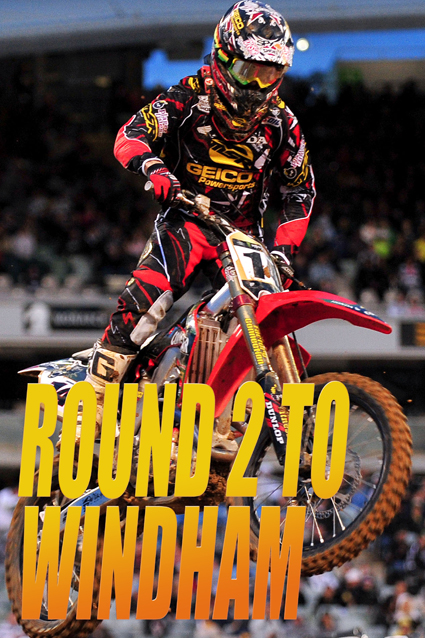 It was an all American affair at round two of the Monster Energy Super X in Canberra on Saturday night with US imports Kevin Windham, Josh Hansen and Justin Brayton claiming first, second and third respectively.
A crowd of more than 9000 watched riders battle it out on the tough and tricky Canberra track, which was slippery in parts due to some rain in the afternoon. The Triple Challenge race format featured in the final, which pitted riders against each other in three, seven lap races in the Open class and three, six lap races in the Lites.
CDR Rockstar Yamaha's Jay Marmont grabbed the first holeshot, but Monster Energy / Pro Circuit's Josh Hansen sped past him on the first straight with fellow US riders Muscle Milk / Toyota JGRMX's  Justin Brayton and Geico Powersports Honda's Kevin Windham quickly moving up the field to round out the top three places. Windham overtook Brayton on lap three and began to close in on Hansen and eventually overtook him after a close tussle on lap five. Hansen stayed close behind him to hold on to second place.
Brayton got the second holeshot, but Windham moved into first place early and held on to take out moto two. Brayton slipped on the whoops in lap five allowing Hansen and Marmont to pass him to finish second and third respectively and Brayton fourth.
Windham grabbed the final holeshot of the night and never looked back for the win with three from three. Hansen and JDR Motorex KTM's Mike Alessi were in second and third, but Brayton and Marmont passed Alessi on lap four.
Windham was first overall with Hansen second and Brayton third making it an all American podium.
Marmont finished fourth overall in an emotional return to Canberra after his memorable win there last year, only two days after the passing of his baby daughter, Lila.
Alessi, who is also from the USA finished fifth, improving on his disappointing start to the series in Newcastle last weekend.
Hansen now leads the championship race followed by Brayton and Marmont in third.
"What a great start to my time here in Australia," said Windham afterwards. "I am really enjoying the country and the people and had a lot of fun racing here tonight.
"The different formats definitely make it interesting because anything can happen. I am just glad I rode well and consistently and got the win in all three races."
Hansen was also upbeat about his performance.
"I am just really happy to be here racing and getting these good results," said Hansen.
"There was some good close racing tonight and fun battles. It's good to be leading the championship and I really want to ride well and hold on to it for the rest of the series. I am loving Australia."
Defending Lites champion, Rockstar Motul Suzuki's Matt Moss grabbed the holeshot in the first of the Lites three six lappers and held on for a dominant win over JDR Motorex KTM team members PJ Larsen in second and Ryan Marmont in third.
Moss got off to another great start in the second moto holding off Larsen who was on his tail for the entire race and the UK's Steven Clarke riding for Raceline Pirelli Suzuki finished third.
In the third and final moto Moss grabbed the holeshot again and stayed in front to make it three wins from three. Larsen took a dive in the tricky sand section, which took him out of contention and left second place to Clarke and Serco Yamaha's Ford Dale third.
Moss won the round with Clarke second and Marmont third.
Local rider Lawson Bopping had a big crash in the first final race but proved what a tough racer he was by lining up again in the remaining two motos to finish 12th overall.
Dylan Long made it two wins in a row in the Michelin Development Series with Jarrad Davis second and Jake Emanuelli third.
The series now heads to Launceston for the third round at Aurora Stadium next weekend. Round four is set for North Habour Stadium, Auckland, on November 13.
Monster Energy Super X
Canberra, Rnd 2
Open Class
Rnd 2
Rnd 2
Rnd 2
Pos
No
Name
Race 1
Race 2
Race 3
Total
1
14
Kevin WINDHAM (USA)
25
25
25
75
2
25
Josh HANSEN (USA)
22
22
22
66
3
10
Justin BRAYTON (USA)
20
18
20
58
4
2
Jay MARMONT (NSW)
16
20
18
54
5
800
Mike ALESSI (USA)
15
16
12
43
6
42
Tye SIMMONDS (NSW)
13
15
13
41
7
122
Daniel REARDON (QLD)
11
14
14
39
8
47
Todd WATERS (QLD)
12
11
15
38
9
65
Daniel McCOY (NSW)
14
13
11
38
10
15
Lewis WOODS (VIC)
10
10
16
36
11
6
Jake MOSS (NSW)
18
5
0
23
12
45
Kym WRIGHT (NSW)
6
8
7
21
13
14D
Luke DAVIS (NSW)
7
9
5
21
14
906
Adam MONEA (VIC)
9
12
0
21
15
181
Matthew PHILLIPS (TAS)
5
4
10
19
16
100
Craig ANDERSON (NSW)
3
7
8
18
17
9
Nathan BROCHTRUP (NSW)
8
6
4
18
18
36
Justin CARAFA (VIC)
1
0
9
10
19
21
Ben LEECH (NSW)
2
2
6
10
20
34
Matt HAWORTH (QLD)
4
3
3
10
Open Championship Standings
Pts After
Rnd 2
Rnd 2
Rnd 2
Pos
No
Name
Rnd 1
Race 1
Race 2
Race 3
Total
1
25
Josh HANSEN (USA)
42
22
22
22
108
2
10
Justin BRAYTON (USA)
38
20
18
20
96
3
2
Jay MARMONT (NSW)
34
16
20
18
88
4
122
Daniel REARDON (QLD)
38
11
14
14
77
5
14
Kevin WINDHAM (USA)
0
25
25
25
75
6
42
Tye SIMMONDS (NSW)
27
13
15
13
68
7
47
Todd WATERS (QLD)
27
12
11
15
65
8
65
Daniel McCOY (NSW)
27
14
13
11
65
9
15
Lewis WOODS (VIC)
20
10
10
16
56
10
6
Jake MOSS (NSW)
27
18
5
0
50
11
1
Chad REED (NSW)
50
0
0
0
50
12
800
Mike ALESSI (USA)
4
15
16
12
47
13
100
Craig ANDERSON (NSW)
21
3
7
8
39
14
906
Adam MONEA (VIC)
15
9
12
0
36
15
45
Kym WRIGHT (NSW)
12
6
8
7
33
16
36
Justin CARAFA (VIC)
18
1
0
9
28
17
9
Nathan BROCHTRUP (NSW)
10
8
6
4
28
18
34
Matt HAWORTH (QLD)
16
4
3
3
26
19
14D
Luke DAVIS (NSW)
3
7
9
5
24
20
181
Matthew PHILLIPS (TAS)
0
5
4
10
19
21
21
Ben LEECH (NSW)
2
2
2
6
12
22
113
Luke WILSON (QLD)
7
0
0
0
7
23
11
Zak NEWSOME (QLD)
4
0
0
0
4
Lites Class
Rnd 2
Rnd 2
Rnd 2
Pos
No
Name
Race 1
Race 2
Race 3
Total
1
1
Matt MOSS (NSW)
25
25
25
75
2
43
Steven CLARK (UK)
14
20
22
56
3
3
Ryan MARMONT (NSW)
20
18
14
52
4
27
P J LARSEN (USA)
22
22
6
50
5
33
Cody MACKIE (NSW)
13
15
15
43
6
41
Ford DALE (QLD)
5
16
20
41
7
5
Kirk GIBBS (SA)
18
0
16
34
8
26
Luke STYKE (NSW)
16
14
0
30
9
10
Josh CACHIA VIC)
11
0
18
29
10
20
Harley QUINLAN (QLD)
7
13
7
27
11
6
Michael ADDISON (WA)
8
6
11
25
12
8
Lawson BOPPING (ACT)
0
11
13
24
13
119
Dylan PETERSON (QLD)
0
12
12
24
14
52
Kim ASHKENAZI (NSW)
12
3
9
24
15
87
Brodie HARTIN (NSW)
4
7
10
21
16
44
Sam DUNCANSON (QLD)
3
9
8
20
17
48
Kade MOSIG (VIC)
15
0
5
20
18
121
Luke ARBON (SA)
10
8
2
20
19
51
Robbie MARSHALL (QLD)
9
10
1
20
20
35
Casey TURNER (QLD)
2
5
4
11
21
29
Joel RIZZO (QLD)
6
4
0
10
22
24
Ben GEORGE (NSW)
1
2
3
6
Lites Championship Standings
Pts After
Rnd 2
Rnd 2
Rnd 2
Pos
No
Name
Rnd 1
Race 1
Race 2
Race 3
Total
1
1
Matt MOSS (NSW)
40
25
25
25
115
2
27
P J LARSEN (USA)
47
22
22
6
97
3
3
Ryan MARMONT (NSW)
35
20
18
14
87
4
33
Cody MACKIE (NSW)
31
13
15
15
74
5
43
Steven CLARK (UK)
7
14
20
22
63
6
8
Lawson BOPPING (ACT)
34
0
11
13
58
7
20
Harley QUINLAN (QLD)
31
7
13
7
58
8
5
Kirk GIBBS (SA)
22
18
0
16
56
9
48
Kade MOSIG (VIC)
34
15
0
5
54
10
26
Luke STYKE (NSW)
23
16
14
0
53
11
10
Josh CACHIA VIC)
22
11
0
18
51
12
41
Ford DALE (QLD)
7
5
16
20
48
13
51
Robbie MARSHALL (QLD)
20
9
10
1
40
14
52
Kim ASHKENAZI (NSW)
10
12
3
9
34
15
121
Luke ARBON (SA)
9
10
8
2
29
16
44
Sam DUNCANSON (QLD)
8
3
9
8
28
17
101
Luke GEORGE (NSW)
27
0
0
0
27
18
6
Michael ADDISON (WA)
0
8
6
11
25
19
119
Dylan PETERSON (QLD)
0
0
12
12
24
20
87
Brodie HARTIN (NSW)
0
4
7
10
21
21
151
Nicholas SUTHERLAND (NSW)
14
0
0
0
14
22
35
Casey TURNER (QLD)
0
2
5
4
11
23
29
Joel RIZZO (QLD)
0
6
4
0
10
24
39
Taylor POTTER (VIC)
8
0
0
0
8
25
18
Brock WINSTON (QLD)
7
0
0
0
7
26
24
Ben GEORGE (NSW)
0
1
2
3
6
27
106
Josh KILVINGTON (QLD)
5
0
0
0
5
28
127
Dillan GOSLING (NSW)
1
0
0
0
1