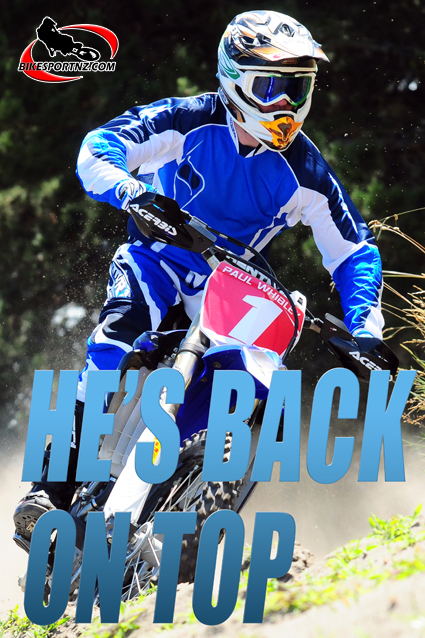 "You've got to love a bike that can claim holeshots."
It was with those words that New Zealand's Paul Whibley called up to report his latest success in the United States, this time winning the 10th and final round of the Off-Road Motorcycle and ATV (OMA) championships in Illinois at the weekend.
"My Yamaha YZ450F is grabbing holeshots everywhere at the moment," said the former forestry worker from Pahiatua as he wrapped up yet another American title, his third in the past two seasons.
"With the lead established at the start, I headed the bikes out through the dusty corn fields on the first of two 40-mile laps. Once, into the fresh woods, the pace slowed as I wasn't prepared to take many risks amongst the thick undergrowth and freshly fallen leaves that hide a lot of the logs.
"I continued to lead for a while until a log crossing caught me by surprise and allowed some other riders to zip past and take a shot at blazing a trail. Nick Fahringer took point and set a brave pace through the woods. I followed his every move and mishap and, together, we began to pull a lead.
"Late in the first lap I broke away from Nick when we came out onto some used trails and by the end of the lap I had a comfortable lead.
"Gassing up and off on the last lap with the trail now cleared, the pace was much faster. I soon had about a minute and a half lead.
"Everything went pretty smooth and I even extended my lead to about two minutes by the finish, taking my seventh straight win in the series this year, to wrap up my third OMA championship title."
Before Whibley returns to Pahiatua, he still has work to do in the United States, racing the final round of the parallel Grand National Cross-country Championships (GNCC) in Crawfordsville, Indiana, this coming weekend.
Whibley won the GNCC title last season but has had to give that crown up to rival Josh Strang this season. Though Whibley won the race at the penultimate round of the GNCC series in Ohio just over a week ago, Australia's Strang was still able to clinch the title.
Whibley is currently fourth overall in the GNCC series but, if he scores another race win like the one he enjoyed at Ohio or in Illinois, he can move up to finish the season in third position.
RESULTS FROM OMA SERIES FINAL ROUND:
1. Paul Whibley
2. Jimmy Jarrett
3. Nick Fahringer
© Words and photo by Andy McGechan, www.BikesportNZ.com