LORENZO TAKES MOTOGP CROWN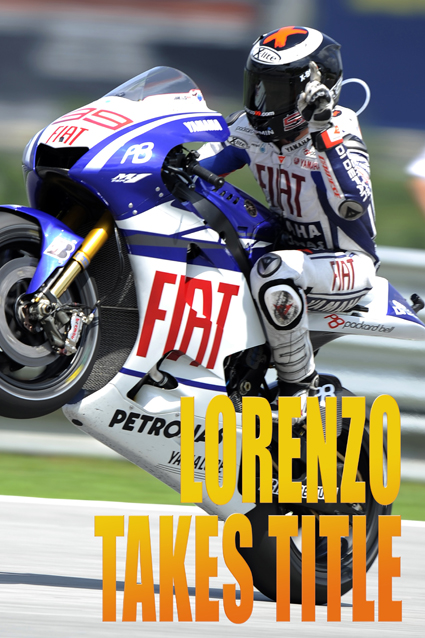 Spain's Jorge Lorenzo won the 2010 MotoGP World Championship with a third place finish at Sepang in Malaysia today.
The 23-year-old clinched his first premier-class title in his third season and with three races still to go.
Meanwhile, Lorenzo's team-mate, 2009 champion Valentino Rossi, reminded Yamaha of what they will be missing next year as he charged from 11th to 1st to win the race.
The victory – the closest of the year, by just 0.224sec over Honda's Andrea Dovizioso – was Rossi's first victory since round one in Qatar.
Rossi had missed four of the 14 races since Losail after breaking his leg at Mugello, and his Sepang win had extra significance as it was his 46th win for Yamaha.
"This is a wonderful moment for me, I am so happy to win like this and take my 46th win with Yamaha on 'my' M1," said Rossi.
"It was one of my worst starts and for a moment I was really worried, but within a few corners I understood that I could go for it, because my bike felt great today thanks to a small change we made in warm-up, Jeremy's idea really worked!
"I rode so well and it was a fantastic race, one of the best of my career I think. I wanted this 46th win so much because as everyone knows it's a special number for me!
Lorenzo has been something of a last man standing this season, with injuries ending the 2010 title hopes of Rossi and then Dani Pedrosa (a broken collarbone last weekend in Motegi).
But Lorenzo also raced injured, after fracturing his hand in mid-February, and was leading both Rossi and Pedrosa in the championship at the time of their respective accidents.
Lorenzo has won seven of the 15 races, compared with four for Pedrosa and two for Rossi, been on the podium 13 times and is the only rider to finish every single race.
"This is my first title in the premier category and my dream has come true!" said Lorenzo, who is Spain's second ever 500cc/MotoGP champion, after Alex Criville in 1999.
"This is really the maximum a motorcycle rider can achieve in his career so we have to celebrate and enjoy these hours, minutes and seconds like it's the end of the world.
"You imagine this moment in your head your whole life but when it comes you don't know how to act or what to say. I am trying to be relaxed, to speak clearly and not say anything crazy!
"I'm so tired right now; I just need to be alone in a room for a few minutes, just thinking about what I've done!
"Motorcycling is my passion and my job but it's also a game, and this is what I was saying when I held up the sign saying 'game over.' Today it's over for this season because I am the World Champion!
"I don't think about the future now, I just want to celebrate my first MotoGP title and I can't think beyond this night. The future will be tough and exciting, with giants for my rivals, but we don't need to think about that now, we can just enjoy the moment.
"We have come such a long way; some things happen very slowly in your career and some very fast.
"When I started in the World Championship I was almost last in the 125 class but in only eight years I have become MotoGP World Champion. It's incredible how life can change.
"We have fought so hard for this. I've been fortunate because I've had good luck, good bikes and good teams. I've always been surrounded by people who want to best for me and I am very grateful for this.
"The pre-season didn't start so well with my broken finger but in the end it's been a fantastic year.
"If I had to pick the three best races I would say the number one was Jerez, because it was the first time I won there in MotoGP and it's maybe the best place to win a race. Plus I enjoyed my jump in the lake!
"Silverstone was maybe the best race I made, because I was aggressive and fast. Then finally here, not for the riding but for the importance and the World Championship.
"I don't know yet if I will use the number 1 next season. If I can think of a good design then yes, if not I stick with 99!
"World Champion – it sounds unbelievable to hear these words, it is such a pleasure, you feel like you're king of the world. We will enjoy this night to the maximum."
Leading championship standings:
1       Jorge Lorenzo      Fiat Yamaha Team, 313
2       Dani Pedrosa       Repsol Honda Team, 228
3       Valentino Rossi    Fiat Yamaha Team, 181
4       Casey Stoner      Ducati Marlboro Team, 180
5       Andrea Dovizioso Repsol Honda Team, 179
6       Ben Spies   Monster Yamaha Tech 3, 152
7       Nicky Hayden      Ducati Marlboro Team, 139
8       Randy de Puniet  LCR Honda, 94
9       Marco Simoncelli San Carlo Honda Gresini, 92
10     Marco Melandri    San Carlo Honda Gresini, 86
11     Colin Edwards     Monster Yamaha Tech 3, 81
12     Hector Barbera    Aspar Racing Team, 74
13     Alvaro Bautista    Rizla Suzuki MotoGP, 69
14     Alex Espargaro    Pramac Racing Team, 52
15     Hiroshi Aoyama   Interwetten Honda MotoGP, 44