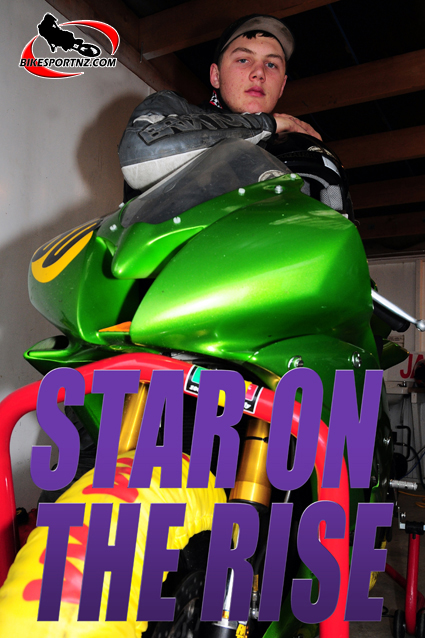 The bike may be green and so perhaps is the rider, but underestimate Wanganui youngster Jason Cameron at your peril.
The colour green will also add to the confusion for his rivals because it's not a hue normally associated with the Yamaha bike brand that he races.
But there are no doubts about the ability of the 16-year-old, despite the fact that he's been racing motorcycles only three years now.
Cameron made an impressive road-racing debut in 2009, finishing as national No.3 in the 150 street stock class. It was a fantastic first season because he also won the Ramage Memorial Cup and set lap records for the class at Ruapuna (Christchurch) and Levels (Timaru).
The following national championship season in 2010  — which wound up in March — was a mixed one for Cameron, who won the first two races in the 650 Pro Twins class and finished fourth in the day's third race at Ruapuna. That meant he won the day overall … not bad for a rider making his debut appearance in that category.
"I just missed out on winning the GP title at Ruapuna. I was fifth overall on the day at the next round but then I came unstuck a bit because I ran out of money.
"I borrowed another bike to continue to series … it just would have been a shame not to keep going. I was a bit slower after that but I still managed to set a lap record at Hampton Downs (the new circuit near Meremere) and that was when I was still getting to grips with the bike."
This coming season, which kicks off in January, he will race a 2006-model Yamaha R6 in the 600cc super stock class.
"I think I can be on the podium; that's the aim anyway. I've only had this bike six weeks now but I'm already very comfortable with it. I may change the colour from green but that will just depend on where the mood takes me.
"I will race the Tri Series this year as well as the nationals and possibly race the street races in Wanganui and Greymouth too. I wasn't eligible to race the street circuits earlier this year because I was too young.
"Mum lives in Christchurch and dad lives in Wanganui so you could say I'm representing Canterbury as well as Wanganui or Rangitikei.
"My job is milking cows at I do that on a farm at Okoia, just outside Wanganui, but that's only for nine months, so I will head back to Canterbury to help mum with her commercial laundry. I'm flitting back and forth, between Wanganui and Christchurch all the time."
Regardless of where he calls home, the name Jason Cameron is one that's sure to pop up on plenty of occasions this season.
In just three years of racing, he's been on the podium in the 150 street stock class and on the podium in the 650cc Pro Twins class, so why not the 600cc super stock class as well?
© Words and photo by Andy McGechan, www.BikesportNZ.com