It was another classic us versus them at this year's 64th annual Motocross of Nations, the American stars versus the Grand Prix heroes in the one-off "Olympic Games of motocross", this time at Thunder Valley Park, on the outskirts of Denver, Colorado.
But it seemed it was mission impossible again this time for anyone wanting to beat the Americans, especially that this year they were on their home turf.
With almost 25,000 mostly American fans cheering them on, Team USA – Ryan Dungey, Andrew Short and Trey Canard – raced away to their sixth consecutive MXoN win.
They didn't have it all their own way, however, with the French, Belgians, Italians and Team New Zealand dishing out a few big hits.
The Kiwis – Taupo's Ben Townley, Motueka's Josh Coppins and Hawera's Brad Groombridge – eventually finished eighth overall, three places better than the Kiwis had achieved when the race was held in Italy last year, but there were plenty of bright spots to go with the gloom.
Groombridge weathered a fierce storm in his MXoN debut and far from being overwhelmed, he fought his way to 29th and 36th in his two outings, looking comfortable as he banged handlebars with some of the cream of the world's 250cc bike riders.
Coppins put in two solid performances, coming home 11th and 14th in his farewell ride for the Aprilia factory.  He has quit the GP scene and now returns to race for Yamaha in Australia and New Zealand from the start of 2011.
Townley was New Zealand's top hope, the former world and US champion the hottest prospect for glory … and that's exactly what shone through when the Honda ace won the day's second race, leading home Puerto Rico's Kyle Regal, German teen sensation Ken Roczen and Belgium's Clement Desalle.
But it all went sour in his next race when he severely twisted his ankle and was forced to withdraw. He was running in second place at the time.
"It was a real shame for Ben (Townley)," said Coppins. He was our ace card. I'm pretty proud of Brad (Groombridge). He gave it 100 percent and I put it two steady rides but had trouble with my bike overheating, causing it to lose power."
Overall runners-up were the men from Belgium, with Team Germany taking third place.
The Motocross of Nations next year is set for St Jean D'Angely in France.
© Words and photo by Andy McGechan, www.BikesportNZ.com
Full story and more photos in your next issue of KIWI RIDER magazine.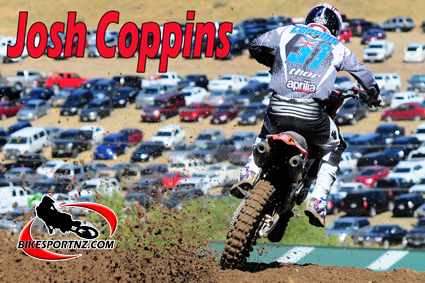 RESULTS:
Results Race 1 (MX1 + MX2)
1 Dungey, Ryan USA
2 Cairoli, Antonio ITA
3 Metcalfe, Brett AUS
4 Barragan, Jonathan ESP
5 Paulin, Gautier FRA
6 Roczen, Ken GER
7 Ramon, Steve BEL
8 Wilson, Dean GBR
9 Goncalves, Rui POR
10 Leok, Tanel EST
11 Coppins, Joshua NZL
12 Canard, Trey USA
13 van Horebeek, Jeremy BEL
14 Schiffer, Marcus GER
15 Osborne, Zach PUR
16 Karro, Matiss LAT
17 Walkner, Matthias AUT
18 Ferris, Dean AUS
19 Kullas, Harri FIN
20 Lupino, Alessandro ITA
21 Medaglia, Jeremy CAN
22 Butron, Jose Antonio ESP
23 Steinbergs, Ivo LAT
24 Rauchenecker, Pascal AUT
25 Benoit, Kaven CAN
26 Eriksson, Toni FIN
27 Rätsep, Priit EST
28 Guillod, Valentin SUI
29 Groombridge, Brad NZL
30 Mihara, Takuya JPN
31 Basaula, Hugo POR
32 Barr, Martin IRL
33 Edmonds, Stuart IRL
34 Castro, Cristopher BRA
35 Cidade, Anderson BRA
36 Ruiz, Christian PUR
37 Nicholls, Jake GBR
38 Narita, Akira JPN
39 Musquin, Marvin FRA
40 Wicht, Gregory SUI
Results Race 2 (MX2 + Open)
1 Townley, Ben NZL
2 Regal, Kyle PUR
3 Roczen, Ken GER
4 Desalle, Clement BEL
5 Nagl, Maximilian GER
6 Wilson, Dean GBR
7 Canard, Trey USA
8 Anderson, Brad GBR
9 Monni, Manuel ITA
10 van Horebeek, Jeremy BEL
11 Boog, Xavier FRA
12 Balbi, Antonio BRA
13 Short, Andrew USA
14 Osborne, Zach PUR
15 Atsuta, Yoshitaka JPN
16 Tonus, Arnaud SUI
17 Keast, Kyle CAN
18 Marmont, Jay AUS
19 Kullas, Harri FIN
20 Karro, Matiss LAT
21 Lozano, Alvaro ESP
22 Correia, Luis POR
23 Crockard, Gordon IRL
24 Rauchenecker, Pascal AUT
25 Lupino, Alessandro ITA
26 Krestinov, Gert EST
27 Ferris, Dean AUS
28 Guillod, Valentin SUI
29 Basaula, Hugo POR
30 Mihara, Takuya JPN
31 Söderberg, Jon FIN
32 Castro, Cristopher BRA
33 Benoit, Kaven CAN
34 Barr, Martin IRL
35 Rätsep, Priit EST
36 Groombridge, Brad NZL
37 Freibergs, Lauris LAT
38 Schmidinger, Günter AUT
39 Butron, Jose Antonio ESP
40 Musquin, Marvin FRA KTM
Results Race 3 (MX1 + Open)
1 Dungey, Ryan USA
2 Short, Andrew USA
3 Desalle, Clement BEL
4 Cairoli, Antonio ITA
5 Metcalfe, Brett AUS
6 Ramon, Steve BEL
7 Boog, Xavier FRA
8 Tonus, Arnaud SUI
9 Paulin, Gautier FRA
10 Marmont, Jay AUS
11 Anderson, Brad GBR
12 Nicholls, Jake GBR
13 Goncalves, Rui POR
14 Coppins, Joshua NZL
15 Monni, Manuel ITA
16 Schiffer, Marcus GER
17 Balbi, Antonio BRA
18 Walkner, Matthias AUT
19 Atsuta, Yoshitaka JPN
20 Leok, Tanel EST
21 Correia, Luis POR
22 Wicht, Gregory SUI
23 Keast, Kyle CAN
24 Crockard, Gordon IRL
25 Eriksson, Toni FIN
26 Schmidinger, Günter AUT
27 Söderberg, Jon FIN
28 Cidade, Anderson BRA
29 Steinbergs, Ivo LAT
30 Edmonds, Stuart IRL
31 Lozano, Alvaro ESP
32 Ruiz, Christian PUR
33 Freibergs, Lauris LAT
34 Narita, Akira JPN
35 Townley, Ben NZL
36 Regal, Kyle PUR
37 Barragan, Jonathan ESP
38 Krestinov, Gert EST
39 Nagl, Maximilian GER