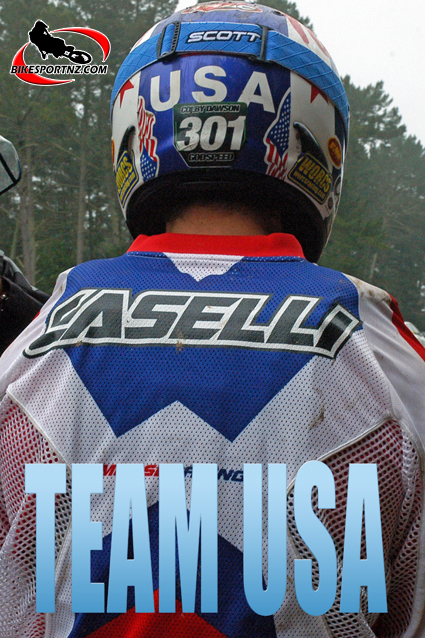 The AMA has named its riders to contest the 85th International Six Days Enduro (ISDE) in Mexico in November.
The World Trophy Team will headline the U.S. effort. This year, taking on the best off-road racers in the world November 1-6 in Morelia, Michoacan, Mexico, are: Destry Abbott, Mike Brown, Kurt Caselli, Jimmy Jarrett, Timmy Weigand and Nathan Woods.
"With the ISDE in Mexico this year, AMA Team USA is looking forward to competing so close to home, and this is the team that can put us on the box in 2010," said AMA Off-Road Racing Manager Chuck Weir.
"These riders are hungry for success at off-road racing's crown-jewel event, and each one of them is committed to doing what's necessary to win at this storied international competition. All systems are go for AMA Team USA at the 2010 ISDE."
The World Trophy Team is one of three premier teams that represent the U.S. at the ISDE. The other premier teams are the Junior Trophy Team, which fields four riders younger than 23 years old, and the Women's Trophy Team, which fields three riders. In addition, several club team members represent the United States at the event.
The AMA Team USA Junior Trophy Team will include Ian Blythe from Sedalia, Colo.; Cory Buttrick from Logan, Ohio; Nick Fahringer from Englewood, Ohio; and Taylor Robert from Scottsdale, Ariz. Blythe will ride a KTM 250 SXF in the E1 class. Buttrick will ride a KTM 450 XC-W in the E2 class. Fahringer will ride a Husaberg FE450 in the E2 class. Taylor will ride a Yamaha YZ450F in the E2 class.
The AMA Team USA Women's Cup Team will include Nicole Bradford from Avon, Colo.; Amanda Mastin from Whitehouse, Ohio; and Kerrie Swartz from Moore, Okla. Bradford will compete on a KTM 250 EXC. Mastin will race a Yamaha YZ250F. Swartz will ride a KTM 200 XC. All of the Women's Cup Team riders will compete in the E2 class.
Although it is not a recognised class by the FIM, AMA Team USA also designates a Senior Club Team of veterans from the club team members. This year, the club team will feature Billy Burns from Dorset, Vt.; Jeff Fredette from Beecher, Ill.; and Donald Williams from Minden, Nev.
Riders at the ISDE compete in one of three displacement classes: the E1 class, which features 100cc to 125cc two-stroke and 175cc to 250cc four-stroke motorcycles; the E2 class, which features 175cc to 250cc two-stroke and 290cc to 450cc four-stroke motorcycles; and the E3 class, which features 290cc to 500cc two-stroke and 475cc to 650cc four-stroke motorcycles.
© Photo by Andy McGechan, www.BikesportNZ.com