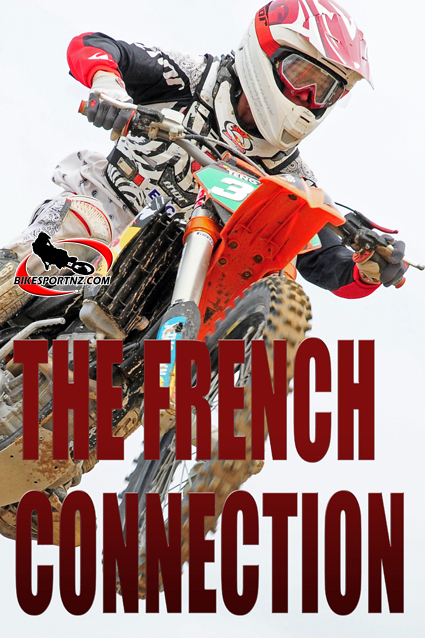 It will be a three-pronged Kiwi attack at this year's Junior Motocross World Championships in France.
But, while the numbers may be down – the event being staged on the other side of the planet, rather than Taupo – the quality of Team NZ will still be very high indeed.
Last year's top-performing Kiwis Hamish Dobbyn (who is too old now to qualify as a junior) and Courtney Duncan won't be heading to Dardon Gueugnon, in France, for this year's edition of the stand-alone event on August 22.
But there are still high hopes that a New Zealand rider will finish on the podium with Rangiora brothers Isaiah and Micah McGoldrick and Mangakino's Kayne Lamont in top form.
Marty McGoldrick said he would not be accompanying his sons to France but they would be well managed by Christchurch motocross coach Anthony Sproull.
They fly out later this week, touching down at Heathrow Airport before heading to Frankfurt, in Germany.
"They will be met in Germany and looked after by Bodo Schmidt and his race team," said Marty McGoldrick.
"The boys could also have the opportunity to race in Germany. The support that the boys will be receiving looks good. There will be time to train and personalise their race bikes, as a mechanic will be on hand."
Isaiah McGoldrick (16) finished 23rd in the 125cc class at the world championships last year, when they were staged in Taupo, while his 14-year-old brother Micah placed 8th overall in the 85cc class.
"The problem over there may be finding decent places for them to ride and train … a lot of the tracks are under water at the moment. Bodo Schmidt has helped Kiwi riders in the past and he'll sort something out.
"He's also arranging spare bikes and parts and a race truck for the boys to use.
"Micah is riding faster now than he was at this event last year but I think just to make it into the top 40 would be a great achievement."
Lamont, meanwhile, has been building up to the big French race by posting several strong results in Europe.
The 17-year-old has been in Europe since April, contesting several rounds of the British Motocross Championships as well as selected rounds of the European Motocross 125cc Championships.
He put himself on the top step of the podium at round six of the Red Bull British 125cc Championships at the Howton Court circuit in Pontrilas, south Herefordshire, close to the Welsh border.
He then challenged the elite of the MXY2 class at round five of the British Motocross Championships at Foxhills, in Swindon, finishing the day first-equal with the championship leader, Britain's Connor Walkley (Team Green Kawasaki).
Meanwhile, the United States has also announced which riders it will be sending to France this year.
The 65cc riders will be Joey Crown from Metamora, Mich., and Jake Pinhancos from Rochester, Mass., both riding KTMs. The 85cc riders will be Matt Burkeen from Cary, N.C., on a Yamaha and Josh Mosiman from Sebastopol, Calif., on a Suzuki. The 125cc riders will be Matt Bisceglia from Weatherford, Texas, on a Yamaha and Joey Savatgy from Thomasville, Ga., on a Suzuki.
© Words and photo by Andy McGechan, www.BikesportNZ.com