SEARLE, ANSTIE BACK TO GP SCENE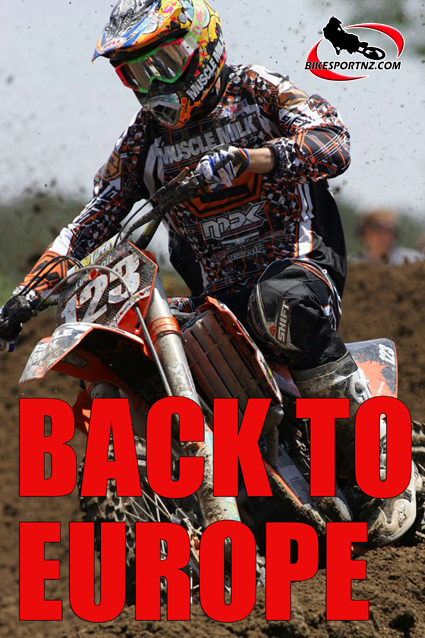 It's back to Europe for Britain's Tommy Searle.
Despite racing in the United States for KTM for the past two seasons, Searle will pack his bags and head back to the motocross GP scene for 2011.
And it's not just Searle who is heading from the USA to race closer to home again in 2011.
Team CLS Kawasaki Pro Circuit will have two new faces on their KX250F next season, after Searle and fellow Brit Max Anstie signed with Kawasaki's official team in the MX2 Motocross World Championship.
The team has had a great season in which they recorded their first Grand Prix win last month in Sweden with Steven Frossard; the Frenchman is still in contention for the MX2 podium with four more races to go, but the team has been seeking a replacement as Frossard will be forced to move to the MX1 class next year because of the age limit rule.
Runner-up in the 2007 and 2008 MX2 World Championships before moving to the USA, Searle has battled for two seasons against the Kawasaki Pro Circuit riders in the US series and is delighted to be joining them next season in the Green family.
"I'm very excited and happy about this opportunity to join Team CLS Kawasaki and Pro Circuit; they have proved on both continents how competitive they are.
"They offered me the possibility to race the US Supercross on the West Coast and then compete again in the MX2 World Championship next year; that's a fantastic programme that I will prepare closely with the team this winter" said the 20-year-old Englishman who, started his career with Kawasaki 10 years ago in the UK schoolboys series before starting his GP career on green bikes in 2006.
His team-mate, Anstie, is another of the best young British prospects who has also raced in the USA this season after started his professional career there. Only seventeen years old and son of former GP winner Mervyn Anstie, Max was a promising Team Green rider in Europe before he moved to the US two years ago, twice winning the prestigious Bercy Supercross on an 85cc Kawasaki. Anstie will focus on the GP scene in 2011 after signing a two-year contract with CLS Kawasaki Pro Circuit.
For Jean Jacques Luisetti who created the team five years ago, it's another step forward for his squad.
"At the beginning of its history our team was mainly French, but thanks to Kawasaki we have never stopped growing since our debut on the GP scene. Our venture with Pro Circuit has further upped our status in the World Championship; it's exciting to have such a great connection with Mitch Payton. We are proud to see Tommy racing for us next season on both sides of the Atlantic, and with Max we will have one of the fastest kids on our bikes; I'm convinced that they will come to the GPs even stronger after racing two years in the US, and the team is ready for this great challenge in the World and French MX2 championships."
Owner of Pro Circuit and boss of the most successful MX2 team in the USA, Payton is confident for next season.
"I am very excited to have Tommy in the team, and I think we have a good chance to win the world title with him. It is great to see how we are working together with Harry Nolte and the CLS people in Europe to make this project work. During our first year of cooperation we have already got great results, and for sure we'll be even stronger in the future."
For Steve Guttridge, the European Race Planning Manager at Kawasaki Motors Europe this announcement brings back great memories. "It's really exciting for me to see these two riders coming back to Kawasaki; they grew up in Team Green Kawasaki in the UK so I know both pretty well and I know how good they can be. Both riders have a great potential for the World Championship, and we are pleased with the collaboration we started this season with Payton and Pro Circuit. Together with CLS we have put together a team of very competitive and talented people, all working for the same objectives – to build one of the most professional team in the paddock."
Next season the team will get a stronger support from Monster Energy, who is since many years the main sponsor of Kawasaki Pro Circuit in the United States.
"Monster Energy is very excited and proud to be a part of the new look CLS Pro Circuit Monster Energy Kawasaki team for 2011" said Monster Energy Sports Marketing Manager Jamie Dobb.
"Both Tommy and Max have built huge followings throughout their short careers and they are extremely popular riders, so Monster Energy is pleased to become part of their continued efforts through our partnership with the CLS Pro Circuit team for the upcoming '2011 Motocross championship season. CLS-Pro Circuit has a highly-successful track record as one of Motocross's premier teams and will provide a solid platform for Monster Energy as we continue to develop our brand image globally."
© Photos by Joe Bonnello and Andy McGechan, www.BikesportNZ.com