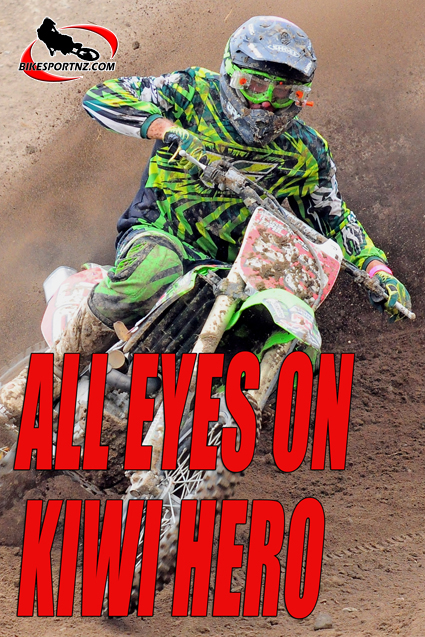 The Monster Energy Canadian Motocross Nationals will see the end of the 2010 season in the south-western Ontario town of Walton this Sunday, with Kiwi race fans watching closely for the progress of Mount Maunganui racer Mason Phillips.
With an annual pilgrimage of more than 900 competitors, and spectator turnout that have been estimated up to 20,000, the Walton TransCan Grand National has, without a doubt, earned the right to be called Canada's 'Motocross Classic.' Not surprisingly, Walton is a magnet for hundreds of riders from across Canada and the United States. Riders from Europe, South Africa, Mexico and  New Zealand have graced the track.
Although the MX1 title hunt has ended for Yamaha/Red Bull/Blackfoot/Fox Racing's Dusty Klatt – he has a 64 points lead that cannot be bridged – the remaining top-five to-10 candidates will be on the gas to improve or solidify their final rankings.
New Zealand's Mason Phillips (Kawasaki) is one of those riders who can move up one or even two places with a good result this weekend.
The Mount Maunganui rider is currently fifth overall, just 14 points behind Kyle Keast — who has just been picked for the Canadian Motocross of Nations team – and Phillips is only 15 points behind third-ranked Bobby Kiniry. It goes down to the wire for these men this weekend.
Hungary's Kornel Nemeth (KTM), Suzuki's Bobby Kiniry and Honda's Keast have the most at stake. Not only will they want to beat the new champ Klatt, mathematically they are in a position to finish the season as runner-up. Fifteen points separate third place Kiniry from second place Nemeth; one point separates Kiniry from Keast in fourth.
Kawasaki's Troy Adams trails Phillips by a mere eight points.
Josh Demuth is in the game trailing his teammate, Adams, by two points. Kiniry's team-mate, Freddy Karrle, trails Demuth by 16 points. Anything is possible.
In the MX2 title hunt, Yamaha's Tyler Medaglia commands a solid 20-point lead over defending champion, Kawasaki's Teddy Maier. If he delivers an error-free ride that keeps him on two wheels, and doesn't fall victim to a DNF, Medaglia is a shoe-in for the crown.
If that is the case, this means that Maier will finish runner-up, as he enjoys a 40-point gap on KTM's Jeremy Medaglia.
Adding interest to the equation is the fact that KTM's Kaven Benoit trails Medaglia by just 13 points in fourth place. Both up-and-comers have enjoyed a breakthrough season and it's guaranteed they will be on the track to take no prisoners.
Yamaha's Jared Allison, who has also raised a few eyebrows this year, holds down fifth place in the current rankings and it looks like that's where he'll finish the season. He is too far behind Benoit for a realistic shot at the No.4 plate and far enough ahead of his team-mate and brother, Parker Allison, to be threatened for a top-five end result.
MX1 Points Standings After 8 Rounds
1. Dusty Klatt 323
2. Kornel Nemeth 259
3. Bobby Kiniry 244
4. Kyle Keast 243
5. Mason Phillips (NZ) 229
6. Troy Adams 221
7. Josh Demuth 219
8. Freddy Karrle 203
9. Colton Facciotti 200
10. Kevin Urquhart 185
MX2 Points Standings After 8 Rounds
1. Tyler Medaglia 342
2. Teddy Maier 322
3. Jeremy Medaglia 282
4. Kaven Benoit 269
5. Jared Allison 238
6. Parker Allison 189
7. Eric Nye 187
8. Shawn Rife 172
9. Spencer Knowles 153
10. Kerim Fitz-Gerald 148
© Photo by Andy McGechan, www.BikesportNZ.com