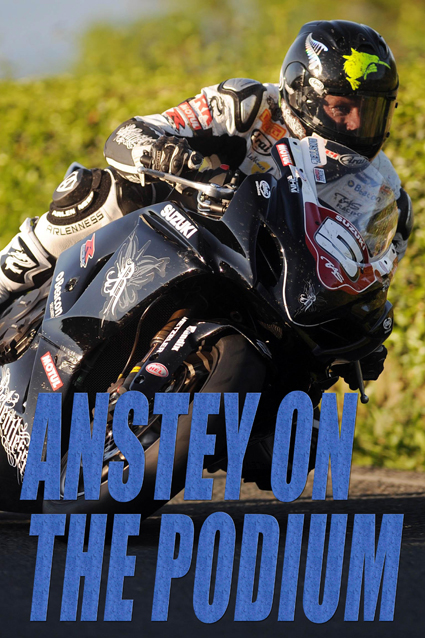 Kiwi Bruce Anstey has fought his way onto the podium at the Isle of Man.
The Wellington rider gave his Relentless TAS team Suzuki its second superbike podium of the 2010 TT when he battled through to third place in the re-started 4-lap blue riband Senior TT.
It was Anstey's 20th career TT podium and after a torrid week on the Isle of Man, the Windsor based Kiwi was delighted with the result, making the most of his good fortune after retiring from the first encounter, which was red flagged after an incident involving Guy Martin at Ballygarey on lap three.
Cameron Donald was forced to retire at the end of lap one with an intermittent electrical problem, which was very disappointing for the Australian, as he had been within two seconds of early leader Ian Hutchinson at Glen Helen on the opening lap.
"I got a second chance and grabbed it with both hands. I'm happy for the team who have worked hard all week making many changes to the bikes for me," said Anstey.
"I'm also delighted for Suzuki which is here celebrating 50 years of racing. I just kept chipping away; it is the Senior TT after all and to get a podium in the main race of TT fortnight is very pleasing."
His team-mate, Donald, of Australia, was a little less fortunate.
"I'm obviously bitterly disappointed not to have finished the race, as I was fired up and ready to have a go today.
"For the Senior, we decided that my first lap pit-boards would show the deficit to the leader and not the man in front of me. So when I saw I was only two seconds back on my first signal, I knew we were on the money. I was catching Keith Amor in front of me on the run to Ramsey when the surging started and it gradually got worse over the Mountain. The bike just didn't feel right and I didn't want to take any chances.
"The boys did all they could for me today and I gave it my best shot."
Senior TT Results: 1 Ian Hutchinson [Honda] 1hr 10min:24.59s; 2 Ryan Farquhar [Kawasaki] 1hr 11min:02.36s; 3 Bruce Anstey [New Zealand, Suzuki] 1hr 11min:38.08s; 4 Ian Lougher [Kawasaki] 1hr 12min:0157s; 5 Michael Rutter [Honda] 1hr 12min:10.74s; 6 Dan Stewart [Honda] 1hr 12min:33.57s.