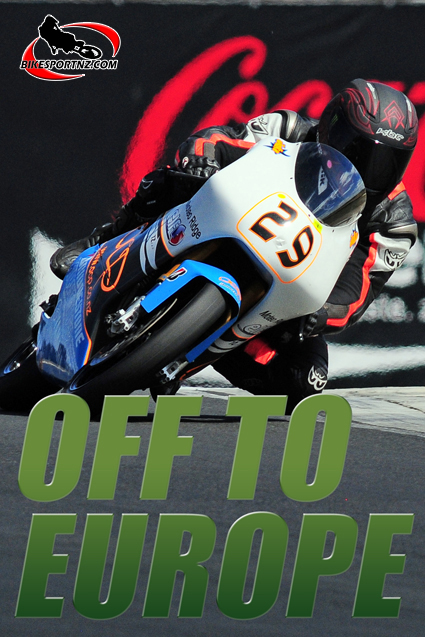 Rising Kiwi road-race star Jake Lewis is on his way to Europe.
His application to be part of the "Road To Red Bull Rookies Cup" has been accepted. It is a dream come true for him and he's packing his bags for the biggest trip of his life.
This is a huge step for the 15-year-old Yamaha rider from Rangiora, even though he will still have to withstand rigorous scrutiny and testing before he can qualify to race in the Red Bull Rookies Cup series proper.
"I'm so very excited about this and intend to train and give my very best with the fantastic opportunity I have been given," he said.
The year 11 student at Rangiora High School has been racing just on two years and already he is starting to make an impact in the sport, making his debut in the 125GP class at the nationals this season, racing for Team VB Racing, owned and managed by Hawke's Bay's Maarty van Booma.
"He's passed the first hurdle, being selected to try and qualify for the Red Bull Rookies series," said van Booma, from Taradale.
"All I did was forward the information about him … Jake's still got a lot of work to do but he's a very special young man. He's focussed and there is something special about his attitude. He really does have the 'wow' factor.
"He has a real racing pedigree too. Jake's dad, Rob Lewis, was a noted superbike rider in his day and was also a top V8 car racer."
Racing a Yamaha TZ125 in the 125GP class for the first time this season, Jake Lewis finished 12th in the New Zealand Superbike Championships, despite contesting just two of the five rounds and also crashing out of the last race of the series.
The 2010 nationals wrapped up at the new Hampton Downs circuit, near Meremere, in March and he has already vowed to be back to contest the 125GP class again next season.
But, in the meantime, he's on his way to the big time and potentially a career racing the world's elite on some of the most famous race tracks in Europe.
"I have to thank a number of great people who have helped me with this, Brian Bernard, Grant and Peter Ramage, Peter Clifford, Maarty van Booma and also a big thanks to my dad," said Lewis.
"Bob McCleary Yamaha gave me a great deal to update my motocross bike to train on and keep my fitness up, I've changed colours now to blue and have got a 2010-model Yamaha YZ250F, which I've now done 5-6 hours riding on and have really enjoyed every minute of them, what a great bike, I'm really loving the extra power, it's awesome.
"I am so looking forward to getting back on Maarty Van Booma's Yamaha TZ125 as I know we have a great program planned."
© Words and photo by Andy McGechan, www.BikesportNZ.com