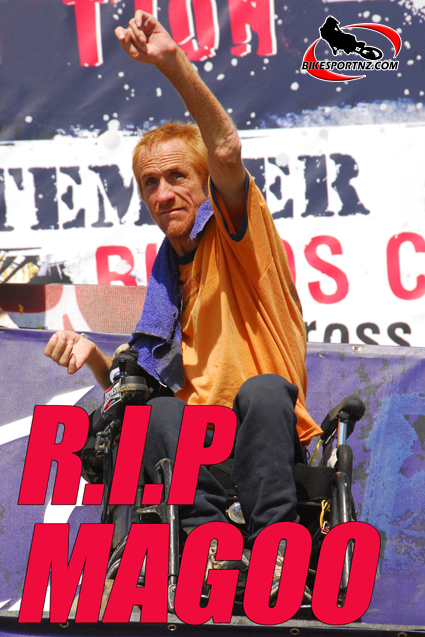 He lived life to the max and even when confined to a wheelchair, Danny "Magoo" Chandler was a larger-than-life character.
The month of May was a particularly tragic one for motocross fans the world over — just two days after the world learned of the loss of Australian Motocross legend Andrew McFarlane, the news came out that Chandler had also passed away.
The 50-year-old American was well known for his spectacular riding style, a reputation that made him still popular with the fans even many years after the accident forced him from the race track.
Identifiable by his trademark cheeky grin and unruly red hair, Chandler would often find his way blocked by adoring fans, eager for a chat or just to crouch down and have their photo taken with the man in the wheelchair.
Chandler was an incredible rider. He won several national motocross titles, Grand Prix (including a US Grand Prix in 1982) and one Motocross of Nations event before picking up an injury in 1985 which left him paralyzed until the day he died.
He passed away at his home in Yuba City, California, on May 4.
Born in 1959, Chandler was a Northern California dirt-bike prodigy who erupted on the AMA circuit in the late 1970s.
Seemingly fearless, the wild-riding Chandler was known as much for his spectacular crashes as for his speed. He raced a variety of motorcycles — Penton, Maico, Suzuki, Honda, KTM and more — all over the world.
His dominant rides for Team USA in the 1982 Motocross and Trophee des Nations, where he swept all four motos over a two-week period in West Germany and Switzerland, marked the only time in the history of the sport that a single rider had captured every moto win in the two races.
Chandler eventually moved to Europe, where he added a 500cc Grand Prix win to his four AMA 500cc National wins.
Tragically, Chandler crashed at a supercross race in Europe in 1985 and broke his neck, ending his career and leaving him wheelchair bound for the rest of his life.
© by Andy McGechan, www.BikesportNZ.com