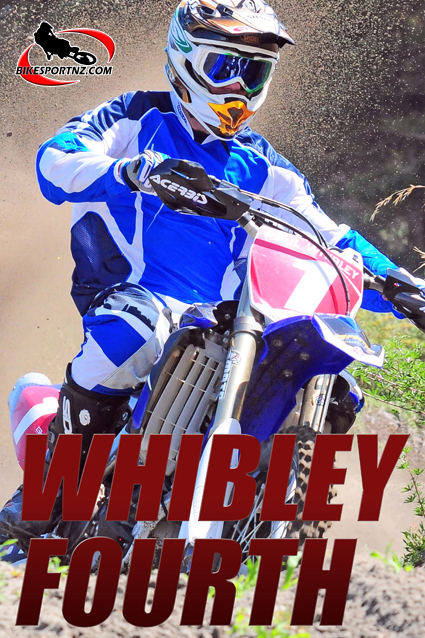 New Zealand's Paul Whibley remains in touch with the leaders after a solid showing at the latest round of the Grand National Cross-country Championships (GNCC) in the United States.
The former forestry worker from Pahiatua raced his Yamaha WR450F to fourth overall at the seventh round of 13 in the series at Somerset, Pennsylvania, at the weekend.
The defending US champion remains third in the series standings but he now finds himself just 37 points behind his own Yamaha team-mate, American Charlie Mullins, and 40 points behind the leader, Australian Josh Strang (Suzuki), after Strang struck problems and finished back in seventh spot at Somerset.
The race at Somerset was won by Mullins, with fellow American Cory Buttrick (KTM) runner-up and another American, Yamaha's Barry Hawk Jr, taking third spot, just ahead of Whibley.
The event was considered to be one of the tougher races of the year after weekend rain showers made Somerset's infamous rocks and hillsides more treacherous than ever.
"I got a good jump off the line but ran a bit wide on turn one," said Whibley.
"I was with the lead bunch on the first lap, learning some lines and running a comfortable pace. Charlie Mullins was in front of me and seemed happy to just follow the guys in front and wasn't pushing to make any passes.
"On the second lap, a minor spill resulted in losing sight of the lead bunch. I was getting signals that they were just in front but I couldn't seem to bridge the gap back to the leaders. Without seeing the leaders and riding by myself a lot I wasn't able to see and learn the best lines as easy. Although I have to thank the many people out on the track pointing lines through some of the rock gardens and bog holes.
"Mid race some crazy guy was standing in the middle of the track. I slowed down, not sure what he was doing, then he took a swing at me and hit me in the shoulder. That kind of caught me off guard. Talking after the race this guy had taken a shot at a lot of riders and apparently wasn't happy with the event being held there.
"I ended up going back and forth with Jason Thomas late in the race, I thought I had gapped him but I fell about three times on the last lap and he caught right back up.
"Crossing the line in fourth in XC1 was still not the result that I am looking for but a finish was good in these tough conditions."
The victory was Mullins' third consecutive win and tightens up the championship chase by moving him to within just three points of Strang.
The GNCC series continues on June 5 and 6 at the Wiseco John Penton GNCC, in Millfield, Ohio.
XC1 Results, round seven:
1. Charlie Mullins (Yam)
2. Cory Buttrick (KTM)
3. Barry Hawk Jr. (Yam)
4. Paul Whibley (Yam)
5. Nate Kanney (KTM)
6. Glenn Kearney (Hsq)
7. Josh Strang (Suz)
8. Kenneth Gilbert (Kaw)
9. Jedediah Haines (Kaw)
10. Eric Bailey (Kaw)
XC1 standings after seven of 13 rounds:
1. Josh Strang (171/4 wins)
2. Charlie Mullins (168/3 wins)
3. Paul Whibley (131)
4. Cory Buttrick (124)
5. Chris Bach (109)
6. Glenn Kearney (106)
7. Nate Kanney (99)
8. Barry Hawk Jr. (87)
9. Kenneth Gilbert (77)
10. Eric Bailey (76).
© Words and photo by Andy McGechan, www.BikesportNZ.com