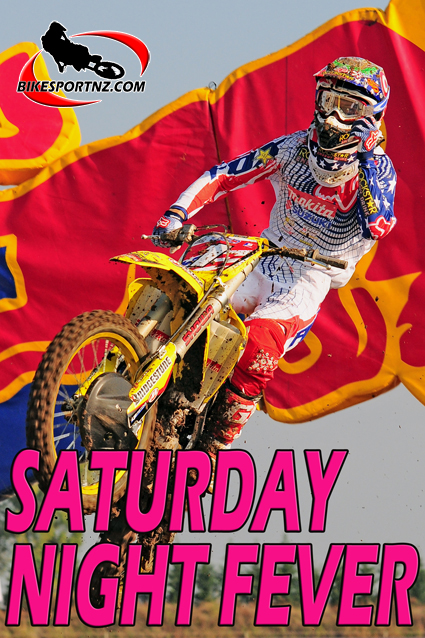 Suzuki's Ryan Dungey further emphasised his dominance of the American supercross scene at the weekend, winning the penultimate round of the US series on Saturday night even though he didn't even need to race, having wrapped up the title two events previously.
The win was Dungey's sixth AMA Supercross class main event victory.
Meanwhile, for the first time in his career, Kawasaki's Jake Weimer won the Dave Coombs Sr. East/West Shootout.
Dungey captured the holeshot with Yamaha's Kyle Chisholm on his back wheel through turn one. Kawasaki's Chad Reed pushed his way into second place in turn two. Honda's Kevin Windham, who came into Saturday night's race on a two-race win streak, started mid pack and by lap eight moved into third place, passing Chisholm.
Dungey led all 20 laps en route to victory to cap off his AMA Supercross championship season. Reed finished second and Windham finished third.
"It was great to get the holeshot because it is crucial to having a solid race," said Dungey. "It has been an incredible season, and I am very proud of the championship."
Weimer won the holeshot with his team-mate's Dean Wilson and Frenchman Christophe Pourcel following in second and third respectively to begin the Dave Coombs Sr. East/West Shootout. Pourcel quickly passed Wilson on lap one. Weimer, who is the Western Regional champion, established a lead out front while and on lap five Wilson moved around Pourcel to secure second place.
Josh Hansen worked his way into third place on lap six, passing Pourcel. On lap 14 of 15, Hansen, passed Wilson for third place to round out the podium.
"This is a great night for our team," said Hansen. "Our team won the first four positions and that is because of everyone's hard work.
AMA Supercross Class Results: Las Vegas
1. Ryan Dungey, Belle Plaine, Minn., Suzuki
2. Chad Reed, Tampa, Fla., Kawasaki
3. Kevin Windham, Centerville, Miss., Honda
4. Kyle Cunningham, Fort Worth, Texas, Yamaha
5. Andrew Short, Smithville, Texas, Honda
6. Davi Millsaps, Murrieta, Calif., Honda
7. Justin Brayton, Murrieta, Calif., Yamaha
8. Tommy Hahn, Alvord, Texas, Suzuki
9. Nick Wey, Murrieta, Calif., Kawasaki
10. Chris Blose, Phoenix, Ariz., Honda
AMA Supercross Class Season Standings
1. Ryan Dungey, Belle Plaine, Minn., Suzuki, 363
2. Kevin Windham, Centerville, Miss., Honda, 293
3. Davi Millsaps, Murrieta, Calif., Honda, 268
4. Ryan Villopoto, Poulsbo, Wash., Kawasaki, 266
5. Justin Brayton, Murrieta, Calif., Yamaha, 238
6. Josh Hill, Carlsbad, Calif., Yamaha, 233
7. Nick Wey, Murrieta, Calif., Kawasaki, 197
8. Tommy Hahn, Alvord, Texas, Suzuki, 186
9. Ivan Tedesco, Murrieta, Calif., Yamaha, 183
10. Kyle Chisholm, Valrico, Fla., Yamaha, 177
Dave Coombs Sr. East/West Shootout Results: Las Vegas
Jake Weimer, Rupert, Idaho, Kawasaki
Josh Hansen, Elbert, Colo., Kawasaki
Christophe Pourcel, Groveland, Fla., Kawasaki
Dean Wilson, San Jacinto, Calif., Kawasaki
Justin Barcia, Ochlocknee, Ga., Honda
Broc Tickle, Holly, Mich., Yamaha
Martin Davalos, Cairo, Ga., Yamaha
Travis Baker, Temecula, Calif., Yamaha
Ryan Morais, Murrieta, Calif., Suzuki
Trey Canard, Shawnee, Okla., Honda
Western Regional AMA Supercross Lites Class Season Standings
Jake Weimer, Rupert, Idaho, Kawasaki, 171
Wil Hahn, Decatur, Texas, Honda, 156
Trey Canard, Shawnee, Okla., Honda, 153
Broc Tickle, Holly, Mich., Yamaha, 140
Blake Wharton, Pilot Point, Texas, Honda, 116
Josh Hansen, Elbert Colo., Kawasaki, 100
Cole Seely, Newbury Park, Calif., Honda, 100
Phillip Nicoletti, Bethel, N.Y., KTM 83
Max Anstie, Hemet, Calif., Yamaha, 82
Ryan Morais, Murrieta, Calif., Suzuki, 76
Eastern Regional AMA Supercross Lites Class Season Standings
1. Christophe Pourcel, Groveland, Fla., Kawasaki, 160
2. Justin Barcia, Ochlocknee, Ga., Honda, 147
3. Brett Metcalfe, Lake Elsinore, Calif., Honda, 133
4. Austin Stroupe, Lincolnton, N.C., Suzuki, 126
5. Blake Baggett, Grand Terrace, Calif., Suzuki, 118
6. Dean Wilson, San Jacinto, Calif., Kawasaki, 105
7. Ryan Sipes, Vine Grove, Ky., Yamaha, 93
8. Kyle Cunningham, Fort Worth, Texas, Honda, 84
9. Martin Davalos, Cairo, Ga., Yamaha, 83
10. Michael Willard, Newark, Ohio, Honda, 66
© Photo by Andy McGechan, www.BikesportNZ.com