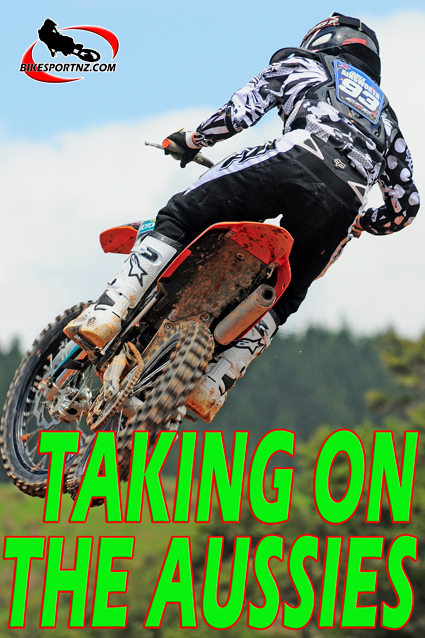 National pride goes on the line at Harrisville, just outside Pukekohe, on Sunday.
That's when the cream of junior motocross racers from both sides of the Tasman go head-to-head in the Oceania Motocross Championships.
"It's been a long time in the planning … we started over a year ago," said host Pukekohe Motorcycle Club president Scott Wilkins.
"A huge amount of work has gone in behind the scenes but now I'm pleased to report it's all happening.
"Riders from both countries get to raise the bar because it's a chance for these young riders from both New Zealand and Australian to taste some international competition."
Australia won the Oceania Motocross title when it was last raced, in Australia in 2008.
Australian team manager Mark Willingham said that a strong team has been selected and he's keen to take on the Kiwis.
"We went through a list from riders who took part in the World Junior selections last year as well as examining results from the Australian Junior Motocross Championships at Newry.
"The opportunity for some of our younger riders to step up and experience what will end up being a huge event will be awesome for them," he said.
"The Oceania competition between our two countries has struggled over the last couple of years, but New Zealand has put in a massive effort this year.
"The event will be using the World Junior Championship classes to pit our countries against one another in what promises to be another fierce battle, while also promoting the development of junior riders for both countries.
"I am really looking forward to the rivalry, and have no doubt the trip will be a success."
New Zealand team riders:
10-12 years 65cc
Kieran Baker
Benjamin Broad
Jye Deacon
Josiah Natzke
Maximus Purvis
Reserve 1. Oliver Ayre
Reserve 2. Tony Cvitanovich
12-15 years 85cc
Courtney Duncan
Micah McGoldrick
Joel Miekle
Sean O'Connor
Dylan Walsh
Reserve 1. Cameron Forlong
Reserve 2. Aidan Kiff
15-18 years 125cc/250cc (As Motorcycling Australia is not in the position to field a full complement of 125cc riders, as per the 2010 FIM rules, MNZ has agreed to nominate a mix of 125cc and 250cc riders/bikes.)
James Ainsworth (125cc)
Cam Dillon (250cc)
Kayne Lamont  (125cc)
Isaiah McGoldrick (125cc /250cc)
John Phillips (250cc)
Reserve 1. Craig Smith (250cc)
Reserve 2. Scott Canham (125cc/250cc)
Australian team riders:
10-12 years 65cc:
Mitchell Evans QLD
Hunter Lawrence QLD
Jordan Hill NSW
Dylan Dukes NSW
Jackson Williams VIC
12-15 years 85cc:
Joel Dinsdale QLD
Jack Simpson VIC
Jayden Archer NSW
Thomas Henry VIC
Blake Colleton NSW
15-18 years 125cc:
Matt Phillips TAS
Jason Reed NSW
Errol Willis NSW
Dylan Long VIC
Kale Makeham VIC
© Words and photo by Andy McGechan, www.BikesportNZ.com