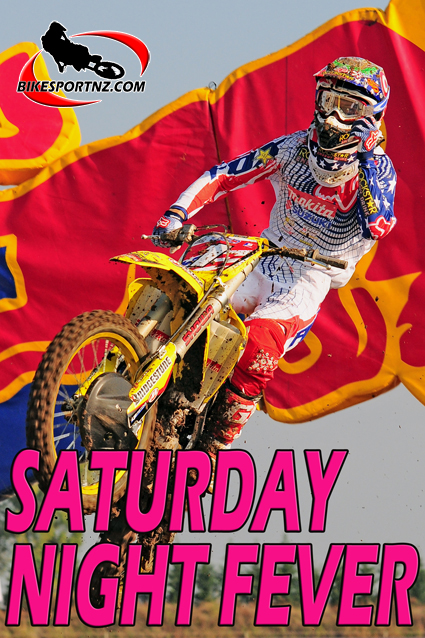 Ryan Dungey has struck back.
Kawasaki's Ryan Villopoto may have had the momentum in his favour, hacing woin the previous round of the AMA Supercross Championships, but Saturday night belonged to Suzuki's Dungey.
Before more than 49,000 fans at the inaugural AMA Supercross Championship at Cowboys Stadium, Dungey won his fourth AMA supercross class main event on the season.
Suzuki's Blake Bagget won the Eastern Regional AMA Supercross Lites class main event, marking the first win of his career.
Kawasaki's Nick Wey opened the AMA Supercross class main event by winning the holeshot. Dungey quickly passed Wey for the lead. After the first lap Yamaha's Josh Hill and Honda's Davi Millsaps, trailed Dungey in second and third respectively.
Millsaps made his way around Hill on lap four to secure second place as Dungey extended his lead out front. Millsaps' Honda team-mate Trey Canard made the pass for third place on lap nine. Canard spent the rest of the race stalking Millsaps for the next 11 laps but was unable to make the pass. Dungey held on for the win, Millsaps finished second and Canard finished third.
"This was a big win for me tonight, but there are still a lot of races left to go," said Dungey. "The track got really rough tonight, so that kept me on my toes. I am looking forward to going to Jacksonville next weekend."
After nearly the entire field went down in turn one of the Eastern Regional AMA Supercross Lites class, Ryan Sipes, won the holeshot award. Points leader Christophe Pourcel, of France, remounted in last place. At the end of lap one, Sipes led Suzuki's Troy Adams and Suzuki's Jake Moss, of Australia, who followed in second and third respectively.
On the second lap, Adams and Moss collided, causing both of them to withdraw from the race. Bagget moved into second place following the crash and set his sights on Sipes. On lap 14, Bagget, a rookie this year, moved past Sipes and rode to victory. Sipes finished second and Honda's Justin Barcia finished third.
"This is a dream come true," said Bagget with tears of joy running down his face. "I was following Ryan (Sipes) and he didn't make any mistakes, so I had to be patient. Time was starting to run out and I dove inside and made the pass for the win."
Pourcel finished seventh and still holds a five point lead in the Eastern Regional AMA Supercross Lites class championship.
AMA Supercross Class Results: Arlington:
1.                Ryan Dungey, Belle Plaine, Minn., Suzuki
2.                Davi Millsaps, Tallahassee, Fla., Honda
3.                Trey Canard, Shawnee, Okla., Honda
4.                Ryan Villopoto, Poulsbo, Wash., Kawasaki
5.                Justin Brayton, Murrieta, Calif., Yamaha
6.                Josh Hill, Carlsbad, Calif., Yamaha
7.                Kevin Windham, Centerville, Miss., Honda
8.                Kyle Chisholm, Valrico, Fla., Yamaha
9.                Jason Lawrence, Carlsbad, Calif., Yamaha
10.             Tommy Hahn, Alvord, Texas, Suzuki
AMA Supercross Class Season Standings:
1.                Ryan Dungey, Belle Plaine, Minn., Suzuki, 239
2.                Ryan Villopoto, Poulsbo, Wash., Kawasaki, 215
3.                Josh Hill, Carlsbad, Calif., Yamaha, 192
4.                Davi Millsaps, Murrieta, Calif., Honda, 174
5.                Kevin Windham, Centerville, Miss., Honda, 161
6.                Justin Brayton, Murrieta, Calif., Yamaha, 152
7.                Ivan Tedesco, Murrieta, Calif., Yamaha, 143
8.                Nick Wey, Murrieta, Calif., Kawasaki, 122
9.                Kyle Chisholm, Valrico, Fla., Yamaha, 105
10.             Tommy Hahn, Alvord, Texas, Suzuki, 100
Eastern Regional AMA Supercross Lites Class Results: Arlington:
1.                Blake Bagget, Grand Terrace, Calif., Suzuki
2.                Ryan Sipes, Vine Grove, Ky., Yamaha
3.                Justin Barcia, Ochlocknee, Ga., Honda
4.                Martin Davalos, Cairo, Ga., Yamaha
5.                Austin Stroupe, Lincolnton, N.C., Suzuki
6.                Matthew Lemoine, Collinsville, Texas, Suzuki
7.                Christophe Pourcel, Groveland, Fla., Kawasaki
8.                Mike Willard, Newark, Ohio, Honda
9.                Tyler Futrell, Clinton, N.C. KTM
10.             Steven Clarke, Cairo, Ga., Suzuki
Eastern Regional AMA Supercross Lites Class Season Standings:
1.                Christophe Pourcel, Groveland, Fla., Kawasaki, 109
2.                Austin Stroupe, Lincolnton, N.C., Suzuki, 104
3.                Justin Barcia, Ochlocknee, Ga., Honda, 84
4.                Ryan Sipes, Vine Grove, Ky., Yamaha, 77
5.                Brett Metcalfe, Lake Elsinore, Calif., Honda, 75
6.                Blake Baggett, Grand Terrace, Calif., Suzuki, 71
7.                Dean Wilson, San Jacinto, Calif., Kawasaki, 71
8.                Martin Davalos, Cairo, Ga., Yamaha, 47
9.                Nico Izzi, Albany, Ga., Yamaha, 41
10.             Kyle Cunningham, Fort Worth, Texas, Honda, 40
© Photo by Andy McGechan, www.BikesportNZ.com