BIRCH HEADING TO SCOTLAND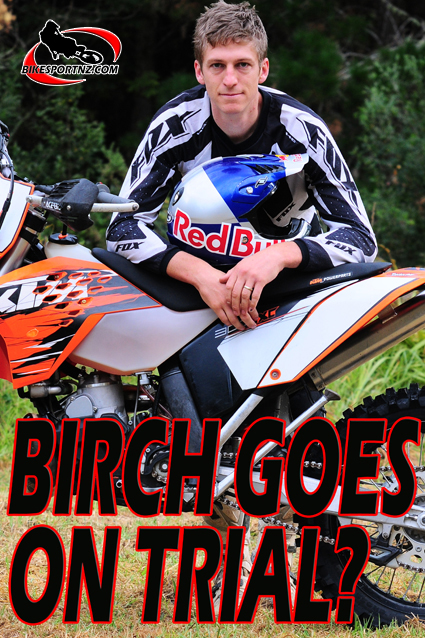 Auckland's Chris Birch has his sights set on more glittering prizes overseas and it will be at the expense of glory at home.
The KTM enduro rider has already made a name for himself with his exploits at the infamous Red Bull Romaniacs extreme enduro in Romania, the Erzberg extreme enduro in Austria, by winning the Roof of Africa extreme enduro in Le Sotho and at other various hot spots around the globe.
Now he's planning to tackle the Scottish Six-Day Trial in May.
"It's an event my dad had a lot to do with in the late 1970s and 80s," said the 29-year-old Birch. "And it's an event I've always wanted to do.
"It's very difficult to get granted an entry into the event but a few of my dad's contacts helped arrange it.
"I expect I'll get smoked but it will be a great experience and motivation for me to get back on a trials bike and refresh those skills.
As for the Yamaha New Zealand Enduro Championships, an event he's won outright on several occasions, he's already conceded that he's out of the running this year.
Birch won the series opener at Kawhia in January but then missed the round that followed (at Whangamata) as overseas racing commitments took him away.
He returned to win round  three at Riverhead Forest, north-west of Auckland, a fortnight ago, and heads to Akitio, on the Central Hawke's Bay coastline this weekend in a confident mood.
"I'm out of the running for the overall (title) but I can concentrate on winning my class. I'll just do what I normally do and that's to ride the best I can at whatever event I enter."
However, he said he is also likely to miss the final round, at Taupo in June.
If he wins at Akitio on Sunday it means he will have a 100% record, winning every round he's entered — notching up three wins from five rounds, more outright wins that any other rider in the series — but still not win the title outright or his class either.
© Words and photo by Andy McGechan, www.BikesportNZ.com