McDONALD TAKES MAIN PRIZE
The weekend's 49th annual New Zealand Motocross Grand Prix at Woodville was a meeting place for champions – of the past, the present and, quite probably, the future too.
This year's Honda-sponsored event hosted a gaggle of former and current New Zealand, Australian, American and world champion riders like never before.
Indeed, the entry list read like a Who's Who of the dirt bike world with 2004 MX2 World Motocross Champion and 2007 United States Supercross Champion Ben Townley, of Tauranga, national MX2 motocross champion Michael Phillips (Rotorua), national 125cc motocross champion Damien King (Cambridge), United States cross-country No.1 Paul Whibley (Pahiatua), junior world 85cc motocross champion Jay Wilson (Australia) and former New Zealand and Australian motocross champion Cody Cooper (Mount Maunganui) just some of the superstars on show.
But, in the end it was national MX1 motocross champion Justin McDonald (Christchurch), who stood tallest on the podium, on a muddy day cut short by persistent rain.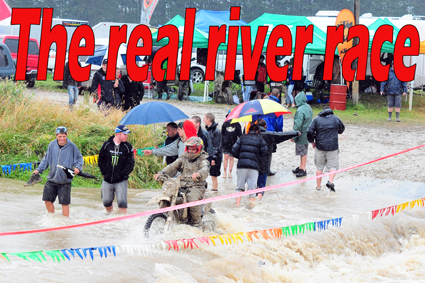 Organisers reduced the programme by one race per class as rising water levels in the river bisecting the venue threatened to strand riders and spectators alike.
The popular river race was the first event to be dropped from the programme after Whibley checked out the course route and then promptly drowned his Yamaha.
But, even with an abbreviated schedule, the racing that did happen was worth every penny.
Honda's McDonald was beaten to the chequered flag in both the MX1 races – those races won instead Townley – but, significantly, it was McDonald who won the one-off feature race, the Invitation International race, therefore claiming the prized Woodville trophy.
He led Gisborne's Shaun Fogarty (KTM) and Hamilton's Darryll King (Yamaha) to the chequered flag in the feature race after Kawasaki's Townley, at that stage running in second spot, succumbed to the slippery track, crashing his bike and eventually withdrawing.
"For the first three laps of the feature race I kept the throttle pinned to the stop, but when my pit signals told me Townley had crashed out, I backed it off and cruised to the win," said McDonald.
Only 12 of the 27 starters finished the feature race and only the top three riders completed 10 laps.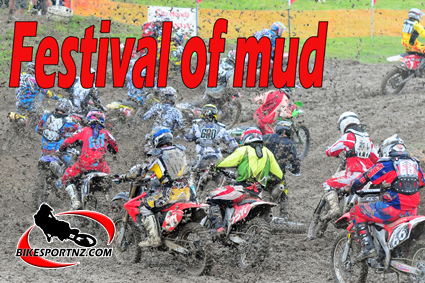 It was certainly a consolation that Townley won both the earlier MX1 class outings earlier in the day.
The event was the Kawasaki rider's farewell to New Zealand, the 25-year-old thrilled to be able to declare his two-year battle to recover from injury was finally over and that he was now ready to rekindle his international career.
He shortly takes up a new contract to ride for Honda and heads to Europe and the United States, to contest the first three rounds of the motocross world championships, in Bulgaria, Italy and the Netherlands in April, and then the motocross nationals in the US, set to kick off in California in May.
"It's fantastic to come here and win races," said Townley afterwards. "I have not raced at Woodville since I was about 13 or 14.
"Of course I was disappointed not to win the main race but the two MX1 race wins were still good for me. I wanted to test my speed and fitness today but the conditions wouldn't allow that. At least I finished the day still healthy and fit.
"Mud is always a good equaliser. I feel I'm definitely ready to go international again. My recovery is all going to plan."
The MX2 (250cc) class on Sunday was won by Hamilton's Jesse Wiki (Honda), while Auckland's James Ainsworth (KTM) won the 125cc class and also claimed the under-21 crown.
For the supremely fit King, it was a remarkable display of strength, speed, skill and stamina.
The 42-year-old five-time former Woodville winner won the veteran's class as well as finishing runner-up to Wiki in MX2 and coming home third in the feature race.
Meanwhile, Saturday's junior racing had gone ahead in vastly contrasting conditions, dust billowing from the sun-baked Woodville terrain.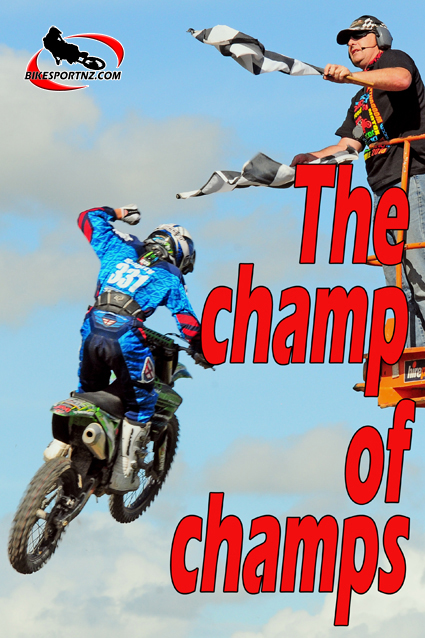 Outstanding performances on Saturday came from Rotorua's Scott Canham (Kawasaki) — pictured above winning the junior Champion of Champions feature race — Rangiora's world junior 85cc No.8 and national 85cc motocross and supercross champion Micah McGoldrick (KTM), world junior 85cc champion Jay Wilson (Australia, KTM), Cromwell's Sam O'Callaghan (Honda), Mangakino's Kayne Lamont (Yamaha), national junior 125cc champion Dion Picard (Atiamuri, Suzuki), Oamaru's Joel Miekle (Honda), Silverdale's Claude Griffith (Yamaha) and Otago's world junior 85cc No.6 Courtney Duncan (Yamaha).
© Words and photos by Andy McGechan, www.BikesportNZ.com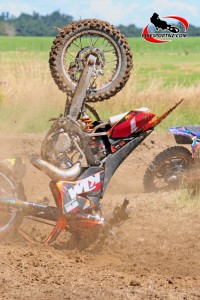 This sequence of photos show Micah McGoldrick getting it all wrong as he chases Courtney Duncan in one of the 85cc races on Saturday. McGoldrick picked himself up and finished the race, still with enough points to win the class. He also won the 85cc Champion of Champions race.