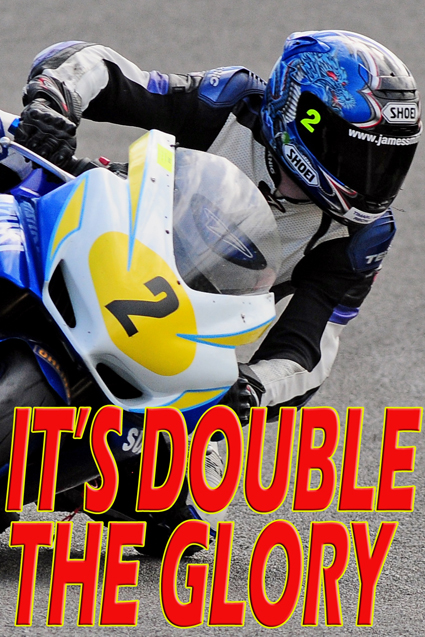 Christchurch's James Smith has double the reason to celebrate after the third round of five in this season's New Zealand Superbike Championships on Sunday.
The 30-year-old printer is the only rider to tackle two classes this season and he's surprising even himself by standing on the podium in both of them.
At round three of the series at Levels Raceway, near Timaru, on Sunday, the Suzuki star finished 2-1 in his two 600cc sports production class outings, sharing the day's overall honours with Hamilton's Nick Cole (Kawasaki) and maintaining his six-point advantage at the top of the standings.
Smith then had "a pretty average day at the office" in his two superbike races, finishing only fourth and fifth, but it was still good enough for him to stay third in the standings.
"I simply ran out of energy in my second superbike race," said Smith. "I've had a bad tummy bug and I've not been able to eat.
"But at least I hung on to third in the superbike class. That's surprised me," said Smith, a first-timer in the superbike class this season.
"I have been on the pace in the superbike class but just not able to keep it up for the whole day today.
"We have a bit of a break now, with round four at Manfeild next month, and I'll just keep working away at my fitness between now and then."
The battle continues to rage at the top of the superbike class with Hamilton's Andrew Stroud (Suzuki) and Australian defending champion Robbie Bugden (Suzuki) again sharing wins this week.
The 13-point gap between Stroud and Bugden remains intact and it will come down to Manfeild and the fifth and final round at the new circuit at Hampton Downs in March to determine whether Stroud can push on to win his first superbike title since 2006 or whether Brisbane rider Bugden can overturn the deficit and claim his fourth consecutive Kiwi superbike title.
Changes were in the air in the Formula Three class with Jason Easton coming on strong at Levels, moving up to second in the standings.
Easton took his Aprilia Tigcraft bike to 1-2-1 results at Levels and is now within just 11 points of defending champion Glen Williams (Suzuki), while former champion Terry Fitzgerald (Suzuki), of Taranaki, slipped back to third overall.
A minor hiccup at Levels could not deny Dannevirke's Geoff Booth (Suzuki) from maintaining his hold on the championship lead in the 650 Pro Twins class.
Booth won the weekend's first two race but failed to finish the third leg and, although Christchurch's James Hoogenboezem pounced to win that race, Booth remains in front in the championship chase, although now by just three points from Hoogenboezem.
Meanwhile, Hoogenboezem's bother, Alastair, is still the man to beat in the 125GP class.
With Dunedin's defending champion in the class, Tim McArthur (Honda), heading to the sidelines with injury at the previous round, Auckland teenager Jaden Hassan (Yamaha) took the opportunity to step up.
Hassan set a new lap record at Levels on his way to finishing third in the weekend's first 125GP race. He backed that up with second and fourth placings in the next two races and this was enough for him to take over the No.2 spot in the championship, albeit still 69 points behind Honda's Hoogenboezem.
In the sidecars class it was once again the Stephen Bron and Dennis Simonsen show with the Wanganui men taking their Suzuki-powered rig to another hat-trick of wins.
Bron and Stephenson now lead the championship by 34 points from Canterbury pair Dave Annan and Warwicks Demmocks (Suzuki).
Leading standings after round three of the Castrol Power 1 New Zealand Superbike Championships at Levels raceway, Timaru, on Sunday:
Superbikes:
Andrew Stroud (Hamilton, Suzuki) 128 points;
Robbie Bugden (Australia, Suzuki) 115;
James Smith (Christchurch, Suzuki) 86.
600cc Sports Production:
James Smith (Christchurch, Suzuki) 126 points;
Nick Cole (Hamilton, Kawasaki) 120;
John Ross (Christchurch, Yamaha) 97.
125GP:
Alastair Hoogenboezem (Christchurch, Honda) 200 points;
Jaden Hassan (Auckland, Yamaha) 131.
Eric Oliver-Maxwell (Christchurch, Honda) 112
Formula Three:
Glen Williams (Palmerston North, Suzuki) 194 points;
Jason Easton (Palmerston North, Aprilia) 183.
Terry Fitzgerald (New Plymouth, Suzuki) 153;
650 Pro Twin:
Geoff Booth (Dannevirke, Suzuki) 185 points;
James Hoogenboezem (Christchurch, Suzuki) 182;
Jason Cameron (Kaiapoi, Suzuki) 136;
Super Motard:
Hayden Scorringe (Dunedin, Yamaha) 168 points
John Crawford (Invercargill, Suzuki) 165;
Darcy Prendergast (Ashburton, Honda) 151.
Streetstock senior:
Jarred Pyke (Timaru, Kawasaki) 197 points;
Sam Davison (Christchurch, Suzuki) 126;
Phil Denovan (Christchurch,Suzuki)103.
Streetstock junior:
Johnny Small (Timaru, Suzuki) 201 points;
Anthony Singer (Canterbury, Suzuki) 146.
Seth Devereaux (Tapanui, Kawasaki) 133;
Sidecars:
Stephen Bron and Dennis Simonsen (Wanganui, Masterton) 150 points;
Dave Annan and Warwicks Demmocks (West Melton, Rangiora) 116;
Peter Goodwin and Pion Weedon (Bay of Islands, Papakura) 97
© Words and photo by Andy McGechan, www.BikesportNZ.com