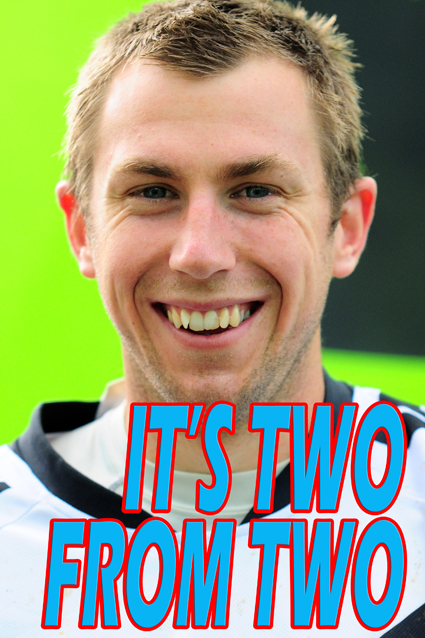 It's two from two for Tauranga's Ben Townley and his Kawasaki KX450F.
The former motocross world champion is fast heading towards full fitness again after an enforced layoff due to injury and he can now probably claim he's close to 100% again after winning his second consecutive Bel Ray Cross-country Championships round, this time near Huntly at the weekend.
The 25-year-old also won the series opener in November.
Townley (Kawasaki KX450F) finished Sunday's two-hour marathon race ahead of such notable riders as Awakino's former national cross-country champion Adrian Smith (Yamaha YZ125), local hot-shot Michael Vining (Suzuki RM-Z450), Tauranga enduro expert Reece Burgess (KTM 450 EXC) and Napier cross-country ace John O'Dea (Suzuki RM250).
Five of the top 10 finishers were on Kawasaki machinery, with Te Kauwhata's Jason Moorfield (KLX450), Pukekohe's Luke Ramsey (KXF250), Pukekawa's Craig Brown (KLX450) and Hamilton's Chris Singleton (KX450F) finishing sixth, seventh, ninth and tenth respectively.
Ramsey's ride was a story in itself, the young man fighting back from 32nd place to eventually claim the seventh spot.
Townley, who was  MX2 motocross world champion in 2004 and East Coast Lites Supercross Champion in the United States on a Kawasaki in 2007, has been slowly building strength, speed and endurance after nearly two seasons sidelined with a damaged shoulder.
But everything went according to plan for Townley on Sunday.
"I had the lead in about the first minute of the race but, to tell the truth, I didn't feel comfortable out front on virgin terrain," said Townley. "It was a close battle with me and Adrian Smith … he was riding brilliantly.
"I lost a bit of an advantage I had when I came in for an extra fuel stop, just to be safe, and it was pretty close in the end. But I certainly felt better, fitness-wise, this time out. I was knackered after winning round one but I felt pretty good at the end of the day on Sunday.
"I'm still not quite where I need to be to race motocross internationally but I'm heading in the right direction.
"I'm not a great cross-country rider and not a big fan of enduros but I had raced these Bel Ray events as a junior in past years and really enjoyed them," said Townley.
"This track was great, pretty fast in places but with a few woods sections thrown in and a couple of bogs too. It had everything."
The event was a part of Townley's build-up towards returning to top-level motocross and he will continue to ride his Kawasaki KX450F in other major events in New Zealand — the Whakatane Summercross in a fortnight's time, the New Zealand Motocross Grand Prix at Woodville in January and the Auckland Motocross Championships — before resuming his international career.
Words and photo by Andy McGechan, www.BikesportNZ.com