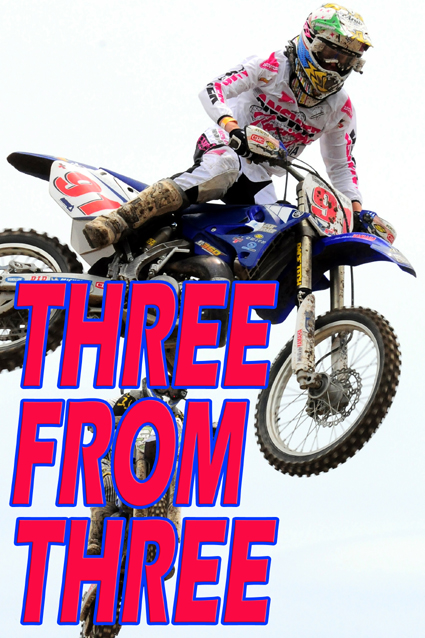 It was the place for hat-trick heroes at Whakatane on Sunday.
Mangakino's Kayne Lamont, Rotorua's John Phillips, Atiamuri's Dion Picard, Palmerston's Courtney Duncan and Hamilton's Josiah Natzke could do no wrong at Whakatane's Summercross motocross event.
The 16-year-old Lamont (pictured above) was unbeatable in the 15-17 years 125cc class, while Phillips dominated the 12-17 years 250cc class. Picard picked up three impressive wins in the 12-14 years 125cc class; Duncan won all three races in the 12-13 years 85cc division and Natzke took three wins in the 8-11 years 85cc class.
Auckland's James Ainsworth and Waitakere's Broc Martens finished runner-up to Lamont but they were never close enough to threaten the Yamaha star.
"My first race was probably the hardest," said Lamont (Yamaha YZ125). "That's when the track was still quite smooth and everyone was going fast.
"But, after that, it got rough and I was able to leave the others behind.
"I've been training quite a lot lately but I have to admit I'm still not 100% fit.
"I finished third in the under-21 class at the motocross nationals and seventh in the 125cc class and that wasn't too bad considering I crashed out of the (fourth and) final round in New Plymouth during practice.
"I scored nothing in New Plymouth but still managed to take a top-10 spot overall. Anyway, today proved I'm on the way back from that injury and now I'm on the right track in my build-up for the Woodville GP at the end of January.
"I broke my nose in that crash at New Plymouth and will need to have surgery before I'm really ready to race at my best.  I have that surgery in February and I'll be out of action for two to six weeks but, after that, I'll be on the pace again."
Even though still on the road to recovery, Lamont's pace was more than anyone else could cope with at the Whakatane Summercross and he'll be hoping to translate that into national titles when he races at Woodville and at the upcoming New Zealand Supercross Championships series.
Words and photo by Andy McGechan, www.BikesportNZ.com