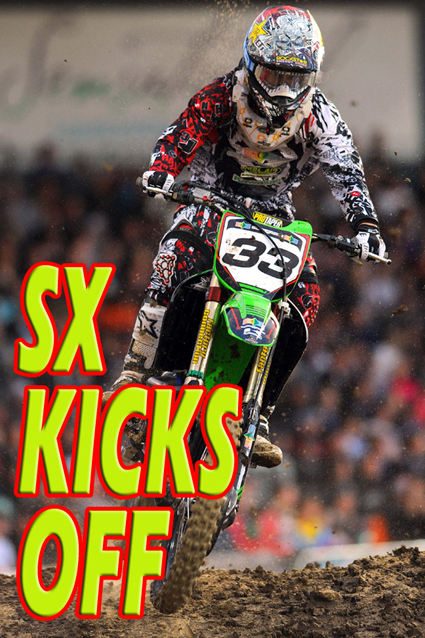 Yamaha's Jay Marmont has won the first round of the 2009 Monster Energy Super X championship.
He beat dual world supercross champion Chad Reed (Kawasaki) and Honda's Dan Reardon in front of an 8000 strong crowd at Launceston's Aurora Stadium on Saturday night.
Debuting his new Monster Energy backed Kawasaki, Reed got off to a less than perfect start with a bungle in the first lap of his heat race forcing him to leave the track and make his way to the final via the Last Chance Qualifier.
It was Reardon who got off to a flying start and dominated the whole ten laps of the first two races in the new Double Header final format to finish first, showing the speed that gained him third place in the US Open of Supercross in Las Vegas last weekend.
Marmont rode a strong and steady race to hold off his Yamaha team-mate Cheyne Boyd to finish second, whilst Reed who was pushed to the back of the pack on the first turn rode his way into fifth.
The second 10-lap final brought out the best supercross racing ever seen in Australia with surprise packet Cool Air Conditioning Kawasaki's Cody Mackie (pictured above) leading the race right up until the final turn of the last lap before coming off the bike in a prang with a fast and determined Reed, who pipped Marmont right under the finish arch to finish first. Reardon got off to another flying start, but a mistake when he was out in front pushed him back into fourth position.
The two consistent races by Marmont saw him take out the round overall with Reardon second and Reed third.
"I just wanted to get out and there and race all day and I had a lot of fun out there tonight. There is no better way to start the series and this gives me a lot of confidence for the second round in Geelong next week," said Marmont.
A disappointed Reed who was sore from his crash in the heat said "It was a rough night for me. I had to go to last chance and come from the back in both races. Someone hit me from behind at the start in the heat race and came down on top of my elbow which put me out of the heat.
"It was extremely painful during both races – every bump it hurt so I had to be a bit cautious. I tried to be careful and not do anything silly but on the last lap I saw an opportunity to challenge for the race lead and I had to take it. I ended up winning the last race, which was pretty cool."
The 250cc final also produced some action packed racing with defending champion, Shift Motul Suzuki's Matt Moss, engaging in some bar to bar battles with US rider Kyle Cunningham and JDR Motorsports Ryan Marmont. Moss eventually won both of the Double Header races to take first whist Marmont finished second and Cunningham third.
The Monster Energy Super X will now make its way to Skilled Stadium in Geelong for the second round on Saturday October 24.
Kiwi fans will be able to enjoy the racing this year. The sixth round of seven is set for Waikato Stadium, in Hamilton, on November 21.
Top 10 results –
Monster Energy Super X Double Header Final:
1 Jay MARMONT, Yamaha, 19-19 TOTAL 38
2 Daniel REARDON, Honda, 20-17 TOTAL 37
3 Chad REED, Kawasaki, 16-20 TOTAL 36
4 Cheyne BOYD, Yamaha, 18-18 TOTAL 36
5 Tye SIMMONDS, KTM, 15-16, TOTAL 31
6 Cody MACKIE, Kawasaki, 17-12 TOTAL 29
7 Daniel McCOY, KTM, 13-14 TOTAL 27
8 Craig ANDERSON, Kawasaki, 14-14 TOTAL 28
9 Michael ADDISON, Honda, 12-13 TOTAL 25
10 Cameron TAYLOR, Suzuki, 10-11 TOTAL 21
Top Ten Results – Lites Double Header Final:
1 Matt MOSS, Suzuki, 20-20, TOTAL 40
2 Ryan MARMONT, Yamaha, 18-18, TOTAL 36
3 Kyle CUNNINGHAM, Yamaha, 16-19, TOTAL 35
4 Lawson BOPPING, Suzuki, 17-17, TOTAL 34
5 Kirk GIBBS, Yamaha, 15-15, TOTAL 30
6 Adam MONEA, Suzuki, 19-11, TOTAL 30
7 Brendan HARRISON, Yamaha, 12-13, TOTAL 25
8 Mitch AUSTIN, KTM, 10-12, TOTAL 22
9 Danny ANDERSON, KTM, 5-14, TOTAL 19
10 Shaun WILLIAMSON, Honda, 9-10, TOTAL 19
Monster Energy Super X OPEN championship standings:
1 Jay MARMONT, Yamaha, 25
2 Daniel REARDON, Honda, 22
3 Chad REED, Kawasaki, 20
4 Cheyne BOYD, Yamaha, 18
5 Tye SIMMONDS, KTM, 16
6 Cody MACKIE, Kawasaki, 15
7 Daniel McCOY, KTM, 14
8 Craig ANDERSON, Kawasaki, 13
9 Michael ADDISON, Honda, 12
10 Cameron TAYLOR, Suzuki, 11
Monster Energy Super X 250cc championship standings:
1 Matt MOSS, Suzuki, 25
2 Ryan MARMONT, Yamaha, 22
3 Kyle CUNNINGHAM, Yamaha, 20
4 Lawson BOPPING, Suzuki, 18
5 Kirk GIBBS, Yamaha, 16
6 Adam MONEA, Suzuki, 15
7 Brendan HARRISON, Yamaha, 14
8 Mitch AUSTIN, KTM, 13
9 Danny ANDERSON, KTM, 12
10 Shaun WILLIAMSON, Honda, 11
2009 CALENDAR
| | | |
| --- | --- | --- |
| Date | Location | Venue |
| October 17 | Launceston, TAS | Aurora Stadium |
| October 24 | Geelong, VIC | Skilled Stadium |
| October 31 | Perth, WA | Burswood Dome |
| November 7 | Canberra, ACT | Canberra Stadium |
| November 14 | Sydney, NSW | Parramatta Stadium |
| November 21 | Hamilton, New Zealand | Waikato Stadium |
| December 5 | Brisbane, QLD | QSAC Stadium |