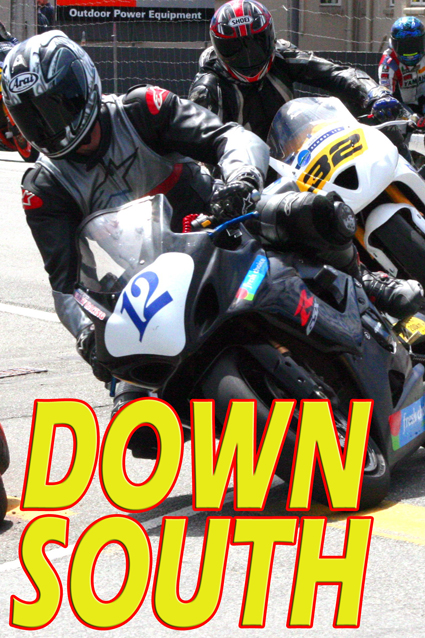 Labour Weekend marks the start of the season for motorcycle street racing with the Greymouth Motorcycle Street Race.
And it was fitting that the 20th running of the iconic street race was the biggest ever with more than 140 riders making the trip to the West Coast of the South Island.
Without previous winners Glen Williams and supermoto expert Steven Briggs, a lot of the classes were looking for new winners.
South Islanders took all the top three spots of the Formula 1 class with Hank Randall lst, Ricky McKay 2nd and Daniel Ornsby 3rd.  In the Formula Greymouth these same three riders dominated again, with Randall on top and Ornsby and McKay swapping positions.
The suppermoto class had the biggest field of the day and the biggest excitement as well wit Greymouth being the only street race now with a dirt section — it came down to a battle of the North Islanders with previous winner Mitch Rowe taking on the young guns, Duncan Hart and Scott Birch fighting for the top step of the podium and Rowe and Scott Moir for 3rd.
Final results:
Formula 1 – lst-Hank Randall, 2nd Ricky McKay, 3rd Dan Ornsby.
Formula Greymout – 1st Hank Randall, 2nd Dan Ornsby, 3rd Ricky McKay.
Supermoto – 1st Duncan hart, 2nd Scott Birch, 3rd Mitch Rowe.
Formula 3 – lst Neil Smith, 2nd Bryan Hill, 3rd Scott Moir
Bears – 1st Dan Ornsby, 2nd Lee Munro, 3rd Merv Orford.
Post Clasic – 1st Chris McMeeken, 2nd Neil Batchor, 3rd Neville Hughes.
Clasic Pre 63 – lst Neville Wills, 2nd Aland Bland, 3rd Adrian Walker.
Buckets 1st Daryl Cotton, 2nd Brendan Booth, 3rd Nick Cain.