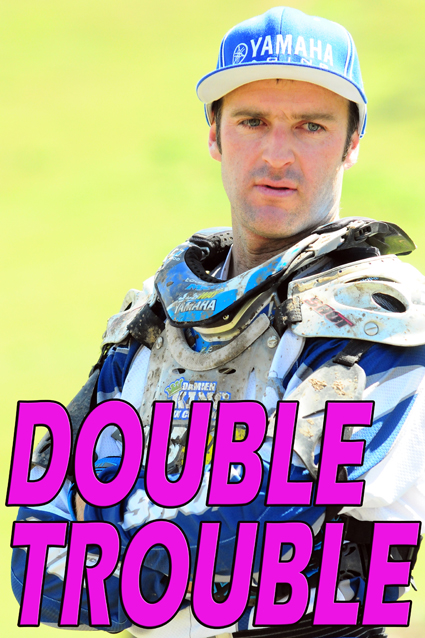 Damien King is fitter, faster and stronger than last year and that spells problems for the Cambridge man's motocross rivals.
The Yamaha ace raced away with both the 125cc and 450cc crowns at the Demon Energy New Zealand Motocross Championships last season and the 33-year-old has every reason to believe he's capable of doing it all again when this year's four-round series kicks off near Timaru next weekend (Oct 11).
"I realise that last season was a dream year for me and being able to do the same again would be the ultimate, but I know it's possible," said the former GP racer.
The radical new 2010-model Yamaha YZF bikes won't be in the country in time for King to race at Timaru but he's satisfied that the 2009 versions of the 125cc two-stroke ands 450cc four-stroke bikes are more than capable of winning.,
"Yes, I'll be using last season's machinery … but I'm happy with that too because I know they were very good bikes," he said.
Meanwhile, His Subway Yamaha team-mate, Mangakino's Kieran Leigh, will line up on a Yamaha YZF250 in the MX2 class this season.
"I've been training with Kieran," said King. "He's extremely fast and has had the better of me in training but I still think I'll have the edge in the longer races this year. There are three 30-minute motos for the 450cc class and three 25-minute motos for the MX2 class and I am really an endurance racer at heart," said King, who proved that when he made it back-to-back wins at the Tarawera 100 endurance race near Kawerau in July.
"The warmer I get, the faster I go," King smiled.
"I feel confident. My fitness is good, my health is good and I'm feeling a lot stronger than last year. Obviously I did something right last year — winning two national motocross titles — so I'm certainly up for winning them again."
There's no denying, of course, that King will have his hands full trying to tame MX1 rivals Daryl Hurley (Hawera, Suzuki), Justin McDonald (Christchurch, Honda), Mason Phillips (Mount Maunganui, Kawasaki) and Luke Temple (Ngatea, Yamaha), while he may also be stretched in his 125cc title defence by Christchurch's Hayden McKay (KTM), Rangiora's Isaiah McGoldrick (KTM), Mangakino's Kayne Lamont (Yamaha) and Auckland's James Ainsworth (KTM), just to name a few.
Words and photo by Andy McGechan, www.BikesportNZ.com