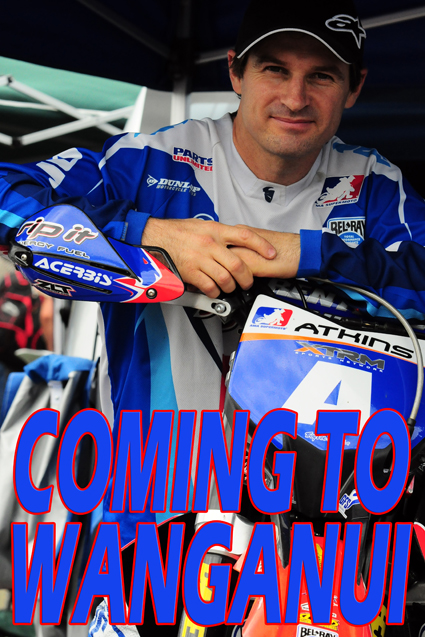 New Zealand's Darryl Atkins is one of the hottest Supermoto riders in the world and he's booked to compete at Wanganui during the 2009 Suzuki International Tri-Series.
The Suzuki International Tri-Series will be staged over three quick-fire rounds around the central North Island at Manfeild, Wanganui, and Taupo.
Waikato's Atkins was invited to join 20 of the world's best Supermoto racers in the prestigious X-Games, held in Los Angeles in August. The X-Games is the largest action sports competition on the planet, where Atkins finished a credible 14th in the Supermoto segment.
From his California base Atkins said: "The X-Games this year was for difficult for me. I've had little time on a bike since the Cemetery Circuit (2008), as I retired from the AMA series. The testing I did before the event wasn't right for that circuit, I just didn't have a program to get the result I wanted there."
Supermoto is a spectacular version of road racing with riders often sliding their bikes into the corners sideways. Modified motocross bikes are used with cut-slick tyres for maximum traction and incredible lean angles. Coupled with Wanganui's tight street circuit, ingredients that make for close and exciting action during Raceweek.
An expat Kiwi, Atkins took a hat-trick of Supermoto wins at Wanganui last year on his factory Aprilia SXV 550 and is keen to return. "Just because of the atmosphere and the chance to put on a show that I know everyone liked last year."
The US-based rider caused a Boxing Day sensation in front of 15,000 spectators by lapping Wanganui's tight Cemetery Circuit only 1.6 seconds slower than the fastest 2008 F1 Superbike time, set by Craig Shirriffs on his Honda CBR1000RR Fireblade.
"It was a great event to be at! I enjoyed it all, the circuit, crowd, atmosphere, and the other riders. It's a real special event and that's why I decided to ride it again. I have retired from racing and will only do invitational events being the X-Games, Mettet in Belgium, and now the Cemetery Circuit."
Atkins won two NZ 125cc Motocross championships and three NZ Supercross titles before heading onto the world motocross stage in 1990. Born in Tokoroa, Atkins was a member of the New Zealand team at the 1993 Motocross des Nations.
Then, in 1994 he was involved in a car crash in Europe which changed his life, hopes and dreams. Suffering multiple injuries doctors gave him little chance of using his arm again, let alone race a motorcycle! But, within three years Atkins returned to world motocross until moving to California, where he took up Supermoto racing.
Atkins held a one point lead in the 2005 US Supermoto Unlimited series heading into the final corner of the last race, when the nearest title challenger shunted the Kiwi off the track in order to win the race, and the championship.
Entry forms and further details can be found on www.raceweek.co.nz or www.cemeterycircuit.co.nz. Phone organiser Leighton Minnell on 0064 (0)27 444-4731.
Event Schedule:
Rnd 1: Manfeild, December 19
Rnd 2: Wanganui Cemetery Circuit, December 26
Rnd 3: Taupo Motorsport Park, December 28
Words by Terry Stevenson.
Photo by Andy McGechan, www.BikesportNZ.com