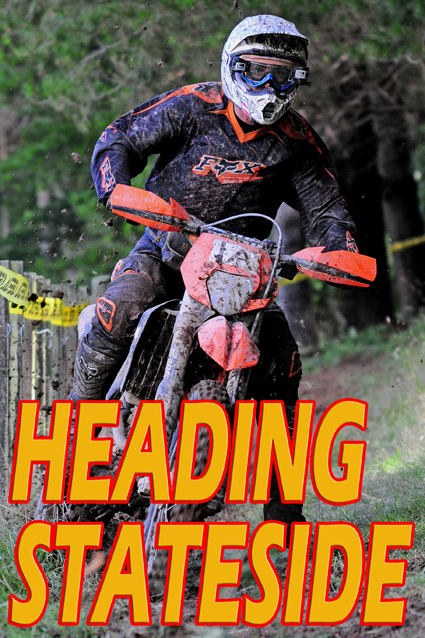 Auckland's Karl Power is off to the USA.
Over the past few months the talented KTM rider has been working towards travelling to the United States to do some racing in the Grand National Cross-Country Championships (GNCC) and in the Off-Road And ATV (OMA) series.
"I will be leaving New Zealand and travelling to the state of Ohio. From there I will be grabbing a camper with a compartment for a bike in the back and a bed to sleep in.
"From there I will be getting a bike and straight into some training and riding getting ready for the first of three races I will be competing in.
"I will be competing in  round 10 and 11 of the GNCC which is the most popular off road racing in the America. Also in between those two races I will be doing a OMA race which is like a club event over here but with as many people as our national round.
"Of course everyone knows who Paul Whibley (Kawasaki) is, and he is No.2 GNCC rider for 2008 and is currently leading the GNCC series and he will be helping me out a little.
"I am not really depending on him and Katherine much as they have a very important job ahead of them for the last few rounds of GNCCs.
"I am doing most of this off my own back and it is something you have to do as a Kiwi.
"This is the right time for me as last year was filled with injuries and this year I have done very well in a whole bunch of racing and I am feeling confident which is important. This year's racing secured me with:
GNCC NZ #2,
National Overall Enduro #2,
National Enduro 2 Class #1,
Tawawera 100 #2,
Dirt Guide Cross Country Series #2,
Red Bull City Scramble in Auckland #4
"So with all those events and results I am well prepped and ready.
"I would like to thank my sponsors: KTM, Motorex, Fox, Scott goggles, Pirelli, Pro Ride Suspension, Renthals Bars, Go Fast, Triple X Moto for allowing me the time off work."
Photo by Andy McGechan, www.BikesportNZ.com