ANOTHER RACE; ANOTHER WIN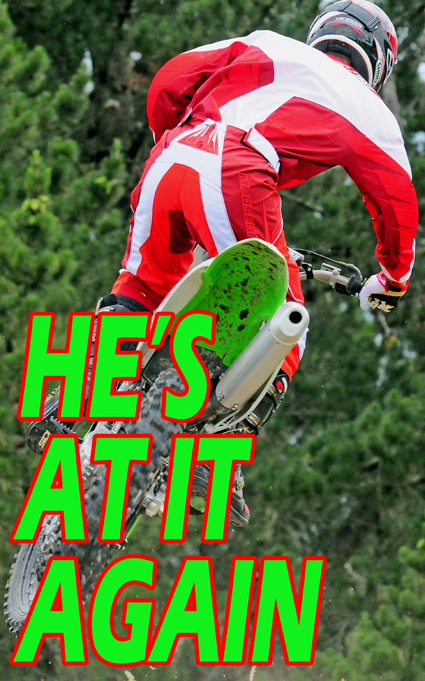 New Zealand's Paul Whibley is proving to be unstoppable this season.
The Kawasaki rider from Pahiatua won yet another motorcycle cross-country race in the United States, this time winning the ninth and penultimate round of the Off-road Motorcycle and ATV (OMA) series at near Memphis, in Missouri, at the weekend.
Whibley (Kawasaki KX450F) has been unbeaten in his OMA title defence this season, the victory at the weekend making it a remarkable nine consecutive wins in the series.
Runner-up on the day was Whibley's Kawasaki team-mate, American rider Jimmy Jarrett.
"The track was a fun mix of flowing grass track and tight woods," said Whibley.
"With the title already wrapped up, I was under no pressure, but I still wanted to go out and put in my best performance.
I got an average start but dropped into the top five early in the race and made an effort to get up front before the leaders disappeared in the dust.
"After a couple of miles I dropped in behind holeshot man Chris Bach then quickly moved past him and into the lead.
"I put my head down but near the end of the grass track section Jason Thomas (Yamaha) was still with me and putting the pressure on.
"The second half of the lap was mostly tight woods and I was able to steadily increase my lead through the trees and emerged on the motocross section with a healthy buffer.
"I continued to work hard and the lead grew. The lap was nice and long and lappers were spread out and didn't effect the racing.
"In for the gas stop after three laps, I still had a comfortable lead but Jimmy (Jarrett) had now taken over the second spot with Jason (Thomas) battling with the other GEICO Kawasaki bike of Scotty Watkins. Two more laps and the chequered flag was out, taking win nine in this 10-round series."
Results:
1st: Paul Whibley
2nd: Jimmy Jarrett
3rd: Jason Thomas
Photo by Andy McGechan, www.BikesportNZ.com